While there are no plans for a celebratory cake, this is a milestone year for the Canadian Association of Women in Construction (CAWIC), a non-profit volunteer-run organization dedicated to enhancing the success of women in the industry marking its 15th anniversary.
What began as a small organization in 2005 has continued to grow, evolve and adapt to changes in the industry and society at large, says its president, Luana Buratynski, who was elected to that role this past December after serving as the association's special events director.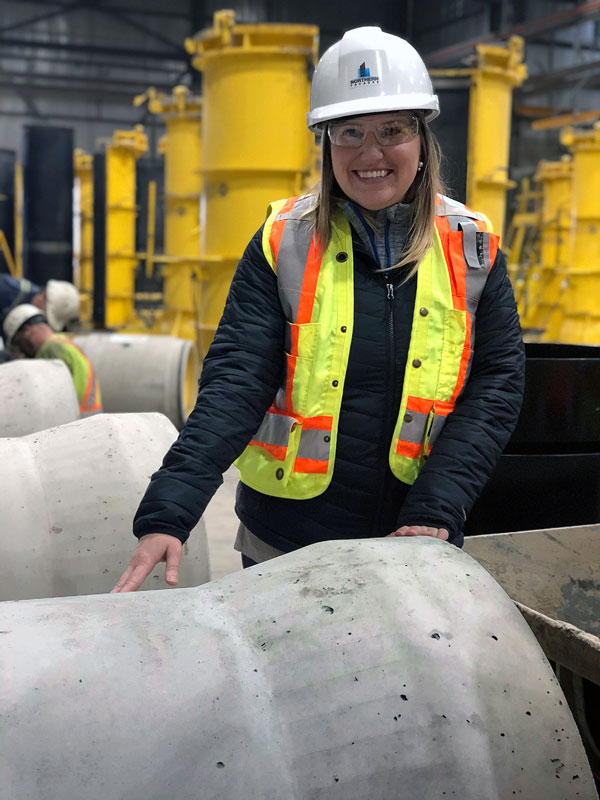 "Throughout our 15 years we have continued to respect our core values: leadership, mentorship, membership and partnership but have also have continued to develop and expand our programs that are relevant and current to today's ever changing environment in our industry."
CAWIC's efforts and initiatives aren't restricted to one narrow focus, but encompass a wide umbrella of initiatives, says Buratynski, citing a student bursary program, a mentorship program, partnering with other industry associations and organizing educational site visits.
One such site visit was a tour of Con Cast Pipe's Oakville manufacturing facility conducted in March just before the COVID-19 lock down. Nominal fees charged for such tours help defray CAWIC's operating costs and its bursaries, she says.
And that focus on staying relevant and not becoming complacent is the driving force behind several new or fairly new programs, says Buratynski.
An example is the creation of a leadership forum that delivers educational workshops and a series of webinars — partly in response to COVID-19. Also in the wings is a new website and a very tentative plan for a series of educational videos, she says.
Increasing membership and recruiting volunteers is a priority objective of the current board whose members must juggle CAWIC commitments with that of their careers, says Buratynski, who is Northern Facades Limited's head of technical sales and business development.
A major platform in that endeavour is a just-launched Western Canada committee. Chaired by Kristen Hallberg, regional product development manager for Calgary-based United Rentals, its purpose is to raise CAWIC's profile in the western province through strategies such as holding events and seminars.
"Most of our events have tended to be in Ontario," says Buratynski.
Working with public and high schools to develop construction-related courses that will introduce and encourage young women to consider a career in the industry has been a key tenet of the association. In 2019 that objective took on a different and extra dimension when CAWIC became a supporter of Build a Dream, a non-profit organization whose mandate is to attract, encourage and recruit female students to pursue careers in skilled trades, as well in other fields.
In the capacity of a supporter, CAWIC will staff booths and educational fairs and provide speakers, she says.
At the post-secondary level the association has provided bursaries to women enrolled in the second and third year of construction-related programs in colleges and universities since it was founded. Four to six $1,500-to-$2,000 bursaries are awarded each year. As part of the eligibility criteria, applicants must write a 500-word essay on how they would utilize information already in the media on how they plan to increase their knowledge about digitization and innovation in construction.
Bursary recipients are also given a free one-year CAWIC membership and are encouraged to participate in the association's events as a way of learning more about the industry, establishing contacts and meeting potential employers, she says.
Reduced rates are also available to all students enrolled in construction-related programs as a way of encouraging them to join CAWIC and, in the process, nurture all-important industry contacts, says.
Now that program will be greatly expanded with a recently approved $1,000 Founders' Bursary named in honour of former Daily Commercial News staff writer and copy editor Patricia Williams who died earlier this year. Williams wrote about the association's first meeting in 2005 and was a "great supporter," says Buratynski.
"It was appropriate to offer our first Founders' Bursary in memory of her," adds the association's first president Angela Wilson, and a member of CAWIC's founding board which will be completely funding it.
CAWIC's roots go back to the early 1980s when a Toronto chapter of the U.S.-based National Association of Women in Construction (NAWIC) was formed.
Over the years and decades that followed, however, there was a growing realization that NAWIC reflected and was influenced by U.S. regulatory policies, construction practices and principles and that led to a push to form a Canadian counterpart, says Wilson.
"But we did receive NAWIC's blessing and some seed money. It (the formation) was a bold step."