Drawing on his extensive contacts in the residential building industry, George Brown College professor Bill Hawryschuk has been giving his students real life exposure to construction sites for the past several years.
A teacher in the Angelo DelZotto School of Construction Management, he plans and leads educational tours of residential and high-rise residential projects through the support of RESCON (Residential Construction Council of Ontario) and its member firms.
His students are graduates of either the three-year Construction Engineering Technology or Civil Engineering Technology programs who have enrolled in the Residential Construction Management Program (Postgraduate).
Consisting of four months of instruction in subjects such as high-rise construction and purchasing and bid processes, followed by a four-month-long co-op placement, the program was created and is specifically designed to help them enter the residential construction field. RESCON worked with the college to launch the program including contributing funding and its members provide all of the student placements.
"Builders expect to give them further training," says Hawryschuk, explaining operating procedures in the residential field can differ from those in the commercial sector.
Securing positions as site coordinators or junior estimators are the students' career goals and from there they can aspire to work as project managers, estimators, or site superintendents, he says.
Lasting about two hours, the visits take place during the academic session which normally runs from May to August but is currently is operating from September to December because of the complications created by COVID-19.
Usually, there are six tours each session and that sequencing is intended to provide them with an upfront view of construction occurring at different stages, whether it is a foundation being excavated, a roof being sealed, or an elevator shaft being installed, he says.
Depending on what phase of erection a new building has reached, an occasional visitor on the tours is Professor Bogdan Strafalogea. An instructor on mechanical and electrical systems in the High Rise Construction course, he discusses those systems and their application to construction, says Hawryschuk.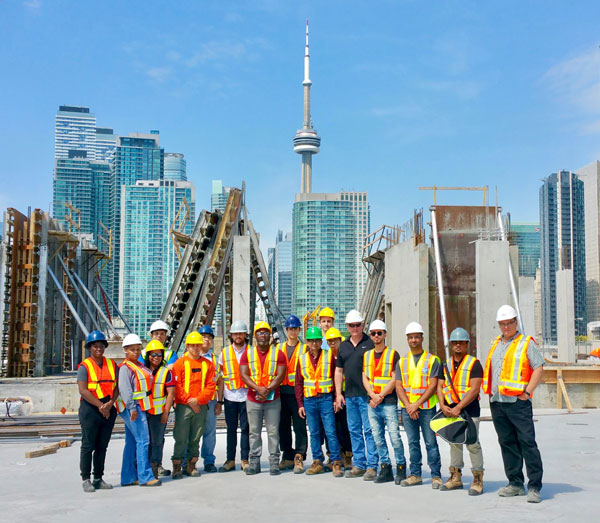 Arranged with the support of RESCON partners such as The Daniels Corporation, Tribute Communities, and Arista Homes, the tours give students the opportunity to listen and pose questions to construction vice presidents, site superintendents or safety managers representing the firms. Often their hosts are the same individuals they met on previous tours.
"I steer where we go (in the conversation) to cover our course content and the host will comment on site specific challenges and other issues and problems."
Touching on the safety precautions, he says there is a strong emphasis on staying together and wearing full personal protection equipment. Some builders also require clearance forms to be signed.
"I discuss with the students the need to be attentive, mindful, and aware at all times."
Following the tours there is an equally intense classroom conversation where the students discuss what they observed and learned. Judged by the feedback he receives in those sessions, which often last 90 minutes, it is comprehensive list.
"They notice the necessity of the labourers and their numerous tasks, something that has typically not been covered in the curriculum. They notice the importance of courtesy, teamwork, and effective verbal communication skills and get to see first-hand the tight constraints for space and the traffic challenges."
A considerable of effort, planning, and lead time notice is required, says Hawryschuk, who usually calls the project host representative four weeks in advance.
"Then we set the actual date closer to the site visit to allow for flexibility in moving the date a day or two in case they have a very busy day or there is bad weather."
An entry into arranging the excursions are the contacts he established in his previous career as a site inspector and site superintendent for a number of home builders and later for Genivar (now WSP).
Some of the projects visited have included several Toronto condominiums, plus new home subdivisions in areas such as Brampton, Whitby, Oshawa, and Orangeville.
Due to concerns generated by COVID-19, the out-of-town visits have been replaced with transit-oriented ones and the program was temporarily halted at the end of September for a review and update of safety protocols.
"There are 16 students, so it may be a case of having eight visiting a site one time, and then the other eight a few hours later," says Hawryschuk on the measures being considered.
He established the tour program shortly after joining the college in 2013 with the assistance of assistance of colleague Bill Nichols and estimates he has conducted approximately 35 to 40 visits since then.