The construction sector has long been accused of resisting technological change, but there are increasing signs that is no longer true.
Chief executives from the sector who served as panellists at a recent property technology webinar said they are embracing disruption these days, not fearing it, as they aggressively seek to meet the needs of owners and end users and jockey for competitive advantages – especially during the pandemic.
Participants in the webinar, presented as part of the IoT PropTech Summit held Nov. 19, included Scott McBrayne, senior director, national operations at Cadillac Fairview; Mark Bryant, chief information officer at PCL; Kathy Paul, associate vice-president, workplace solutions at BGIS; Travis Allan, CEO and president, Eddy Solutions; and Michael Platt, CEO at Carma.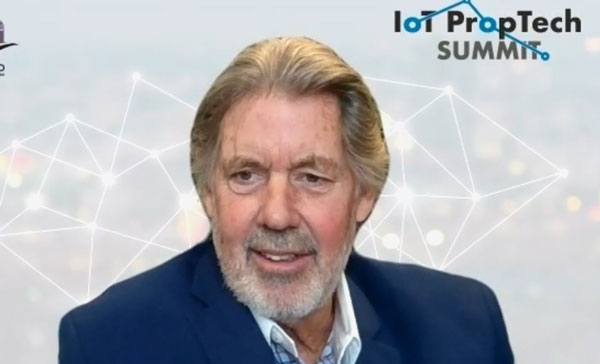 Toronto Construction Association president and CEO John Mollenhauer served as moderator of the session, which explored the theme The Future of PropTech – a C-Suite Level Discussion.
"I hesitate to say disruptors are putting pressure on the industry," said Platt. "I look at it a bit differently. I look at the construction industry and the insurance industry as industries that are experiencing tremendous challenges, whether it's labour shortages, increased safety concerns and decreased profitability. It is these pressures that are ultimately offering opportunities to disrupt.
"Another way of saying it, the disruptors are actually alleviating the pressure, not necessarily putting the pressure on."
The panellists offered different takes on the speed of change in the adoption of new construction technology but all agreed in recent times the pace has accelerated exponentially, and especially spiked during the pandemic.
"COVID is pushing us quicker," said McBrayne. "How do we know a space is clean for us to work in? There is lots of movement and great innovation hitting the market in just a year."
Paul stated, "COVID has done more to change organizations than any C-suite technology or innovation leader could have done. We have gone through two to three years of change in only three months in some organizations."
Looking ahead, Paul said, the sector is "going to see more change in the next five years than we have seen in the last 50."
When Mollenhauer asked Bryant how he stays current with new construction technology, knowing proptech systems his firm installs now could be obsolete when the building is completed, the PCL executive answered, "The short answer is, I don't sleep. The rate of change outpaces anything I could have imagined even 10 years ago."
The rapidly expanding proptech supply sector is not only being asked for health and logistical solutions during the pandemic, but buyers of the products and services are requiring that the suppliers offer options for integration, Paul explained.
"We are now jumping to find and understand how we can better implement some of these technologies in a very quick way," she said. "We need to take some of the big ideas and break them down into measurable steps, that's our approach."
The construction sector is not easily amenable to the adoption of new technologies, Bryant noted, not necessarily because it is resistant but rather because of its complexity.
"It starts from design to architecture to engineering to us as builders, getting married to the next-generation technology ecosystem is going to take an extraordinary amount of time," he said.
PCL is focusing on new platforms and building strong partnerships from the ground up, Bryant said.
"A revolution, no, but a necessity to survive in the future, yes," he said.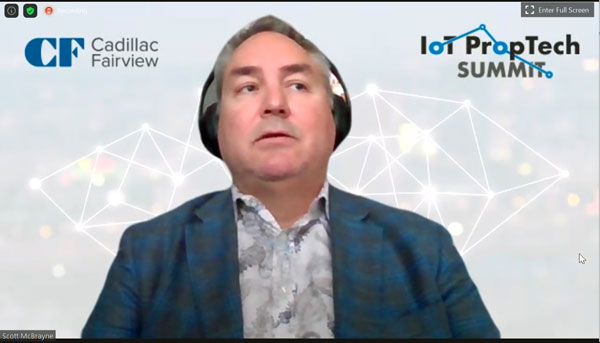 McBrayne said tenants at Cadillac Fairview properties are making demands that will be met by increased automation and seamless delivery systems.
"From the tenants' perspective, you've heard this buzzword, how can we create a frictionless environment," McBrayne said. "From leaving home and they get to the office, and leave, how many barriers do they have to face to get into that space? From the parking garage to the elevator to the access control, there is a whole push, how do we remove the barriers and create a frictionless environment and overall create a better client and employee experience?"
McBrayne noted there is also stress in finding workers with the right skills. No longer do property workers come to work equipped merely with tool belts.  
"Where are the skills coming from, how are we protecting the building from cyber threats, not just physical threats," he said, and meeting the needs of customers at their desks.
Platt summed up what several of the executives expressed throughout the session: "Regardless where you sit in the ecosystem …whether it's as a developer, builder, an innovator or an occupant, the next five to 10 years are going to be very exciting."
Follow the author on Twitter @DonWall_DCN.