A number of groups who saw a need in the industry came together recently to offer a new siding installation course at the College of Carpenters and Allied Trades in Vaughan, Ont.
"It came together very quickly," said Chris Campbell, equity and diversity representative with the Carpenters' District Council of Ontario. "They posted a notice at the union looking for workers who do siding and roofing. I called the rep who takes care of that and said, 'I have folks from the community, how about we run a course and train them.' I am just glad we could bring it together and make it happen in such a short time and have positive results."
The training required five days in a facility with an instructor, followed by two weeks onsite. The contractors, community organizations and the Carpenters' came together for a meeting to iron out the details and the program was up and running the following week.
"The union has space at the back of the union training centre," explained Campbell. "The community organization will take care of their wages for the three weeks…and the expense of their tools. Giancola Aluminum supplied the materials for the siding.
"The union took care of the wage of the instructor and the mockup wall was taken care of by the union."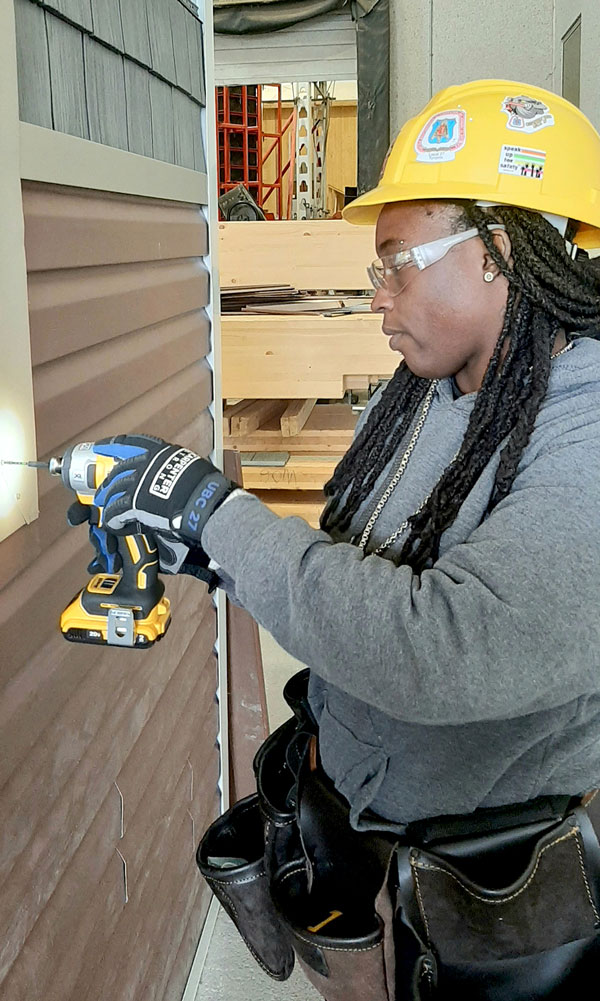 The first session was run with Building Up and the second one is primarily with TradeLinx. Both provide pre-apprenticeship training.
"We're taking people from two government funded community organizations, that goes into the community and recruits youth, at-risk youths who have been disadvantaged, youths looking for an opportunity to start a career in the construction trades," Campbell noted, adding there is an advantage for those taking the course.
"By taking this course they get a little bit of hands on experience about a sector of the union. They didn't join the union and sit and wait for the hiring hall to call them. With this they came in the union and they learned this skill and they were able to go straight out to work. Six months or a year down the road they can join the union."
Once they completed the five-day training, the workers were sent to a site in Brampton, Ont. to gain hands on skills. The goal is for them to stay on and work with the contractors who they trained with.
"We're in short supply of siding installers, so we took people (from Building Up) and trained them on siding installation and hooked them up with this company and they all went to work on a jobsite for Mattamy Homes in Brampton, a six-storey midrise," explained Darren Sharpe, residential sector co-ordinator with the Carpenters' Union.
He said siding installers can make a good living, anywhere from $50,000 to $180,000 a year depending on how hard they work.
"The average age of a siding installer is in the 50s. We have no young people coming in," he added.
Marc Soberano, executive director of Building Up, described the organization as the bridge between the construction industry looking for workers and people in the community looking to work in the field.
"It's been a perfect marriage between the two organizations," said Soberano, adding they work with people from different backgrounds including racialized groups, youth, women, newcomers to Canada and those who have been in trouble with the law and are looking for a fresh start.
"Chris Campbell came to speak at our training centre and told them what it's like to be a member of the union. We started talking about some opportunities to get Building Up folks working and help them meet some of their recruitment needs. Before we knew it we had developed this program that we were working on together.
"Six of the eight people who went through the program are already working on a siding jobsite with union contractors and they are out there starting their careers," he added.
Amaury Yusti, owner of AY Exteriors and Solutions, had two of the participants from the program join his crew on a site in Brampton. Although it's very soon to tell, he said the workers are doing well.
"I've been looking for help for years," he noted. "It seems like the understanding and the training are there and they seem to be familiar with some of what we do. They get the terminology and they get what I want, now they have to gain some experience and become productive. It takes a while. I can see the progress on a daily basis. I give them a task and I can see how they improve every day.
"They are doing this because they want to, they want to be a tradesman," he added. "I can sense they want to be here. It's a good start."
Follow the author on Twitter @DCN_Angela.