A new study by the Institute for Work and Health (IWH) finds that lost-time injury claims to the Workplace Safety and Insurance Board (WSIB) and claims for severe injuries are lower on unionized building trade construction jobsites in Ontario compared to non-unionized counterparts.
It also found the "union safety effect" has strengthened over the past five years.
Dr. Lynda Robson, an IWH scientist, hosted a webinar Jan. 12 detailing the findings of the study, which was commissioned by the Ontario Construction Secretariat (OCS).
This study specifically documents the effect of unionization on the incidence of workers' compensation claims from 2012 to 2018 in companies from Ontario's ICI construction sector.
Updating a Study of the Union Effect on Safety in the ICI Construction Sector is a follow up to an earlier IWH study, with data up from 2006 to 2012. Also sponsored by the OCS, it concluded that unionization lowered the likelihood of organizations reporting lost-time injury claims and increased the likelihood of them reporting no-lost-time injury claims.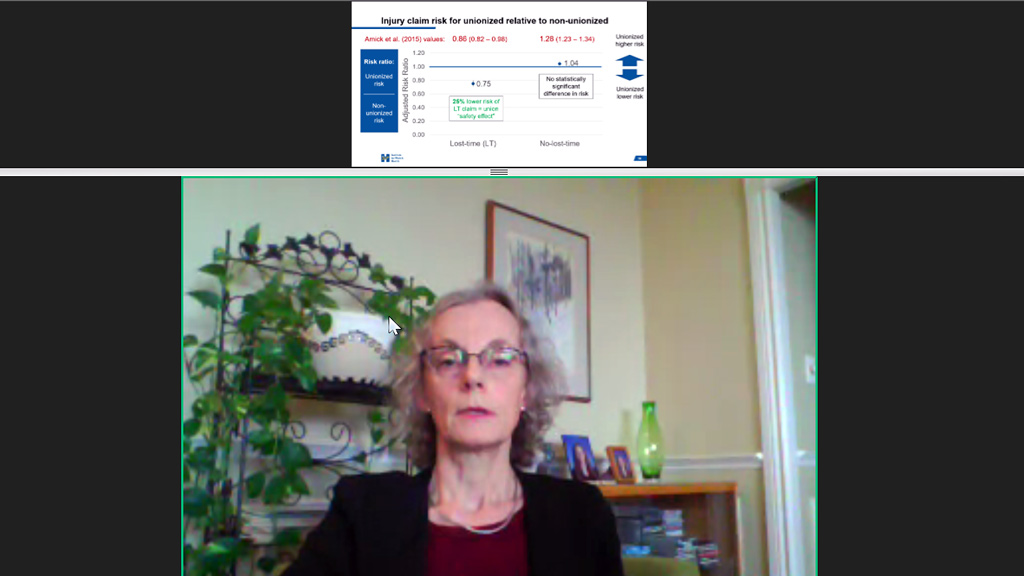 The latest study found lost-time injury claims to the WSIB are 31 per cent lower on unionized building trade construction jobs than they are in a non-union environment; claims for severe injuries are 29 per cent lower; and claims from unionized construction workers were 23 per cent lower compared to unrepresented construction workers.
"Unionization was associated with a lower workers' compensation lost time injury claim incidents in ICI construction in Ontario," said Robson.
"We found variation in this association however, by company size, by industrial subsector and in particular this association was not found in companies with less than five employees. In our study, unionization was not associated with no lost time claim incidents."
Compared with the previous study, "in both cases our values are lower than what was seen before, suggesting a larger union safety effect," added Robson.
The study also found as the size of the company grows, the incidence of claims drops, with 36 per cent fewer claims in unionized companies with more than 50 employees. Bigger firms tend to be unionized and devote more resources to health and safety, Robson stated.
The sample used in the analysis comprised 60,425 company classification units, of which 5,267 (8.7 per cent) were classified as unionized and 55,158 (91.3 per cent) as non-unionized. Six types of injury/illness claims were examined: lost-time allowed (LTA), musculoskeletal LTA, critical (severe) LTA, no-lost-time allowed, total allowed, and total allowed and not allowed.
According to the report, the study:
repeated the finding in 2015 that company unionization was associated with a lower risk of LTA injury claims. With an adjusted risk ratio of 0.75, unionization was associated with a 25 per cent lower rate of LTA injuries.
also repeated that unionization was associated with a lower risk of lost-time claims related to musculoskeletal injuries (23 per cent lower) or to critical (severe) injuries (16 per cent lower).
did not repeat the earlier finding that unionization was associated with a higher risk of no-lost-time claims in analyses with statistical adjustment.
extended the earlier study by investigating the union effect in different company size categories. Results indicate that the union effect on LTA claim incidence was greater among the largest companies with 50-plus full-time equivalent employees.
extended the earlier study by estimating the union effect on the incidence of LTA injury claims in seven ICI construction sub-sectors.
The study has its strengths and weaknesses, Robson pointed out.
"Our study is limited to the ICI construction sector and doesn't speak to other types of construction," she said.
"We found there was a robustness to sensitivity testing and moreover there is a robustness of the lost time claim findings across the two studies, two different research teams and two different time periods. We also know we are making a contribution to this gap in the literature regarding construction."
The study can be found at https://iciconstruction.com/wp-content/uploads/2021/01/IWH-OCS-Safety-Study-Report.pdf 
Follow the author on Twitter @DCN_Angela.