COVID year one was a year of fighting policy battles and in some cases struggling for survival for members of the Ontario Sewer and Watermain Construction Association and 2021 looks to be more of the same, OSWCA leaders warned during its annual general meeting held online recently.
It was the OSWCA's 50th anniversary AGM and the association celebrated with a video listing accomplishments and challenges faced over the five decades.
OSWCA executive director Patrick McManus noted in an interview that 2020 was a year unlike the others, in that the stresses of dealing with important sectoral issues such as the new excess soils regulation were magnified as firms saw finances depleted and also wondered whether the 2020 and 2021 tendering seasons could be washouts.
"There's a lot of reactionary problems that just pop up all of a sudden, like the one in the fall with the WSIB and a big spike in the maximum insurable earnings ceiling," explained McManus. "They require immediate attention because of how fragile everything is right now and how everybody's finances are fragile. There's a lot of extra expense on health and safety this last year."
Last year saw the OSWCA putting out a lot of fires, McManus said, starting with the initial exclusion of private sewer and watermain projects from Ontario's first essential projects list as the pandemic hit.
Coming into 2020, he said, everybody's books were full with a lot of work tendered in the last quarter of 2019 and first quarter of 2020, so the first lockdown in March was a blow. But concerted lobbying resulted in the easing of restrictions several weeks before other ICI projects were restored, McManus said.
The extension of holdback rights under the initial emergency orders caused extensive problems throughout the industry, McManus said. He became aware of the importance of the issue when he heard from a member who had been expecting a big payout.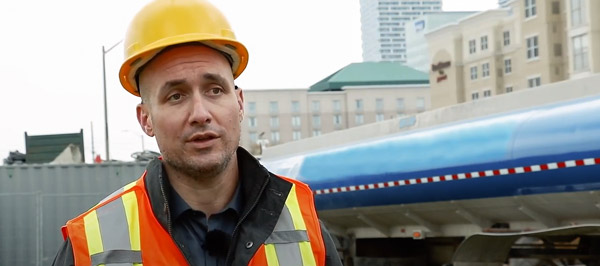 "He was expecting $4 million to keep his company liquid, and as soon as that order went into place the municipality wouldn't release the holdback. That process was repeated again and again across the different industries."
The problem was fixed within weeks, McManus said.
Two issues that remain concerns are the implementation of the soils regulation and uncertainty whether municipalities will follow through with 2021 capital projects.
With municipalities "hoarding" cash in 2020 to pay for increased administration costs, McManus said, many companies were left "limping" into the season closeout in 2020 without much work being released.
The OSWCA and its allies went into action, conducting dozens of meetings with MPs and MPPs and hiring lobbyists. Finally, prior to Christmas, the federal and provincial governments jointly announced a $695-million Safe Restart fund for municipalities to help bring their 2020 budgets into balance.
Now, McManus explained, sewer and watermain contractors are fearing the same issue might arise again this year, with even more serious potential ramifications given precarious finances, and a second round of industry lobbying, for a so-called Safe Restart 2.0 agreement, is underway.
"Now we're walking on eggshells a bit heading into the spring construction season because nobody's quite certain about what's to come from publicly tendered work, but we're cautiously optimistic at this point," said McManus.
As for excess soils, McManus explained that municipalities were interpreting the broad new regulation in different ways with the result that contractors are finding new responsibilities downloaded onto them. The result will be a large transfer of risk and new costs in contracts if the issue does not get sorted out, he said.
"It's so big and sweeping and it's such a radical change to something that is a fundamental practice in our industry," McManus said. "There's going to be a lot of growing pains working through how municipalities stuck this in their contracts and how this brand-new process unfolds in the next five years."
The AGM saw a changing of the guard as Todd Arnott, the Simcoe County Heavy Construction Association representative on the OSWCA board, replaced Jeff Mulcock as president.
"These next 12 months are going to be critical to ensuring sustainable infrastructure funding is on the table; to addressing key issues with the province; and to build our new communications strategy to keep you up to date on everything in the pipeline," Arnott said.
McManus said contractors are heading into 2021 in better shape, generally, than they anticipated last March.
"That's not to say we're out of the woods yet because we do anticipate this year actually being a bigger struggle from a financial standpoint because a lot of things are going to come to bear this year. But that being said, you know after 12 months of this, we actually are still in a pretty good place, companies are still out there operating and there's not a lot of bankruptcies.
"The sector seems like it's doing OK."
Follow the author on Twitter @DonWall_DCN.