The cities of Hamilton and Toronto are now Canadian leaders in Passive House construction as Ontario assumes a dominant role in the field, delegates attending a recent Ontario General Contractors Association (OGCA) webinar were told.
The OGCA presented Passive House 101 recently with panellists Chris Ballard, CEO of Passive House Canada, Deborah Byrne, COO of Kearns Mancini Architects, and Henry Schilthuis, president of Schilthuis Construction, discussing trends, opportunities and best practices in the sector.
CityHousing Hamilton, the largest social housing provider in the city, is leading the way on Passive House (PH) EnerPHit retrofit projects, with the 18-storey Ken Soble Tower retrofit serving as a signature job.
"I'll say that Hamilton really is, in many ways, leading the way on Passive House," Ballard told the OGCA audience, noting British Columbia was the Canadian leader for years with much of the early PH construction. "Ontario has been overtaking B.C. in many ways."
The Ken Soble Tower job, which reduced greenhouse gas emissions by 94 per cent, was one of the largest EnerPHit projects in North America, he said.
"There lots happening in the Hamilton area, with not just single-family residences, but MURBs (Multi-Unit Residential Buildings), a lot of it led by CityHousing Hamilton."
He added, "It's estimated there are 10,000 towers across Canada that are in desperate need of renovation, mechanical windows, facades. Now's the time to go deeper and do that deep energy retrofit."
The expansion of PH from small residential buildings to MURBs and other sectors, and, massively, to retrofits are two other significant trends the panellists identified.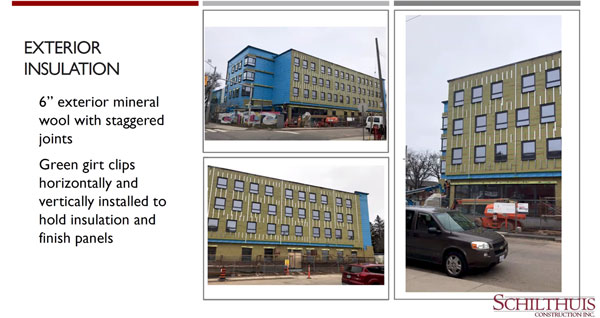 Toronto Humber College's North Campus Building NX retrofit became Canada's first retrofit to achieve a Zero Carbon Building (ZCB)–Design certification from the Canada Green Building Council.
"When I toured it last, pre-COVID, it was filled with instructors who were telling me that it was such a wonderful change from the previous design of the building, which was hot in summer and cold in winter," said Ballard.
Policy-makers from across the spectrum including the federal government and the City of Toronto are pushing the boundaries of green retrofits, Ballard said, with Toronto City Council's recent approval of the new Toronto Green Standard Version 4 certain to accelerate PH building retrofits.
"Organizations like Toronto Community Housing Corporation are using PH's EnerPHit standard to retrofit about 200 towers over the next few years," said Ballard. "It's an absolutely massive, multibillion-dollar project, retrofitting old towers that need to be updated. So Passive House just isn't about new buildings, it's about existing buildings."
Notable large PH projects in Western Canada include Canada's Earth Tower in Vancouver from Perkins and Will, which will be the world's tallest hybrid wood tower at 40 storeys, and the Alberni Towers Recollective, which will be the tallest Passive House development in the world, with two residential buildings between 43 and 48 storeys.
Byrne, a founder of Passive House Canada who panel moderator Giovanni Cautillo called a "walking encyclopedia" on Passive House, explained that PH offers increased energy efficiency, draft-free comfortable design, better air quality, quieter environment, reduced operating costs, resiliency and a more productive and healthy living atmosphere.
There are more than 60,000 PH buildings around the world and a 25-year track record of monitoring and verification of thousands of units, she explained. There are seven general steps to achieving PH: super insulation, tighter envelope, triple glazed windows, energy ventilation and heat recovery unit, thermal bridge-free design, optimal building orientation and a PH-trained team.
The training results in highly skilled trades focused on the two essentials of PH, she said.
"How many of you put the lowest-paid labour on the site doing insulation and airtightness?" Byrne asked. "Because for PH, these are the most important people on site."
Schilthuis Construction's first experience with PH was in 2016 and, noted Henry Schilthuis, they have been hooked ever since.
They are currently finishing their fourth multi-unit residential PH in Ontario and by the end of 2022 they will have built nine multi-unit PH residential buildings with three additional coming in Ontario in 2023. Schilthuis has multiple teams trained in PH construction.
The difference between PH and conventional building is extra attention to detailing, sequencing, materials, precision and cost, he said.
PH project management tends to lean towards construction management, almost to the point of integrated project delivery, Schilthuis said.
"It is essential that we get with the owner and the client from the beginning, talk about the plusses and minuses of being energy efficient," he said.
"And being on board, I think that's essential, because some of the Passive House details lead to extensive details of insulation taking a bit more time. Also, doing the air tightness test where you don't basically quit your building envelope until you've got your fully insulated building ready for an air test."
There are cost implications with PH, Schilthuis said, "but overall, it's not as great as you think. It could be anywhere from four to 10 per cent.
"But that is more than made up for in energy efficiency in the building itself."
Follow the author on Twitter @DonWall_DCN.