On the first day of his last convention as Ontario's Building Trades leader, Patrick Dillon was praised as a champion of the province's unionized construction workers who diligently spoke to premiers and prime ministers to assert the interests of workers and the broader construction sector.
Dillon began his career as an apprentice electrician in 1961 and has been business manager and secretary treasurer of the Provincial Building and Construction Trades Council of Ontario since January 1997. His selected successor, ironworker executive Marc Arsenault, was approved by a vote of delegates at the Building Trades convention Oct. 14 and will formally assume duties in December.
During his address, Ontario Premier Doug Ford heralded Dillon's "incredible" run in the job.
"Everyone can attest to the positive impact you've made while you've been here," said Ford. "Pat, you're an absolute champion."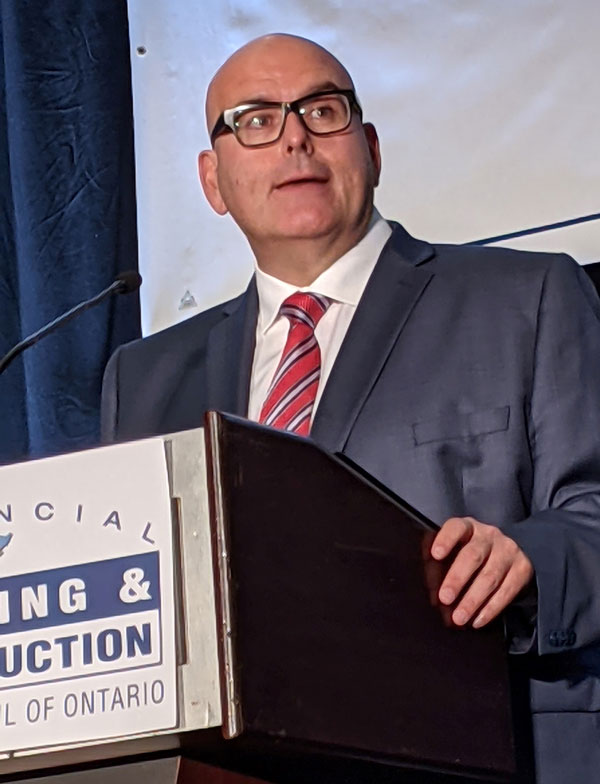 Liberal Leader Steven Del Duca, a former minister of transportation and before politics a Carpenters' Union executive, recalled meetings with Dillon while in government.
"Pat, you have been an absolute warrior," said Del Duca. "You will be missed within the building trades, you will be missed within the political and governmental realm, and your ability to convey a direct message."
After each speaker at the convention, Dillon called upon his decades' worth of experience on the provincial stage, at one point recognizing Minister of Labour, Training and Skills Training Monte McNaughton for consulting broadly on skills training but later criticizing the Ford government for coming close to "blowing up" hard-won advances in skills training when it announced skills sets — a plan later abandoned.
In an interview, Dillon said the last three years, with trades training on the brink, and another period, during the Mike Harris years, were two memorable eras for him, requiring toughness and shows of strength.
His over-riding vision for the job, he said, developed during his first 20 years on the tools, often working throughout the U.S. He noticed a difference in the quality of training between the U.S. and Ontario.
"I was convinced that the training system in Ontario, with bits of improvement here and there along the way, produces the most productive construction workforce of any jurisdiction that I worked in in those 20 years," he said. "It was a driver for me to work to improve that.
"I was completely impressed when the (Dalton) McGuinty government announced the College of Trades. To me that was the most supportive thing that any government in any jurisdiction in the world that I knew had ever done on behalf of trades people."
OCOT had flaws, but it did not need to scrapped and replaced by skill sets, as the Ford government unexpectedly announced it would do, Dillon said.
Dillon took care to credit other stakeholders who put pressure on the Ford government and eventually the government backtracked. But one conversation he had involving some muscle-flexing no doubt was influential.
"I felt, how can that happen on my watch," Dillon said.
"I had a very, very heart-to-heart discussion with the premier about how this was way in the wrong direction, and that we would not stand by. At some point in time, there's going to be a price to pay for this.
"I have to give Premier Ford some credit, that he actually listened."
Recalling the Mike Harris era, Dillon said before then the Building Trades were apolitical. But the Harris government realized it was politically advantageous to attack workers and union bosses, Dillon said, and threatened the movement on such issues as double breasting and three-and-out legislation.
"Because of the attack that the government of the day had on the workforce, not just construction, the workforce, it prompted me, as a leader, to look for how we would go about to stop that attack. That's when Working Families was created."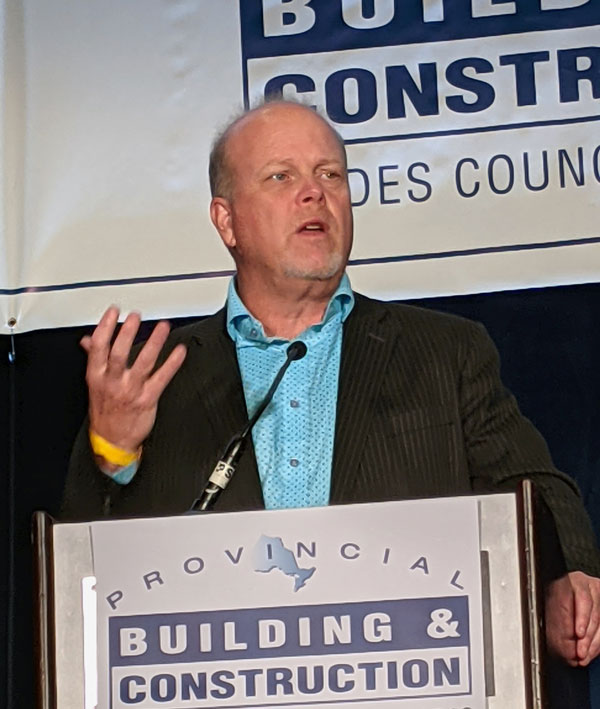 With that movement, the Building Trades and allies had a counterweight to the Conservative government until the Liberals took power.
"We didn't really want to be in that space but things changed."
Dillon chose his final convention to take a stand on another issue that is dear to his heart, he said — health and safety. He got behind a mic on the convention floor to speak in support of a resolution calling for the government to create a health and safety officer independent of the legislature along with other measures to deal with the "carnage" at workplaces.
"We can get caught up complimenting ourselves on how well we're doing, without looking at the statistics of how we are not doing so well on behalf of the people that we represent," Dillon said, noting that less serious injuries may be dropping but serious injuries and deaths are up.
Other convention speakers representing opposite sides of the political spectrum — federal Conservative Leader Erin O'Toole, and Canada's Building Trades Unions executive director Sean Strickland — paid tribute to how Dillon reached across party and ideological lines to offer plain-spoken advice and bring people together.
"Respect is the word," said Dillon. "You realize they have a job to do and you have a job to do. At the end of it, the success of that job will be measured by whatever deals you've made work for the people you represent, and the people they represent.
"If it doesn't work, it's not going to last."
Follow the author on Twitter @DonWall_DCN.