The second annual Building Diversity Awards, recognizing champions in diversity, equity and inclusion (DEI) in the construction industry were handed out in-person May 10.
The awards, which were presented during a gala at the Design Exchange in Toronto by the Toronto Community Benefits Network (TCBN), honours exemplary contractors, unions and client/owners as well as industry champions who are leading in DEI to increase the participation of Black, Indigenous and racialized workers, including youth, women and newcomers within their organizations.
"With the Toronto Community Benefits Network, we push the envelope every day and we ask ourselves to do better, and you are coming through," said Rosemarie Powell, executive director of the TCBN, to the gala attendees. "This is why we really wanted to make sure that we are recognizing those client owners, those unions, those contractors who are basically taking it to the next level."
Amina Dibe, manager of government and stakeholder relations with RESCON, was named winner of the 2022 Community Benefits Champion Award. It recognizes an individual working for a private developer, local union, municipality, government agency, school board, academic or health institution who is making extraordinary efforts to ensure underrepresented groups gain training, employment and procurement opportunities through community benefits.
Dibe has led initiatives to hire equity seeking groups in residential contracting projects across Ontario. She actively works to support the hiring of apprentices and journeypersons from historically underrepresented groups. From the private sector stakeholder perspective, she has been key to leading the Toronto Declaration of Inclusive Workplaces and Communities on RESCON's behalf.
Dibe is also chair of the Anti-Racism Roundtable, a coalition of more than 50 people representing 20 different groups, including management, labour, subtrades, post-secondary training partners, government and health and safety professionals.
"Part of combating racism, discrimination and hate involves challenging the status quo of how we've traditionally done things," said Dibe in a statement. "This includes addressing the culture of construction through continuous training and strongly enforcing existing and new policies to make sure that our diverse, racialized and underrepresented workers feel comfortable. It also involves directly engaging with our diverse and racialized workers to learn about their experiences in the industry."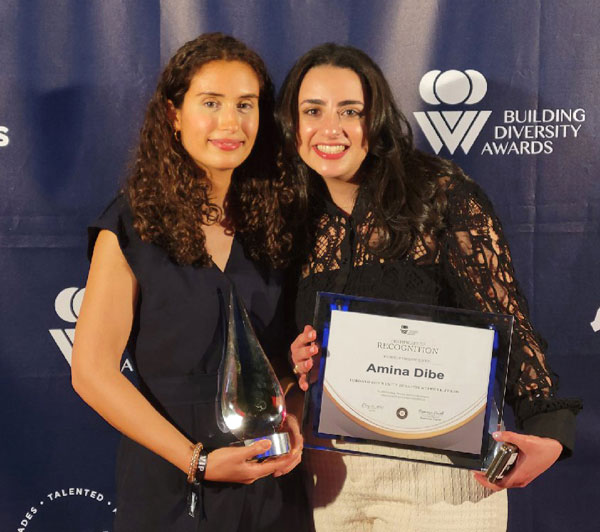 The Daniels Corporation was awarded the NexGen Builders Champion Award – Employer, which recognizes a current or past construction industry mentee, mentor or employer.
Ways Daniels is "walking the walk" include operating the CRAFT pre-apprenticeship program; improved onboarding; supporting diversity and anti-racism training to existing staff; and zero tolerance for racism and discrimination.
Desiree Smith of Carpenters' Local 27, a journeyperson, floor installer and a mentor with the TCBN's NexGen mentoring program, was the recipient of the 2022 NexGen Builders Champion award. Smith is also one of the founding members of the Ontario Building and Construction Tradeswomen.
The NexGen Builders Champion Award – Mentee, was presented to Rokhaya Gueye, a carpenter with Local 27 and co-founder and CEO of Global Connection Venture. She is also a mentor and a coach. The award recognizes a current or past construction industry mentee, mentor or employer.
Carpenters' Local 27 won the Leading on Diversity Award – Union recognizing an organization, that is making extraordinary efforts to ensure underrepresented groups are accessing and succeeding in the trades.
"What gave Carpenters' Local 27 the edge is that the leadership of the union recognizes it has a duty to ensure the future of the construction industry is an inclusive one which is very important. This is demonstrated by the fact that its current membership staff and executive board is one of the most diverse in Canada for any construction union."
The Leading on Diversity – Owner/Client award recognizes an owner/client that puts into practice best practices identified in the global diversity, equity and inclusion benchmark.
Dream Unlimited, developer of office and residential assets in Toronto, was the winner in this category.
"What sets Dream apart is its ambitious plan for building a diverse workforce that encompasses a whole range of global diversity, equity and inclusion."
The company came out with a social procurement strategy last year. Without being asked to enter into a community benefits agreement, Dream Unlimited is looking at establishing 20 per cent of its vendor contracts going to companies that are owned by equity seeking groups.
Mosaic Transit Group won the Leading on Diversity Award – Contractor, which recognizes a contractor that has put into place best practices identified by the global diversity equity and inclusion benchmarks.
"The award builds on the award that was given last year to Crosslinx," said John Cartwright, former chair of the TCBN, who presented the award. "Mosaic Transit Group took many of the innovations, much of the commitment that Crosslinx had developed through their project and they applied that to the Finch line."
Follow the author on Twitter @DCN_Angela.