Ontario's Building Trades council welcomed a new affiliated trade union at its recent convention as first-year business manager Marc Arsenault outlined a platform that stressed collaboration, unity and healthy workers.
Arsenault was elected business manager at last year's Provincial Building and Construction Trades Council of Ontario annual convention, replacing the retiring veteran Patrick Dillon.
During this year's event Arsenault repeatedly stressed progress on forming links with other stakeholders including government and employers, noting the theme was "a unified voice under a single banner."
"The united construction industry has a well-earned professional-grade reputation and together we are maintaining and advancing this reputation," Arsenault said.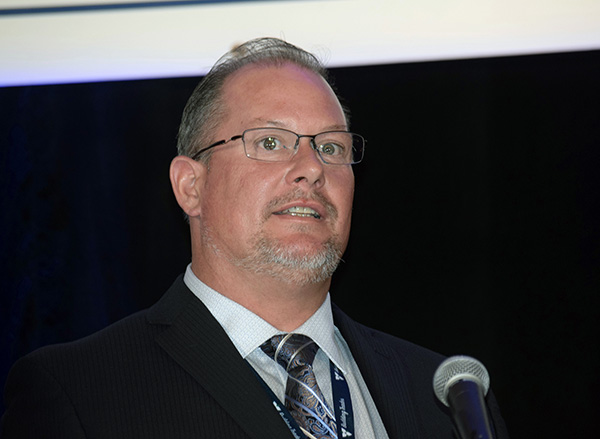 "A construction industry advisory working group has been struck and our priorities have been mapped out. Relationships with large consumers of construction services are beginning to be strengthened."
The newest affiliate, the Brick and Allied Craft Union of Canada (BACU), splintered from the International Union of Bricklayers and Allied Craftworkers years back and left the Building Trades fold, but in recent times BACU president Tony DiMaria has been sitting in on Building Trades meetings. BACU vice-president Tristan Rawlings took a seat at the council table during the convention, held recently in Niagara Falls.
"We are taking stock of our inventory here and we recognize that the greatest success we've had is when the family is united," Arsenault said. "We're very excited, very pleased, to have BACU come back to the Building Trades council."
BACU becomes the 13th trade union affiliated with the Building Trades council.
Rawlings said the days of combative union leadership are over, significant rights have been won, and now progress can be best accomplished through co-operation.
"We're just going to try to keep moving forward with the rest of the province," he said. "When the province is moving forward towards unionized work, we're at this table."
There is a different mindset in union leadership today, Rawlings said.
"It's a different leadership. It's a different class of worker, so in a sense they were fighting for the rights that we have today and can enjoy.
"But I'm trying to work along with the contractors moving forward."
The theme of progress through collaboration was also stressed by Ontario's Minister of Labour, Immigration, Training, and Skills Development (MOL) Monte McNaughton in his address.
The Building Trades council is playing an increasingly large role in administering training programs with funding from the MOL, with McNaughton noting $6 million in spending from his ministry allotted to nine programs run by the Building Trades.
McNaughton said the government is prepared to acknowledge that union training provides the best results.
"In hundreds of trips across Ontario to every corner of our province I've seen the success of union-led training centres, which is why I challenge everyone in this room and at this table in particular to bring forward your proposals to help us train the core workers we need to end this crisis," said the minister.
McNaughton also issued a plea for Building Trades participation in another MOL initiative, to assist workers who have run afoul of the criminal justice system gain access to the skilled trades. The MOL has announced $90 million in funding towards skills development.
"To everyone in this room who has innovative ideas that address challenges to hiring, training or retraining workers, we need innovative solutions and project ideas," said McNaughton.
Arsenault told the delegates the Building Trades council was strategically striving to "expand and add precision with our government engagement strategy." By putting emphasis on "more fulsome" representation of the industry and other partners, the council was intent on "preserving the integrity of the building trades model."
Among resolutions approved by the delegates were the following:
the Building Trades will work with the government and employers to implement an occupational health and safety strategy for the construction sector;
the council will review its documents and practices to ensure all wording is inclusive;
the council will continue to work with the Ontario Construction Secretariat (OCS) to develop construction-specific labour-relations certification credentials;
the Building Trades will support Bruce Power's life-extension and major component replacement programs; and
the council endorsed initiatives to reduce smoking in the construction sector and upgrade hygiene infrastructure at jobsite washroom facilities.
OCS CEO Bob Bronk explained the idea of upgrading labour-relations and collective-bargaining practices in the construction sector via a targeted curriculum was initiated by Dillon. Bronk said Arsenault and Wayne Peterson, executive director of the Construction Employers Coordinating Council of Ontario, were both championing the initiative.
"We are trying to raise the bar trying to find a way to reduce disputes.," said Bronk.
Follow the author on Twitter @DonWall_DCN.