Even among other construction workers, one trade stands out for its members' fearlessness and thrill-seeking disposition: rope access technicians.
The rope artists perform masonry, carpentry, inspections or welding while suspended in mid-air sometimes hundreds of feet down the side of a building, attached by rope to a secure anchor point on the roof.
They work in teams of two to maybe six, rappelling down with heavy equipment and establishing themselves at a workstation for sometimes hours at a time. Tools of the trade include ropes, carabiners, lifting tools, harnesses and self-locking handles.
Alexandre Pelletier is the chief rope technician for Quebec-based restoration specialist Atwill-Morin and the manager who recruits, trains and ultimately has to determine if the workers have the right stuff to do the job. Sometimes, the trainee makes the decision for themself.
After volunteering for the specialized training, the day comes when they have to take the plunge over the edge of the roof — and they can't do it.
"It's a special thing," said Pelletier, who worked in the field elsewhere before joining Atwill-Morin.
"They think they'd like it, but…when you go out with your bag of bricks, your bag of mortar…with the wind, with everything, it's another world."
Atwill-Morin president and CEO Matthew Atwill-Morin said his firm is increasingly realizing there are many circumstances when cranes, scissor lifts, swing stages, scaffolding and other elevated work platforms are expensive, time-consuming to set up and not worth the effort. With rope technicians, there is no need to block traffic, provide a work plan, restrict vehicle access or hire security.
If the firm is going to be spending three months working on the exterior of a building in one area, Atwill-Morin will set up conventional scaffolding.
"But if we have some small repairs, we need to take pictures or we need to go and inspect something, sometimes money spent in order to set up that scaffolding doesn't make sense," he said. "That's where our ropes come in and save everybody money."
So the firm has decided to merge the two areas of expertise, rope access and building envelope work. Atwill-Morin launched its rope technician crew just in the past year. The recruiting has been mainly in-house with certified carpenters, masons, finishers, scaffold workers or others considered for the extra training that is required.
Accreditation from such global organizations as the International Rope Access Trade Association and the Society of Professional Rope Access Technicians is obtained and the firm also has its own set of additional standards, Atwill-Morin said.
For example, the international standards do not require that an engineer visit every site and validate the anchors but his team has made it a requirement.
"We want to be super safe," said Pelletier, who still goes out on the job when needed.
"We are always training and retraining. It's the best training I've ever seen in the industry."
Quebec jobs using the rope team have included 441 President Kennedy Avenue, Sacred Heart Hospital of Montreal, Verdun Hospital, Phillips Square Hotel and Suites and 1420 Mount Royal Boulevard.
"We're doing these really prestigious projects that require all sorts of building accesses," said Atwill-Morin.
The executive said the rope access specialty is more and more in demand, thus making the recruiting efforts more urgent.
But not for a second will the firm accept weaknesses among recruits that could impair team success. First off are the technical skills.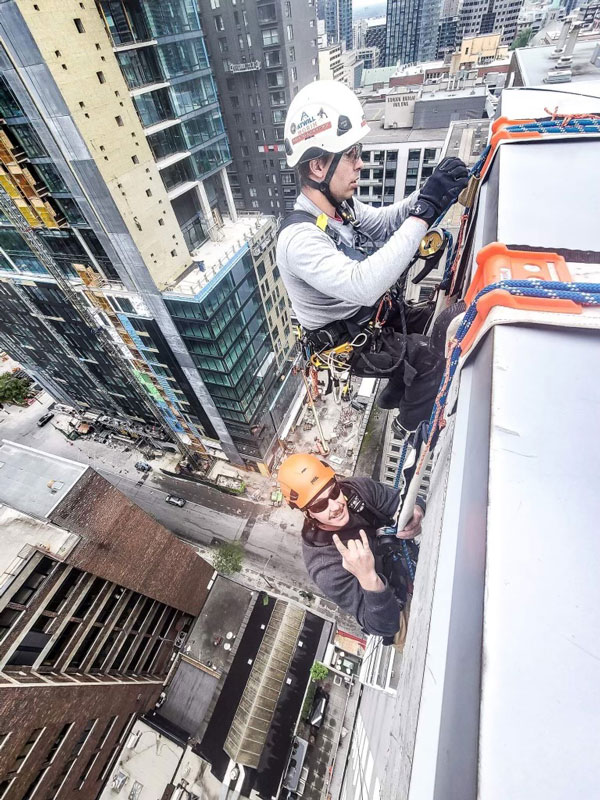 "If you don't tie your ropes in properly, if you don't do the proper knots, it's a fail, you're done," said Atwill-Morin. "There's no room for error."
The job requires a special combination of skills, he said.
"It's very, very different. It's physical in a different way. Also, obviously there's the stressful part," the CEO explained.
Atwill-Morin has attempted to recruit women for the job but without success so far. Exceptional physical strength is a must for the job.
Besides skills and physical fitness, an essential ingredient for the squad is a sense of trust. Everyone has to be able to know that other teammates will be ready with the right moves and support. Potential recruits have been dismissed when it has become apparent they do not have the spirit of teamwork their teammates demand.
"It's a brotherhood," said Pelletier.
Atwill-Morin added, "If you don't trust the guy with your life in his hands, he will not work with us."
Workers also have to be mentally tough, love challenges and have guts, Pelletier said. Earlier in his career, he said, a rope technician colleague experienced a stressful situation on the job and it broke him.
"He just left and he never came back," he said. "That is one reason standards are so high, they did not want anything like that to happen again."
Follow the author on Twitter @DonWall_DCN