Three years after the business world reacted to the rise of Black Lives Matter activism by escalating its embrace of DEI, the architectural profession has made notable strides towards becoming a more inclusive profession says one of Ontario's most visible Black woman architects.
Farida Abu-Bakare, a frequent guest on diversity and inclusion panels and supporter of such groups as the Black Architects and Interior Designers Association, Black Students in Design and RISE for Architecture, is the director of global practice at the urban design firm WXY based in New York.
She is a member of the Ontario Association of Architects' council and has prior experience as an associate at HOK and project director at Adjaye Associates, building a significant portfolio of community-growth projects across North America, Africa and Europe.
Abu-Bakare has also worked as a sessional lecturer at the University of Toronto's Daniels Faculty of Architecture, Landscape and Design and participated in a multi-year initiative with the Kwame Nkrumah University of Science and Technology based in Kumasi, Ghana.
All by her mid-30s.
Two-and-a-half years ago, Abu-Bakare was lamenting in an interview that Black women made up just 0.4 per cent of the architecture and design community.
"Underrepresentation, racial discrimination and combating negative racial stereotypes about intellectual inferiority can really cause Black women to feel like impostors despite having remarkable resumes and important perspectives," she said at the time.
But now, Abu-Bakare reports that progress has been made.
"As soon as that happened in June 2020, with George Floyd, every firm was scrambling, how do I make sure that my workplace is diverse and equitable? How do I make sure that my recruitment is inclusive?" she said.
"I think now, after three years, you start to build things within the actual ethos of your company, it happens that you now have curated a space where people feel comfortable, to encourage people of different backgrounds to come and work in their firm."
Even though many decision-makers in architectural firms are still white men aged 40 to 70, it's becoming ingrained in the system that firms are looking for a pipeline of students of colour, Abu-Bakare said. It appears it is not just a trend.
"It seems like it's now a value system," she said.
Abu-Bakare's personal values developed as a girl growing up in Thunder Bay, Ont. among other locales. As a teenager looking for diversion, she began to volunteer with the local Multicultural Association of Northwestern Ontario which offered social programs for Indigenous youth. She was soon doing public speaking and media.
By the time she left graduate architectural school with a masters degree in 2012 and joined the working world, she was eager to get to work on community-building as well as volunteering in aligned projects. The management at HOK fully supported her as a Black woman architect but there was no escaping that the numbers were stacked against her.
"I feel definitely a certain level of imposter syndrome is always going to occur when you're the only woman of colour in the room, and it was my age," she said. "I think that's just my nature, the opportunities I've been given, I've been put into spaces where I wasn't fully equipped, but was able to navigate."
For most of her early career her mentors were for the most part older white men but she appreciates their allyship, teaching her skills in project management and finances, "all the tools that I'm using to be able to be successful."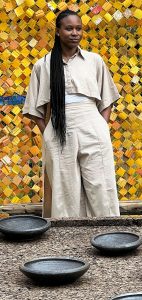 COURTESY FARIDA ABU-BAKARE – Farida Abu-Bakare showcases a structure she designed for an artist installation in Kew Gardens in Richmond, England in May 2022.
Stints in Atlanta and in Ghana as part of a multi-year initiative with the Kwame Nkrumah University of Science and Technology have honed her skills in community development.
Projects have included hospitals, workplaces, higher education, aviation, justice, science, advanced technology and arts projects.
Now with WXY, she has worked closely with the firm's founding principal Claire Weisz on projects in Abu-Bakare's nation of birth, Nigeria, in London and in Toronto.
A current project in Toronto is developing Studio Squid, a program that will create an arts and crafts space at 77 Grange Ave. that will mesh with new local housing and a nearby women's shelter. The focus will be on inclusivity and empowerment over 10 years of revitalizing the neighbourhood.
"Our client was trying to tap into that potential of that new community there and hopefully to provide the women that live there with some entrepreneurial skills to build themselves up economically."
As a mentor of young Black architects, Abu-Bakare said she urges her mentees to avoid using race as a catalyst to gain favour but rather to focus on building technical prowess.
"If you don't have basic knowledge of how buildings are built, you're not going to have the tools that architects need."
Abu-Bakare said she feels positive about the future of architecture. Groups like RISE For Architecture are showing how to build more accessible, beautiful and sustainable communities, she said.
"I think there is a shift in thinking. It's the movement of being empowered to shape how our cities are built. It's exciting."
Follow the author on Twitter @DonWall_DCN