Is it possible to reach a consensus on whether highway networks should be expanded, optimized and/or replaced?
That was the question posed to non-governmental association representatives during the Highway Stakeholders: Diverse perspectives on the future of highways panel discussion, part of the Transport Futures webinar series.
"I think a fix-it-first policy is something that we can all get behind," said Ben Crowther, of the America Walks/Freeway Fighters Network. "From the trucking perspective, you want quality, maintained roads. Commuters want quality, maintained roads. We already can't maintain the roads we have now and the more we build it's just kicking the can to future generations to foot that bill. So let's start with really keeping what we have intact and working from there. I think that's common ground and a first step as we start to consider ways forward for the future of highways."
Rebecca Lush from Transport Action Network in the U.K. talked about the polling from a group called Transport Focus.
"Every single time it comes out that the top priority for road users in the U.K. is road maintenance," said Lush. "That's where they want the money to go, so the fix-it-first is absolutely correct.
"There is plenty of money for new road projects…but it's all going into the wrong projects which take us very expensively in the wrong direction. That money could easily be switched for maintenance with money left over for active travel and public transport subsidies."
C.D. Howe Institute representative Ben Dachis said finding common ground is a hard battle and that increasingly, political decisions are being made for segmented markets.
"Look at the (Highway) 413 decision," Dachis said. "I live in the High Park neighbourhood. There are tonnes of 'Stop the 413,' but the Ontario government won't be listening to the residents of High Park.
"What they do care about are ridings that are in Brampton or Mississauga where the 413 is pretty popular."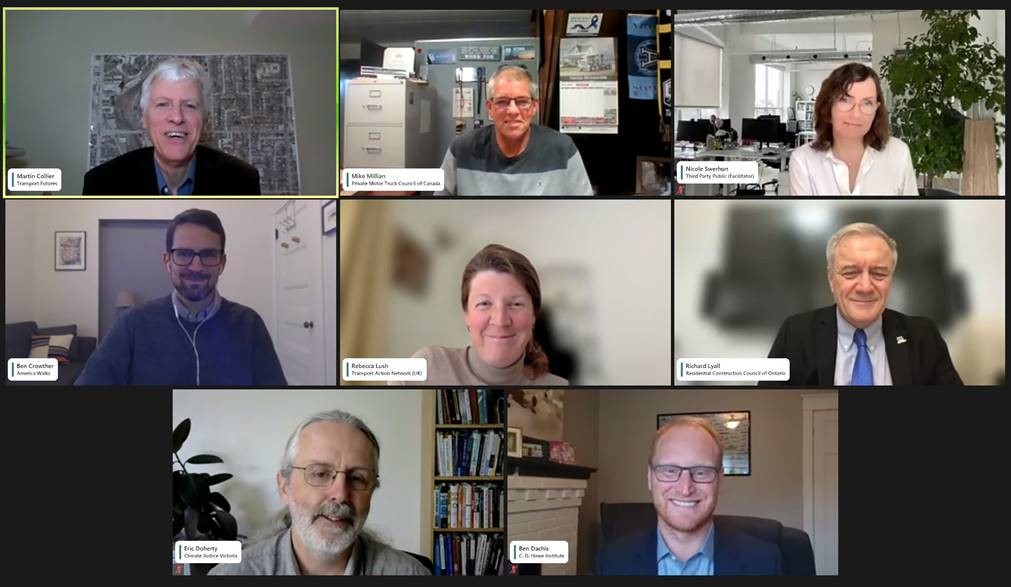 On public transit he agreed there are advantages to the fix-it-first approach.
"There are some substantial concerns about transit safety right now," he said. "There is a lot more service that we can provide, better service that the people are willing to pay for."
Mike Millian of the Private Motor Truck Council of Canada, said there has been a lot of investment going into public transit in the last few years.
"Unfortunately, it takes a long time to get these things built, but if we improve public transit, increase public transit, getting it going out to more areas, it removes those people from roadways that are contributing to that congestion," he noted. "That is a huge benefit to the trucking industry because you can't put a trailer load of groceries on public transit it has to go on the truck."
If you put more lanes on highways and the population increases, those lanes wouldn't be enough because there will be more cars.
"We improve areas for people to walk, we improve areas for people to bike, we improve mobility access to public transit and at the same time we better utilize roads that we have," he said.
Keeping on the theme of fix-it-first, Phil Pothen of Environmental Defence said although it seems like the panel members had different views, he said there was some consensus on finding a way to move traffic onto Highway 407.
Richard Lyall, president of the Residential Construction Council of Ontario, said it all comes down to finally fixing some things that should not have been a problem in the first place, whether it's housing or transportation.
"We're fixing the screw up with the introduction of the growth plan when they didn't deal with density issues," Lyall said.
He also said using digital twinning technology can be used to make better, "fact-based decisions where we can say, 'OK, what is the best way to move people from 'A' to 'B'? What is the best mix of housing in a certain area that we need to achieve a certain objective.'
"We can run simulations. We're not doing it now," Lyall added. "They want to make decisions based on what impact will this have and we can do that, there's that capability there, but many decision-makers are not interested."
Climate Justice Victoria's Eric Doherty said there is a potential for real common ground on decision-making.
"I think we need evidence-based decision-making on traffic impacts and climate impacts of all these projects," he said. "I think we can also get a common consensus not necessarily on the level of climate ambition that is really needed, but I think we can get consensus that we should be making real effort to meet existing climate targets that Canadian federal and provincial governments and municipalities and regional districts have set."