The winning designs of an architectural contest that could be the model for rebuilding Ukrainian cities using a low-cost concrete modular unit system have just been announced by the sponsors, one of whom is Toronto-based WZMH Architects.
Rebuild Ukraine is an architectural competition aimed at generating innovative solutions for the replacement of destroyed residential buildings in the north Saltivka area of Kharkiv, a city just a few kilometres from the Russian border.
Open to both practising Ukrainian architects and architectural students, with separate categories for each, the competition was sponsored by WZMH, Autodesk and the Kingspan Group.
A nine-member panel comprised of Canadian and Ukrainian architects, plus one from Poland and one from the United States, judged the 46 submissions.
M.Architects was the first-place winner of the Architect's Award, while the first place winner of the student category was a group of three students attending the Kyiv National University of Construction and Architecture and the University of Water Management and Nature Management. Second and third place winners were also named.
Participants were asked to design 200 new residential apartment units of various sizes using Speedstac, the concrete modular unit system created by WZMH, and Kingspan insulated metal panels to construct a new building or add to an existing one.
Covering 3.11 square kilometres and consisting of highrise buildings characterized by their "industrial Soviet-panel structure," the Saltivka area is one of the most bombed out regions in Kharkiv, says WZMH principal Zenon Radewych.
"At some point the war will end, the Russians will be booted out, and Ukraine can be rebuilt," says Radewych, adding "theoretically" the designs could be used for rebuilding other cities in the country.
The competition and the selection of the winning designs is the most recent chapter in a series of events in a multi-faceted undertaking by WZMH to help rebuild Ukraine.
And the origins of that massive endeavour when it gets underway can be traced back to WZMH's office in Toronto. About 18 months ago its research and development department, known as Sparkbird, began developing Speedstac, a system where modular units can be assembled together to form a new building or restore wholly and partially destroyed structures.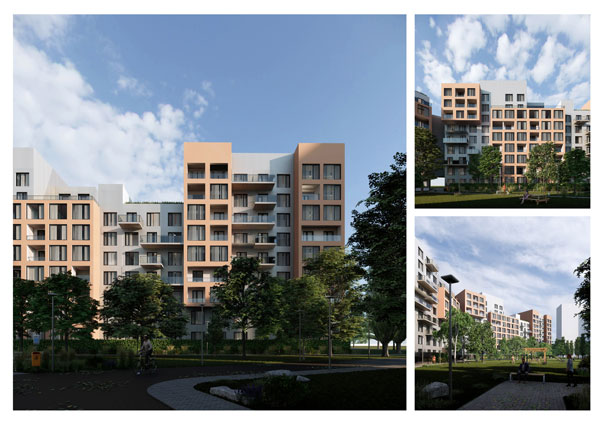 Intended for mid- to highrise buildings, the modules are self-contained rooms with built-in electrical and plumbing services which can transported to a building site. The modules are secured into place — up and down and side to side — by a proprietary technique.
Between each module would be a 125-millimetre-high "chase" or space where electrical wiring and other utility components would be installed, eliminating the need for space consuming bulkheads, says Radewych.
"We wanted to address the North American housing crisis and the issue of labour shortages," says Radewych on the research efforts that included discussions and meetings with developers.
In the preliminary stages, WZMH conducted studies on the feasibility of using steel and wood for modular buildings. But then it focused on concrete because it's relatively inexpensive and has good acoustic properties.
It does have drawbacks including its weight and the fact it's not considered a green material. However, with the Speedstac system the units would have exposed concrete walls, floors and ceilings and there would be no need for drywall, gypsum boards or materials such as rugs, he says.
"Then Russia invaded Ukraine in February 2022 and we pivoted," says the architect on how WZMH shifted its attention on the North American housing sector to helping the beleaguered East European nation.
For Radewych that pivot was a very personal one.
"My parents were Ukrainian, my wife is Ukrainian and have friends and relatives there," says the architect, who describes himself as "a proud Ukrainian-Canadian."
To promote Speedstac as an innovative rebuilding solution, WZMH reached out to the Ukrainian embassy in Ottawa, plus government officials and university professionals in that country. To a very large extent that outreach is being carried out by a number of Ukrainian-trained architects now working at WZMH's Toronto office.
As well, the architectural firm paid a number of architects in Ukraine to produce building designs based on the Speedstac concept.
Those designs have included an apartment building, a motel, a kindergarten and a school, he says.
"Originally, the plan was to build test mock up units in the Ukraine. Due to the amount of Russian air strikes, that has proven to be difficult."
However, construction of those units could start within a few months at a British university under an agreement being brokered by Heimdall Risk Advisory, a British firm which acts as a broker and consultant on reconstruction projects in war-torn countries, he says.
As well, WZMH is lobbying a number of international relief agencies to provide funding when construction of the buildings does occur in the Ukraine.
At some point, WZMH Architects will return to its original goal of promoting Speedstac as one solution to the North American housing crisis, says Radewych.