A benchmark report by the Ontario Society of Professional Engineers (OSPE) indicates 57 per cent of young engineers don't feel their professional development needs are being "properly considered" by their employers.
In these times of shortages of engineers, it is "important for employers to know that they have to start to develop programs to attract and retain engineers," Sandro Perruzza, CEO of OSPE, said recently at the association's annual Engineering Conference at the Metro Toronto Convention Centre.
Perruzza said some engineering companies are buying OSPE memberships for their employees so they can achieve professional development requirements through resources offered by the association. The association also serves as a vehicle for networking.
The one-day conference included a number of seminars focused on the climate crisis. It also featured an exhibit hall with about 100 companies, many of which set up booths "to attract talent," he said.
"Our benchmark report shows in the next 15 years over a third of our engineers will retire."
The need for engineers in almost every sector in Canada and globally has soared in the past two years, according to Pierre Lebel, CEO and founder of Engineers4Hire, a talent-finding consultant to the industry and a sponsor of the Engineering Conference.
As an example, AtkinsRéalis, formerly SNC-Lavilin, needs about 800 engineers largely for the development of new technology such as small nuclear reactors, he told the Daily Commercial News.
Lebel said universities and colleges haven't responded quickly enough to meet the rising need for engineers.
While many engineers fresh out of university face hurdles to employment because of their lack of work experience, he said some employers are prepared to train young engineers in-house, using experienced employees to do the job.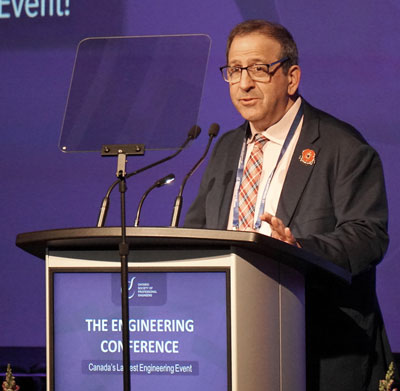 "It's not just how to do the work that matters but also how to develop relationships with business customers. They want more of them to be relationship managers. It is a completely different approach from 10 years ago when the engineer was put in a corner of an office to design."
Lebel said firms also need to develop retention strategies because employers can pay out the equivalent of a year's salary to find replacement workers.
Engineers4Hire helps employers develop retention initiatives in hopes of keeping employees at least five years.
Keeping employees longer starts with compensation, which Lebel recommends should be at least at market salary rate or up to 20 per cent higher.
Bonus incentives and employee engagement plans are also important, he said, pointing out he hasn't seen such a shortage of engineers in his 30 years in the field.
"This shortage is going to last for at least 10 years in my opinion."
One of the conference seminars looked at AI as a tool to combat the climate crisis.
Panellist Tim Spadzinski of OpenText, said "large language modelling," a type of generative pre-trained transformer (GPT) "is a sea change in machine learning that is going to drastically alter how organizations approach data and look at predictive analytics because the model allows for much more accuracy."
But he said it is "critically important" to use the right machine learning technique to minimize the energy impact.
At the seminar, panellist Thomas Triplet, the AI engineering head at BluWave-ai, said one of the many areas AI will be a tool to help reach climate goals is in the automation control of EVs by setting them to recharge at optimal times in a sustainable fashion.
Panellist Ron Dembo of Riskthinking.ai told seminar delegates the company has developed a data platform of the world's countries and oceans designed to capture the future of every risk factor to climate change in every location through to 2100.
"It's a massive amount of data," that can be digested with AI.
The data can be used, for example, to provide information and the impact around the globe on the supply chain when a manufacturing source in a specific region is impacted by a weather event.
"You can then at least understand the potential risks (to an industry)," Dembo said.