All three assets which make up Canada's foundational infrastructure saw their useful service life shrink in 2016, the most recent year for which data is available. Of the three, sewage engineering facilities which include wastewater treatment plants, lagoon systems, lift stations, storage tanks and sewer pipes, is the "oldest". Over the past year the average age of this class of infrastructure has increased from 13.0 years to 13.3 years. Its remaining useful service life is now approximately 63% of its 36-year life expectancy.
After sewers, Canada's roads and bridges are the second oldest class of foundational infrastructure relative to its service life. In 2016, our highways and bridges had an average age of 8.1 years compared to 7.9 years in 2015. Given that roads and bridges have an average service life of 23 years, the remaining useful service life of this asset class declined from 15.1 years to 14.9 years.
The average age of waterworks engineering facilities which consist of water treatment plants, water reservoirs, water pumping stations and watermains increased from 10.5 years to 11.2 years in 2016. As a result, the remaining service life of this class of infrastructure declined from 28.7 years to 28.0 years, its lowest value since 2010.
Comparing the average age of the three classes of foundational infrastructure across the country, we find that, with a couple of exceptions, the average age of roads and bridges, water treatment and distribution facilities and sewage treatment facilities is higher in Atlantic Canada than in the rest of the country.
In Prince Edward Island, the average age of sewage treatment facilities increased from 18.2 years to 18.8 years. As a result, the percentage of useful service life of this class of asset declined from 49.3% to 47.9%. This, its lowest value in more than eight years, was materially below the national average of 63%.
Fuelled by strong net migration, Alberta's sewage engineering facilities were rejuvenated by a significant increase in spending on sewage treatment plants, and sanitary and storm sewers, which caused their average age to fall from 11.8 years to 9.7 years over the past seven years, the lowest in the country.
The best way to describe Prince Edward Island's roads and bridges is "middle-aged", given that with an average age of 11.6 years, they are approximately halfway through their 23-year service life.
At the other end of the age spectrum are Alberta and Saskatchewan, where roads and bridges are a relatively youthful 6.7 years and 6.9 years old respectively.
Waterworks engineering infrastructure with a useful life of 39 years is the longest-lived class of foundational infrastructure. Despite the fact that the average age of British Columbia's waterworks engineering facilities increased from 9.4 years to 10.1 years in 2016, their remaining service life, at 28.9 years, is the longest in the country. Other provinces with relatively "young" waterworks include Ontario, Manitoba and Alberta, all with an average age of 10.4 years. Nova Scotia's waterworks engineering, with an average age of 14.6 years, is the oldest in the country, having a remaining useful service life of 24 years.
While the country's foundational infrastructure cannot be described as "old", a significant percentage of it is approaching its "best before date". Given that much of this infrastructure is hidden (literally underground), it is essential that all levels of government proactively monitor its health to ensure that it does not deteriorate and pose a potential threat to those it is intended to serve.
John Clinkard has over 35 years' experience as an economist in international, national and regional research and analysis with leading financial institutions and media outlets in Canada.
Average age of foundational infrastructure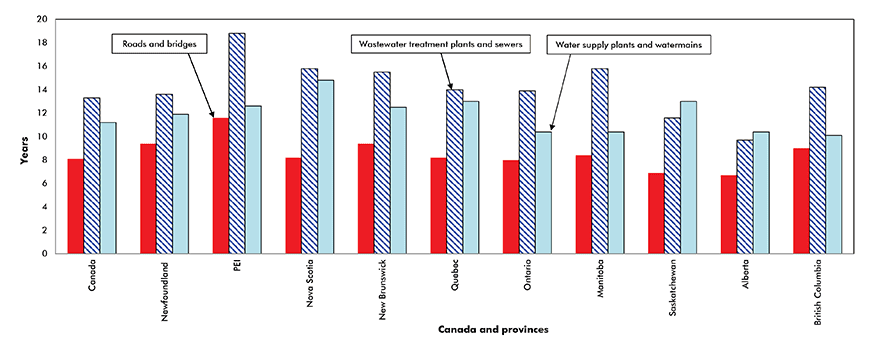 Data Source: Statistics Canada/Chart: ConstructConnect — CanaData.