Aided by Exports, Canada's GDP Growth Soared in Q2
After managing only weak 'real' (i.e., after adjustment for inflation) gross domestic product (GDP) growth in the final quarter of last year and the first quarter of this year, Canada's economy shifted into a higher gear during the latest three months.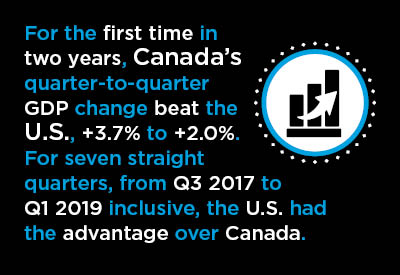 From Statistics Canada, Q2 2019's national output increase (annualized) north of the border was +3.7% compared with just +0.5% in Q1 2019 and +0.3% in Q4 2018.
The boost to growth in Q2 came mainly in foreign trade, as exports of goods and services were +13.4%, while imports retreated by -4.0%. Energy products led the export strength.
For the first time in two years, Canada's quarter-to-quarter GDP change beat the U.S., +3.7% to +2.0%. For seven straight quarters, from Q3 2017 to Q1 2019 inclusive, the U.S. had the advantage over Canada.
In Canada, household spending in this year's second quarter advanced by a tepid +0.5% annualized. Nevertheless, consumer spending as a share of GDP has crossed above the halfway point. In 2018, for the entire year, it was 56.6% of GDP and in Q1 and Q2 of this year, it has been 56.9% and 56.5% respectively.
Graph 1: Canada 'Real' GDP Growth, Y/Y & Q/Q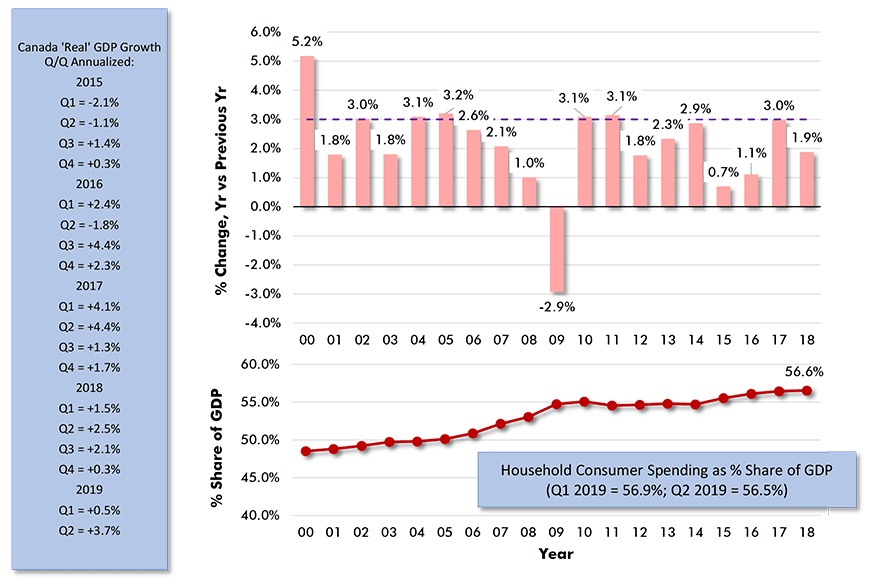 'Real' is after adjustment for inflation.
Data source: Statistics Canada Table 36-10-0104-01).
Chart: ConstructConnect.
Graph 2: Difference Between U.S. & Canadian Q/Q GDP Growth Rates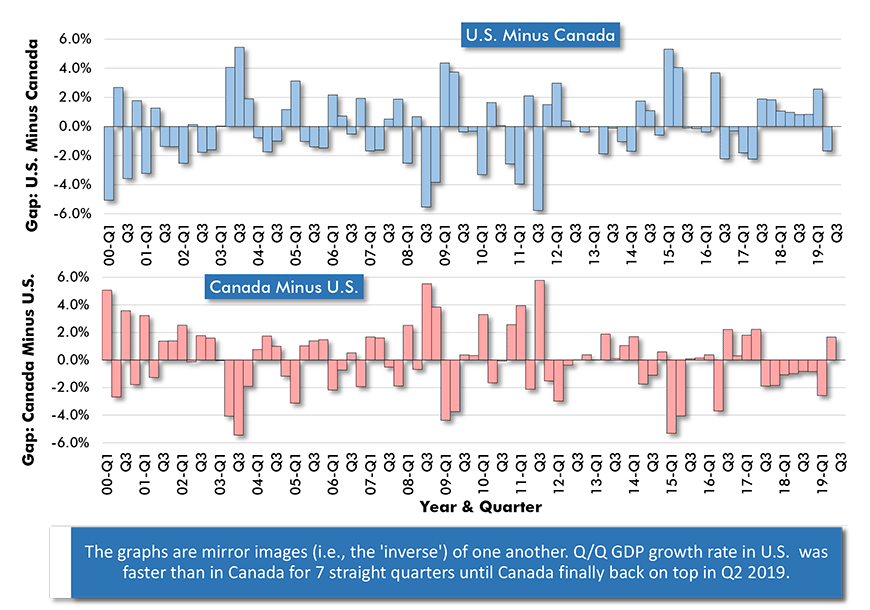 Based on quarter-over-quarter 'real' GDP % changes annualized. 'Real' is after adjustment for inflation. Final data points are for Q2 2019.
Data source: Bureau of Economic Analysis (BEA) and Statistics Canada.
Chart: ConstructConnect.
U.S. GDP Outlook in the Hands of Consumers
U.S. quarter-to-quarter GDP growth in this year's Q2 eased to +2.0% from +3.1%, according to the most current estimate from the Bureau of Economic Analysis (BEA). In the U.S., as opposed to Canada, however, the consumer stayed much more active. Personal Consumption Expenditures (PCE) in the U.S. in Q2 were +4.7% annualized.
U.S. exports of goods and services in the latest quarter were -5.8% annualized, as the trade war with China is exacting a toll.
Consumer spending in America has now climbed above two-thirds of GDP. In 2018, it was 69.5% and in the latest quarter, 69.7%.
When analysts are asked about the likelihood of an imminent U.S. recession, the answer they often give is that it all depends on 'the consumer'. Foreign trade has been in retreat and capital spending has not lived up to expectations. The advance guard carrying the economy forward consists almost entirely of individuals continuing to keep their wallets and purses open.
Graph 3: U.S. 'Real' GDP Growth, Y/Y & Q/Q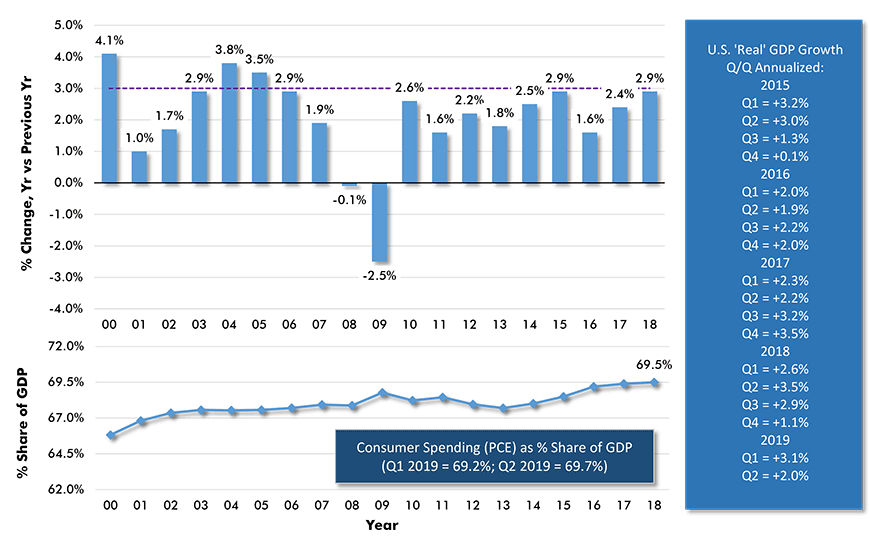 'Real' is after adjustment for inflation.
Data source: Bureau of Economic Analysis (BEA).
Chart: ConstructConnect.
An Alternative Leading Indicator of Recession
Heightened speculation concerning a recession has been fueled by the inversion of the yield curve. Long-term interest rates have fallen below short-term rates. Historically, such an occurrence in financial markets has signaled a slowdown.
In the context of the economy's dependency on consumer spending, however, there is another yardstick that warrants a great deal of attention as well ‒ the weekly (i.e., released every Thursday morning) initial jobless claims number.
The buoyancy of the U.S. economy over the past ten-years-plus has been mirrored by the gradual decline in 'initial jobless claims' (see Graph 4). Jobs and income growth have facilitated national output growth.
As soon as a deterioration or reversal in the initial jobless claims numbers becomes apparent, ‒ for example, once they start heading back towards 250,000 or 300,000 ‒ then the prospects for continuing healthy GDP growth will be dealt a significant blow.
By the way, 'hot' GDP growth is +3.0% per annum. Since 2000, the U.S. has achieved +3.0% or more in four individual years, with another three falling just short, at +2.9%.
Canada has done even better. From 2000 through 2018, Canada recorded annual GDP growth of +3.0% or better in seven years, with one extra year at +2.9%.
Graph 4: U.S. Initial Jobless Claims Weekly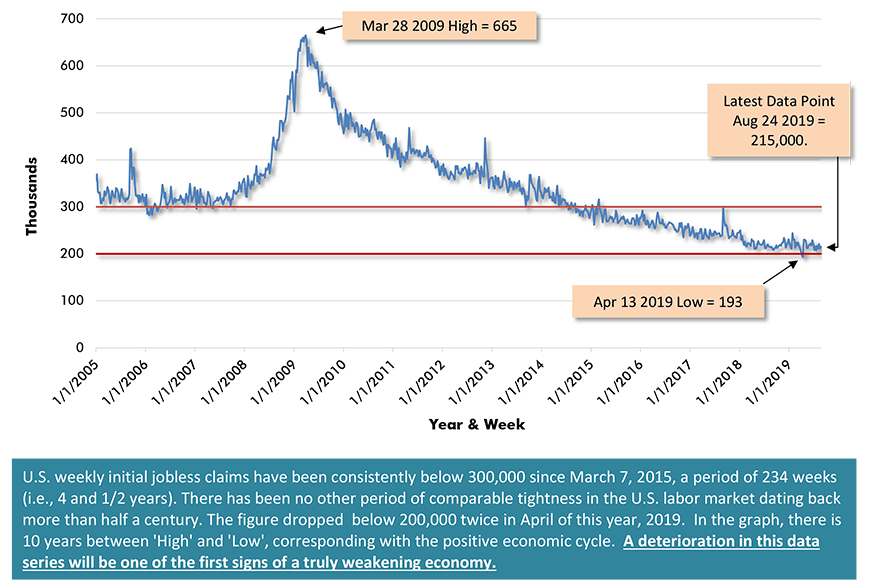 Data source: Department of Labor.
Chart: ConstructConnect.
Graph 5: Comparison of GDP Growth Rates, U.S. & Canada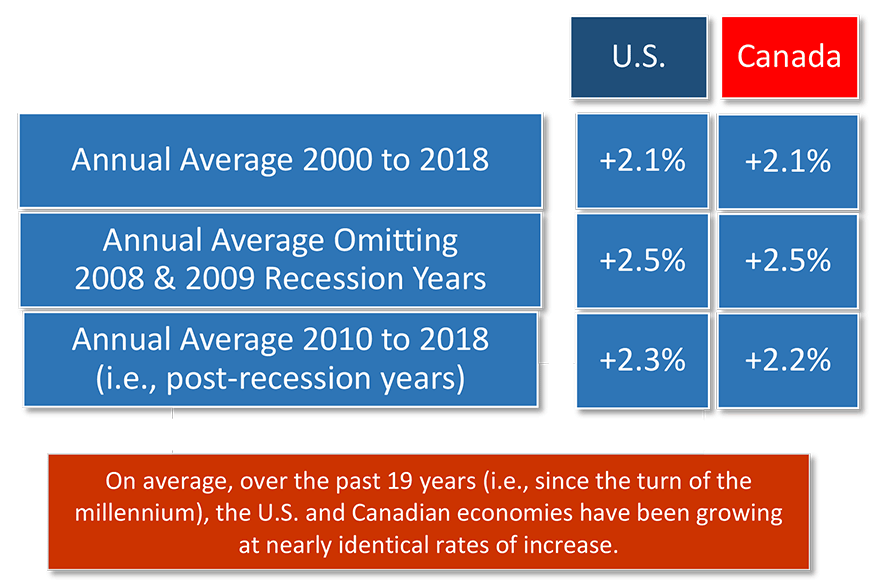 Data sources: Bureau of Economic Analysis & Statistics Canada.
Chart: ConstructConnect.
---
Alex Carrick is Chief Economist for ConstructConnect. He has delivered presentations throughout North America on the U.S., Canadian and world construction outlooks. Mr. Carrick has been with the company since 1985. Links to his numerous articles are featured on Twitter @ConstructConnx, which has 50,000 followers.
---
CanaData 2019 Conference – Canada's construction forecasts conference –
October 18, 2019, Globe & Mail Centre, Toronto – Learn more below.