Concrete pipe specialist Decast Ltd. has reached a new milestone at its plant in Essa Township, Ont. with its sixth expansion in 30 years, growing the firm's footprint to half a million square feet.
The most recent $12-million, 35,000-square-foot expansion will enable the firm to develop high-performance pre-cast bridge beams, box culverts and other structures for Ontario's Ministry of Transportation as the government strives to deliver more durable and high-quality infrastructure, explained Decast executive vice-president Jim Tully recently.
"This is a little different from some of the expansions we have done in the past," he said. "The Ministry of Transportation is really going for durability and long life and they have performance requirements on the concrete that necessitate enhanced curing and other techniques."
Another driving force behind the expansion was to better meet the needs of the growing precast market in the private sector. Decast has been building its precast business for some time, Tully said, but the new facilities will take the science to the next level with improved efficiency, better performance and improved climate and environmental controls.
"We'll have exceedingly tight control of what goes into that concrete mix, and we have the ability to cure the concrete to give the best possible properties for salt scale resistance, for durability, basically," he said.
"It is more durable, it will guarantee you over 100 years of life on a bridge or a three-sided culvert for a small stream going underneath highways or tiny box culverts for smaller streams going under highways."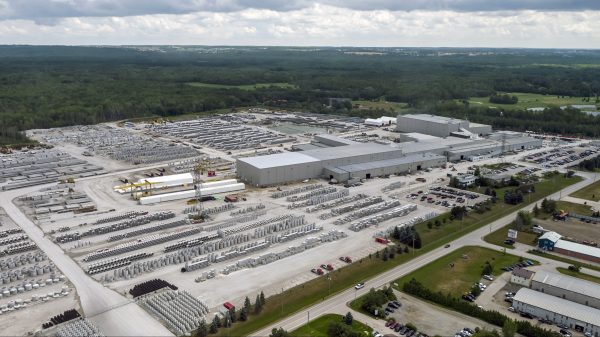 With pre-built, it takes a day to excavate the worksite and another day to set a structure in place and backfill, Tully said. Larger equipment is needed for installation at a jobsite but most contractors have the cranes and other machines available, he said.
"We are seeing more and more demand for it," said Tully.
The latest expansion, announced Sept. 7, will add 70 jobs to the plant. The previous upgrade took place in 2016 when a new microtunnelling manufacturing facility was developed — that added 50 new positions. The plant is now the largest single combined concrete gravity pipe and concrete pressure pipe facility of its kind in North America.
Decast, formerly Munro Ltd., is part of the TACC Group of Companies. The De Gasperis family is the long-time owner.
"The quality of our work at this plant is second to none," said Decast president Silvio De Gasperis in a statement. "We're only as good as our product and we credit the dedicated local workforce here along with the strong support we receive from Essa Township for our success. I'm confident we'll see demand continue to grow."
The firm is registered as a consulting engineering firm and Tully said the 30-plus engineers and technologists on staff are constantly searching for ways to innovate and meet new market demands.
Or, they are looking for ways to repurpose existing manufacturing lines as jobs are completed and new ones are taken on.
"One example is how we repurposed the line that was building Eglinton Crosstown tunnel segments," said Tully. "We repurposed that to do smaller wetcast concrete products, be they microtunnel pipe or other small traditional wetcast products. We took something that was going out of use and turned it into a very vibrant part of our operations now — we are now running two 10-hour shifts a day."
Decast generally designs pieces for a project, delivers them and ensures quality control during installation.
Current projects include bridge beams for a Highway 401 expansion job, the Major Mackenzie Drive expansion, a large pipe project in Peel region, the Burhamthorpe Road expansion, microtunnelling in Sarnia and Durham Region, and work at the Hwy. 400 and Aurora Side Road.
Decast's Essa Township property located an hour north of Toronto still has room to grow for another expansion, Tully said, and meanwhile the marketplace seems to be reaching northward.
"With the City of Toronto growing north, it keeps coming closer to us, so that's a good thing from our perspective," he said.
Follow Don Wall on Twitter @DonWall_DCN.