Canada Mortgage and Housing Corporation's (CMHC) just released rental vacancy rate report for 2019 paints a very grim picture of the health of Canada's rental market.
According to the report, the vacancy rate for purpose-built apartments for the country declined from 2.4% in 2018 to 2% in 2019, a 17-year low. At the same time, the average vacancy rate for rental condominiums in the seventeen centres surveyed by CMHC declined to just 1.0% from 1.4% in 2018.
Given the extremely low vacancy rate for both purpose-built and rental condominium apartments and the fact that median rents of purpose-built apartments in urban centres with more than 10,000 in Canada increased by 5.2% in 2019, their fastest rate of climb since 1991, it is clear that the country has a significant shortage of purpose-built rental accommodation.
With a low vacancy rate, a low turnover rate and a very high year-over-year increase in average rents, Ontario and British Columbia are exhibiting evidence of an acute shortage of rental apartments. Other provinces with a significant lack of purpose-built rental space reflected by a low apartment vacancy rate include Prince Edward Island (1.2%), Nova Scotia (1.4%) and Quebec (1.8%).
In the above-noted provinces, the drop in apartment vacancy rates is due, in large part, to an increase in demand for accommodation stemming from a record inflow of international migrants. Over the past 24 months, Ontario has become home to an unprecedented 414,000 international migrants plus an additional 20,000 migrants from other provinces.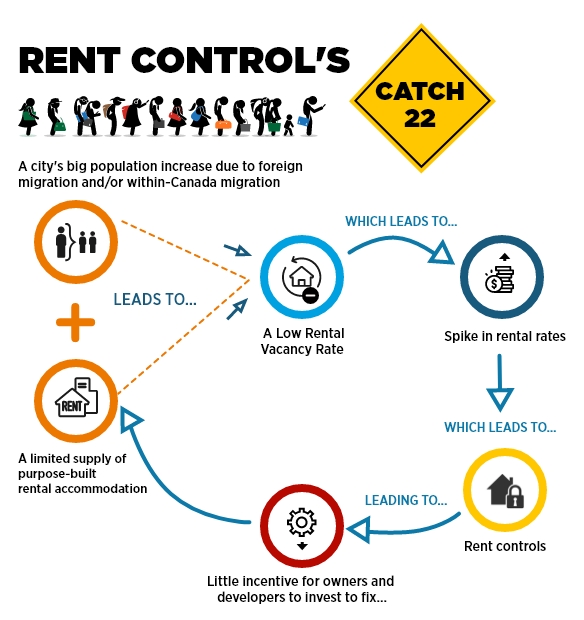 Graphic: ConstructConnect — CanaData.
Despite this record inflow of individuals, only 80,000 new row and apartment dwelling units have been added over the past 24 months, of which an estimated 11,500 are purpose-built rental.
In light of this meagre increase in the supply of multi-family dwelling units relative to the increase in population, it is not surprising that average rents in the province increased by a 30-year high of 6.2% y/y to $1,277 in 2019 after posting a rise of 5.0% in 2018.
Across the province, reflecting a near-record low apartment vacancy rate of 1.5%, average rents in the Ontario portion of Ottawa-Gatineau increased by a province leading 8%. Despite a 25%-drop in row and apartment dwelling completions and an insignificant (0.8% y/y) increase in purpose-built rental units, Toronto's apartment vacancy rate edged higher to 1.5% in 2019 from 1.0% in 2018.
However, the fact that median apartment rents increased by a record high of just over 7% in 2019 is a clear indication that Toronto has a significant shortage of affordable rental accommodation. After posting a very strong gain in 2018, starts in the Toronto CMA reverted in 2019. However, the record number of row and apartment units currently under construction should, by boosting supply, reduce upward pressure on rents in the CMA this year and next.
Fueled in large part by the arrival of 125,000 international migrants and 19,000 individuals from other parts of the country into B.C. over the past two years, apartment vacancy rates in the province's two largest CMAs, Victoria (1.0%) and Vancouver (1.1%), are among the lowest in the country.
It is not surprising that median rents in the Vancouver CMA have risen by 7% in each of the past two years, given that the supply of purpose-built rental apartments has essentially stagnated over the past 20 years. Moreover, the outlook for new construction of rental units in Vancouver, and indeed in the province of British Columbia as a whole, is overshadowed by the province's recent adoption of rent controls which are linked to rental housing units and not to tenants.
Thus, a landlord cannot automatically increase the rent of a unit when the tenant moves. According to the legislation, "the standard allowable rent increase for 2020 is 2.6%". Although rent controls ignore the basic economic fundamentals of supply and demand, governments with a few notable exceptions continue to adopt them to appease groups who represent existing tenants and not future ones.
In late 2017, the federal government committed to achieve "the most ambitious immigration levels in recent history". Going forward, in light of this plan, we expect Canada will welcome between 300,000 to 340,000 international migrants in 2020 following an estimated gain of 313,600 in 2019. Against this background of sustained strong net international migration and the fact that Canada already has a significant shortage of rental accommodation, we expect the rental apartment vacancy rate for the country as a whole will remain close to its record low level in 2020.
John Clinkard has over 35 years' experience as an economist in international, national and regional research and analysis with leading financial institutions and media outlets in Canada.
Canada: Rental Vacancy Rate vs Change in Apartment Rents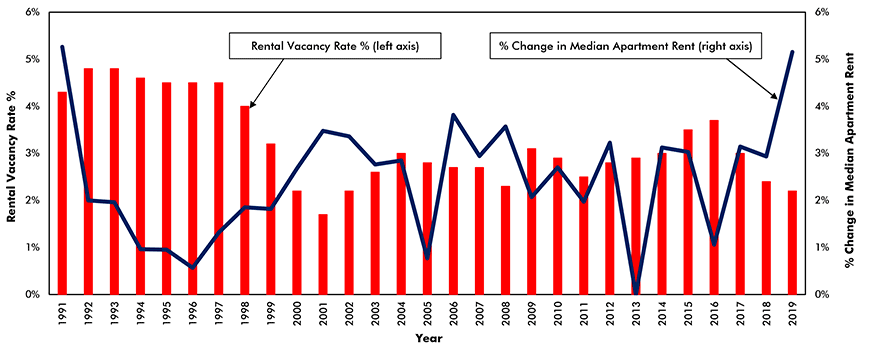 Data Source: Canada Mortgage and Housing Corporation/Chart: ConstructConnect — CanaData.