Hit head on by the COVID-19 virus, Toronto's economy shifted into reverse in mid-March for the first time in recent history. This observation was clearly reflected by Statistics Canada's March Labour Force Survey (LFS) report on the metro area's job numbers. Based on the LFS conducted between March 15 and 21, the agency painted a very bleak picture. Following little change (-3,400 jobs) in February, employment in the Toronto census metro area dropped by an unprecedented -72,000 jobs. The combination of this sharp drop in hiring and a 54,000 shrinkage of the labour force pushed the metro area's unemployment rate up from 5.4% to 6.0%, a 10-month high.
These numbers significantly underestimate the actual drop in hiring for two reasons. First, following the LFS survey on March 21, uncertainty about the impact of COVID-19 escalated sharply, causing firms' full-time staffing plans to plunge sharply. Second, on March 23 the Ontario government announced the mandatory closure of "non-essential" businesses effective March 24. Subsequently, on April 3, the government expanded the list of non-essential businesses and extended its lockdown for another 14 days. And on April 11, it extended them further to May 12.
Across industries, the hardest hit was 'accommodation and food services' which lost 24,000 employees. Other industries which were hit hard in March included 'business, building and support services' (-18,000), 'education services' (-15,000) and 'retail and wholesale' (-14,000). Across age groups, given the large number of young employees in the food service industry, it is not surprising that approximately a third of the laid-off workers were 15 to 24 years old.
Private sector loses eight times more jobs than public sector
Assuming that the distribution of private- vs public-sector jobs lost in the Toronto CMA is similar to the province as a whole, by far the majority of jobs lost in March were in the private sector, where employment dropped by -64,000, close to eight times the estimated -8,000 decline in the public sector.
According to the LFS, employment in the construction industry dropped by -5,800 jobs (-2.6% m/m), approximately three times more than it has fallen, on average, over the past 18 years. However, the fact that construction employment was still up by 8,200 compared to a year ago suggests that, until the March 15-21 LFS survey week, it was not significantly impacted by COVID-19.
Weakening consumer confidence and extended lockdown to flatten home sales into May
COVID-19 has also had a significant impact on existing home sales. After posting a very strong year-over-year gain (almost +50%) in the first two weeks of March, the heightened uncertainty regarding individual health, a concomitant drop in hiring due to government lockdown and the strong recommendation by the Toronto Regional Real Estate Board to stop conducting open houses caused home sales to drop by 16% in the second half of the month compared to the same period a year earlier.
The full impact of the above noted factors was evident in the first two weeks of April which saw home sales in the Greater Toronto Area drop by 69% compared to a year ago.  Given the extension of the lockdown of non-essential activities to mid-May and the significant erosion of consumer confidence reported by Bloomberg, we expect, home sales to remain depressed throughout May and into June.
Govt lockdown to sideline 125,000 to 150,000 construction workers in April and May
Going forward, there is no doubt that construction employment will contract sharply in April and remain depressed in May, for the following reasons. First, the Ontario government has locked down the majority of construction projects in the province with the exception of those it considers critical, including hospitals, roads and bridges, into mid-May. All residential construction is suspended except for projects near completion.
Second, the suspension of both residential and non-residential permit issuances in late March will create a regulatory hurdle that will delay the start of new projects, once the government does lift its lockdown on new construction.
A third factor which is likely to hobble both residential and non-residential construction in the Toronto CMA is lingering uncertainty about whether the COVID crisis has really passed.
Declining incidence of COVID-19 locally and globally bodes well for H2 rebound
The near-term outlook for the Toronto economy in general and its construction sector is, for want of a better word, grim. However, given the steady decline in the incidence of the coronavirus locally, in the United States and in Europe, and the easing of lockdowns in several countries, we expect the province to follow suit by mid-May or early June. Assuming this happens, both construction and home sales should pick up steam. However, their return to pre-COVID levels will likely take several quarters and extend into next year.
John Clinkard has over 35 years' experience as an economist in international, national and regional research and analysis with leading financial institutions and media outlets in Canada.
COVID-19 Cases by Episode Date – City of Toronto*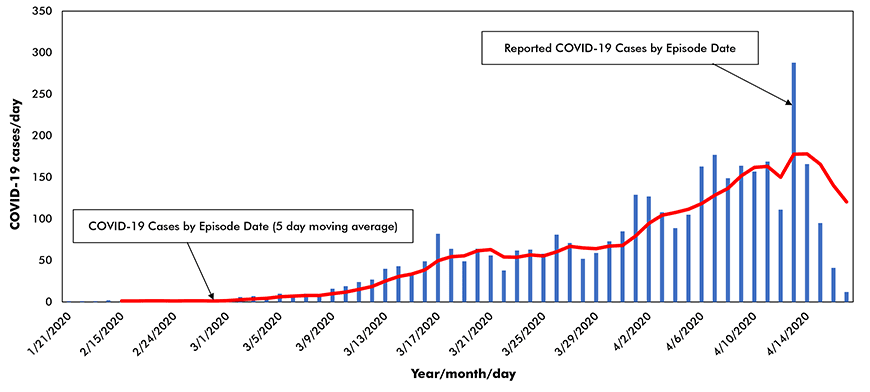 * Data for the most recent few days understates the number of COVID-19 cases because it is preliminary, reflecting testing and report processing lags.
Data Sources: Ontario Ministry of Health.
Chart: ConstructConnect — CanaData.