Piroli Group Developments is cutting against the southwestern Ontario residential housing grain in several unique ways.
For one, it's building a $45-million, 152-unit, six-storey apartment building, West Bridge Place, near the downtown core of Windsor, Ont., making it the first highrise residential tower in the city's centre in three decades.
There are also possible plans for as many as three or four more buildings, spurring a major revitalization.
Second, it's bucking a more provincial and national trend in offering rental-only units in a world that has increasingly gone condo.
Third, when it comes to the COVID-19 pandemic, the company is offering up an innovative market niche, said company president Rob Piroli, who adds he realized he was taking a risk by purchasing a 3.4-acre corner lot in a high-trafficked but stagnant area of central Windsor that had sat empty for almost 20 years.
Aided by a city tax incentive program, Piroli came up with a unique formula based on type of construction and materials, price points and selling "condo style" living to largely one demographic — retired baby boomers.
Keeping rents at affordable prices, under $2,000 for a 1,000 square foot unit, was directly tied to the building's design and construction. Piroli had already developed a couple of towers, Seacliff Heights, in nearby Leamington, that served as prototypes.
Building height was one way to control costs and keep apartments affordable.
Sure, Piroli, said, he could have built higher, especially in a dense city neighbourhood. But "your construction techniques change after six storeys. You don't just crawl around a building with a forklift and manlift and zoom booms, you've got to go to a crane tower, especially on a city block where you have no alleyway or parking lot to work out of and you're building underground parking which is massively expensive."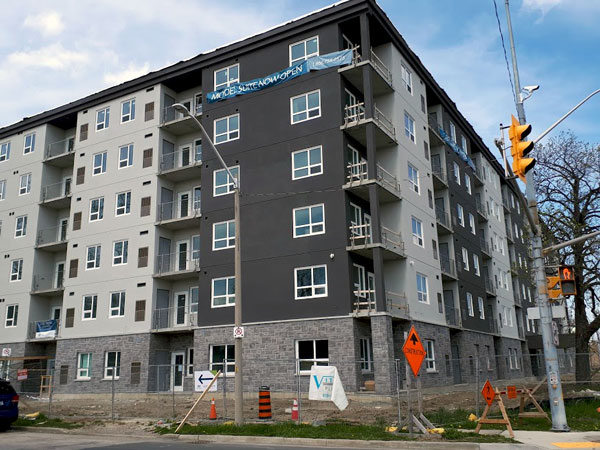 While condos certainly aren't strangers to southwestern Ontario, the model simply wasn't for Piroli.
For one thing, condo prices are low here, citing Leamington when he built his first tower in 2015 and condos were pricing under $200,000. And he pointed to a problem-plagued Windsor waterfront tower that took years to fill and had structural problems burdening the condo owners.
Condos here simply "are not historically selling really well," he said.
As well, West Bridge Place is in a neigbourhood that has seen almost no development.
"Selling condos at a higher price to cover the cost of construction, I didn't think it would be a good mix," he said.
But his research also found that his target market, retired baby boomers, wanted to sell their homes and "go to rentals" or at least to "condo-style" ones.
"The baby boomers want to sell their house. They want to enjoy their nest egg and they want to live worry free," Piroli said.
Turnkey living for Snowbirds who spend half their year in Florida also is attractive.
As a market, Windsor may also be unique in that it has a high income traditional working-class population, funded by well-paying auto industry jobs and excellent pensions.
"We want to go after the sector that has a guaranteed good pension," Piroli said.
Piroli's apartments will feature condo-style finishes like granite kitchen counters, woodgrain vinyl plank flooring, ceramic tile showers and glass enclosed balconies, as well as washers and dryers.
Ironically, given concerns about high density living during the COVID-19 crisis, Piroli sees his buildings perfectly positioned for this new cautionary age.
"People in that demographic, in an apartment that is almost strictly for retirees, are going to be very safe because you're not looking at multiple demographics," he said.
The current health crisis is certainly having no impact on rentals.
"The apartments are renting very very well," Piroli said.
Sixty per cent occupancy is projected by move-in this August.
Building costs have also been kept low because of construction materials.
Piroli chose cold-formed steel load bearing stud walls with precast floors creating a "very strong cost-effective building," he said.
Otherwise, "if you're going to go to masonry supporting walls and precast it's more costly and then if you're going to go to as full concrete structure — load bearing concrete and concrete floors — it's a lot more expensive."