When COVID-19 hit in early 2020, Chandos Construction — a builder with more than 500 employees across the country — had to think on its feet. 
"I'm not sure who was prepared for COVID. We definitely weren't," said Sean Penn, Chandos chief operating officer. "We like to prepare and do a lot of worst-case-scenario planning at our organization to make sure we are ready for whatever could come at us. But regardless of how we planned, we never saw this coming."
The company was coming off of a year of record growth and expansion. Penn said the team quickly concluded that COVID-19 was going to be a massive issue and struck a committee to determine their response. 
"We are a business that likes to work together," said Penn. "It's probably the reason why we get a lot of the work that we get. Our concern was that COVID was showing a lot of signs of isolation and independence."
A cross-country road trip drives forward
Since flying posed a myriad of challenges, Penn had the idea to get an RV and embark on an epic road trip across the country to visit Chandos teams. Penn and his family spent several weeks meeting with Chandos employees. 
His stops included Red Deer, Edmonton and Calgary, Alta.; Kelowna and Vancouver, B.C.; and Toronto and Ottawa in Ontario.
"It was good to get out there, going to these projects that hadn't seen their leadership in a while or clients and designers because they were all locked down," said Penn. "What I found was great people adapting to difficult situations, finding new and unique ways to still deliver projects to clients. It was very uplifting and emotionally very positive for me."
Penn spent time sharing everything the company was learning about COVID-19's impact on the economy and the industry as well as answering any questions employees had.
"The intent was to make sure the morale on site was better than when I got there and that the team had a good understanding about what the organization was doing around COVID."
In addition to hopping from site to site in the RV, Penn also found himself supplied with a camera from Chandos' marketing team to document the whole trip.  
"I found the camera to be a great enabler for discussion," said Penn. "Everyone was so understanding of the situation and appreciative of what everyone was doing to keep each other safe."
"We forget how great this country is"
Altogether, Penn has spent about eight weeks living and travelling in the RV. He said until COVID-19 has passed, it will be his main mode of transportation.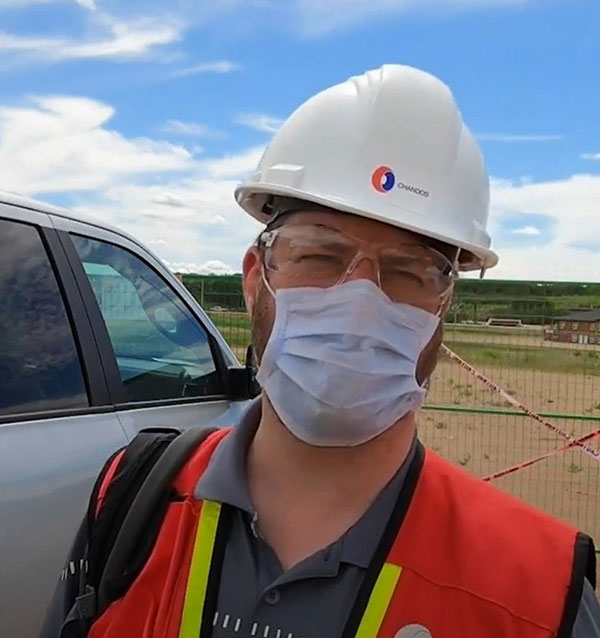 "But we might even continue to do this further on, because I felt a lot more free to adjust my schedule, whether I wanted to stay in a district longer or shorter."
Penn also said he was able to see Canada in a completely new way while bonding with his wife and kids.
"It was quite an experience for my family and myself," said Penn. "We got to see Canada. We forget how great this country is and how different the provinces are from each other. It has been a long time since I drove across the country. It was beautiful."
Everywhere Penn went he asked Chandos employees their thoughts on leadership.
"It's easy to think leadership is just the top person in charge but we believe everybody is a leader and we focus a lot on that in our organization. I was able to have numerous conversations and get a lot of other peoples' perspectives on what everyone's role was to lead through this," said Penn.
Stepping up to the COVID-19 challenge
As Penn travelled from district to district he found himself learning more and more about how teams on the ground had stepped up to the challenge of the pandemic.
"When our committee was struck and we were learning about COVID we were constantly making changes to our business and sharing them with our organization and asking them to adapt to it immediately," said Penn. "Because of the nature of our organization and the type of culture we have around innovation they did that. And I think that is probably part of the reason why we have prevailed through this as much as we have so far."
Follow the author on Twitter @RussellReports.