Panellists speaking at a recent green building webinar made a powerful case that building retrofits will not only become a major growth sector in the construction industry but will also play a significant role in Canada's plans to create jobs post-pandemic and meet GHG reduction targets.
Day Four of the Canada Green Building Council's (CaGBC) Building Lasting Change webinar series Oct. 13 featured CaGBC president and CEO Thomas Mueller in conversation with Frederic Bettez, managing director of investment for the Canada Infrastructure Bank (CIB). Bettez offered early insights into how the CIB intends to invest $2 billion in targeted retrofit funding it was allocated Oct. 1 as part of the federal government's new $10-billion infrastructure Growth Plan.
Bettez explained the government's criteria leading to the decision to target retrofits included that the spending be a catalyst for private investment — that it could "crowd in" private money — that it match government policy priorities, and that there be a ready pipeline of projects.
"Finally we looked at how we could deploy capital quickly and efficiently and have a beneficial impact on recovery and job creation and GHG reduction, which was always part of our mandate but is even more important now," he said.
"We found this was a promising sector for us to invest in where we could have people across the country working."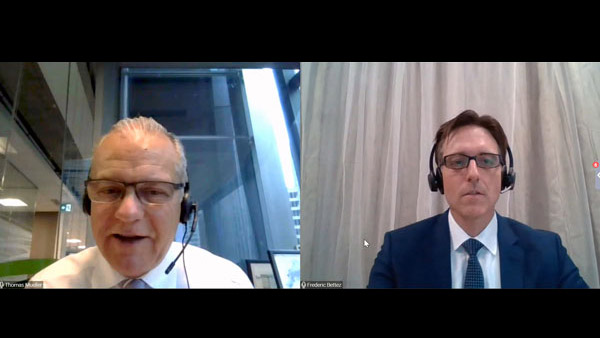 The $2 billion to be spent on retrofits, Bettez said, represented just a start, for the 2020 to 2022 period. There could well be a subsequent increase in future years "because this is not a problem we are going to solve tomorrow."
The CIB is looking to spend in the ICI sector initially, Bettez said, seeking public and private sector investors, in part because the residential sector is being taken care of by other federal agencies.
Given that a small number of private firms own 60 per cent of the commercial real estate in Canada, and that the CIB would not consider investing in projects below the $25-million to $50-million threshold, Bettez said, the CIB would be looking for partners with a large portfolio of buildings. Another approach would be to attempt to bundle buildings together to enable smaller investors to access funding.
Immediate priorities for the CIB are to undertake a market study and market sounding to obtain feedback from potential investors. They will look for "low-hanging fruit" at the beginning, said Bettez.
The CaGBC has made frequent presentations to the Justin Trudeau government on how green building could help Canada reach its GHG reduction targets and in 2016, Mueller said, discussions centred on how Canada could attain 30 per cent in carbon reductions from the building sector.
"It became very clear that large building retrofits will pay a key role in getting us there," he said of those discussions. "I want to be very clear, without retrofits, we are not going to reach our climate change goals."
Designing new buildings to be low carbon emitters is of great importance, Mueller said, but the vast majority of Canada's current building stock was constructed in an era with low energy-efficiency standards. Of the buildings Canada has right now, 90 per cent will still be around by 2030 and between 70 and 80 per cent will still be in existence by 2050.
"Most of them will consume the amount of energy they were designed for 10, 20, 30, 50, 100 years ago unless they had some retrofits," Mueller said. "But more is needed to get the performance of our existing stock up to get to our carbon goal."
Analysis by the CaGBC looked at the potential for reductions in GHG across the country based on the carbon intensity of a province's or territory's electrical grid, on the fuel type used, and the size of the stock of buildings.
Saskatchewan, Alberta, Nova Scotia and New Brunswick were found to have the most carbon-intense power systems, while Ontario was a prime target for retrofits because of its large building stock.
Alberta qualifies under both considerations.
"That makes Alberta a very important target because we could maximize outcomes with carbon reduction in existing buildings," Mueller said.
The CaGBC compared two scenarios, one with government intervention to spur retrofits and one with the status quo.
With no intervention, it was forecasted that 940,000 green building jobs would be created by 2030 and there would be $94.8 billion in direct GDP growth.
With intervention, there would be 1.4 million direct green building jobs created and $149.9 billion in direct GDP generated. And the intervention would result in almost 2.5 times the reduction in carbon emissions compared with no intervention.
'With government intervention, the numbers will go up quite considerably," said Mueller.
Follow the author on Twitter @DonWall_DCN.