Obtaining approval from senior management for any new safety initiative, controls or training program cannot be done without preparing a solid business case and showing the financial benefits, especially during a global pandemic.
That was the message from Jeet Tulshi, of casualty risk control with Liberty Mutual Canada, in his presentation Understanding the Financial Piece of the Safety Puzzle, part of the Partners in Prevention conference, held virtually this year at the end of October.
"COVID-19 has brought business finances under the microscope," explained Tulshi. "Investments in safety and everything else for that matter will need even stronger justification today. Utilize the business case and the concept of return on investment (ROI) to justify your safety project any chance you get. I'm not suggesting you get paralysis by analysis but whenever it's necessary and appropriate, use the business case and ROI to justify your investment."
In his presentation, Tulshi discussed the correlation between safety and company finances, how to justify investments in safety, how to better understand the cost of workplace injuries, safety calculators and the impact of cost of injuries on business profitability.
"Every time an injury is prevented that has a direct impact on the employers' workers' comp premium and that's a powerful story," said Tulshi. "Use safety calculators to better understand and estimate costs of injuries to support your investment decisions."
He used the example of an injury costing around $3,000 and how the company needed to generate more than $120,000 in sales to recoup that cost.
However, finance is only one piece of the safety puzzle, he advised.
"Finance is important, but safety is about much more than money," Tulshi pointed out. "Employers have a legal and moral obligation to protect its human capital. People responsible for safety are there to help employers meet that obligation."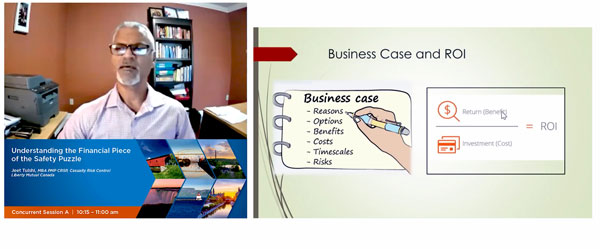 He shared a personal story about a steam boiler exploding in his uncle's factory in Guyana when he was a teenager.
"The explosion was due to a lack of maintenance," Tulshi said. "Three people died in the blast including my cousin who was just 27 years old at the time. He had two daughters both under five years old. He had third degree burns from steam almost on his entire body.
"Watching my cousin pass away painfully and slowly was one of the most horrific things I'd ever seen. When we do our work and we do it well these are sometimes the kind of events we help to prevent. You can't put a price on that."
The profit formula in its simplest form is profit equals income minus expenses, he told the audience.
"Now when the income side takes a dive, expenses come under tremendous pressure," Tulshi noted. "Smart businesses keep a very close eye on expenses all the time. Smart businesses during a pandemic, they will look for justification for every penny. If you want to invest in safety, let's say, for example, start a hazard identification training program or automate a certain operation to reduce the exposure to ergonomic related injuries, be prepared that all expenses will have to be justified. This is where the business case and the concept on ROI are especially useful."
A key part of a business case is mathematically calculating the return that will be obtained by making a certain investment.
"The business case typically consists of the 'why' of the project or the 'why' of the investment," said Tulshi. "Let's say it could be to reduce losses from slips and falls. It would also contain options. How can we go about reducing loss due to slips and falls? Should it be something we do in house by the employees perhaps cleaning the floors? Should we be contracting an outside vendor to take on that task? The business case contains the cost benefit also known as the return on investment which is calculated by dividing the expected return by the investment needed."
Safety activities directly impact the company's workers' compensation premiums.
"Some companies pay millions in workers compensation claims every year," he said. "What if you are able to make the connection between a safety initiative and reducing that number?"
He also discussed the ROI of a workplace mental health program.
"COVID-19 or no COVID-19. Ensuring that workers are mentally healthy is not only more complex but could require even bigger investments compared to physical safety."
How is the ROI of those types of investments determined?
"There are two main pieces of this puzzle, savings or benefits and investment," said Tulshi. "The benefits include savings on absenteeism and presenteeism measured by long-term and short-term disability cost reduction. The investment is mainly driven by the cost of the program, so the cost of perhaps hiring consultants, perhaps training people and then there may be related costs like the increased use of employee assistance programs.
"Organizations investing in workplace mental health programs appear to be mitigating the rising costs of doing nothing," added Tulshi. "Cases of mental health issues continue to increase and with COVID-19 in the background the cost of doing nothing can be huge."
Follow the author on Twitter @DCN_Angela.