A survey of residential construction in downtown Hamilton published this month reveals a very healthy market for highrises 20 storeys and up in the sector.
Research by commercial real estate investment firm Forge and Foster determined there are six projects of that height currently under construction in and near the downtown and 10 more either approved, in permitting or in pre-construction.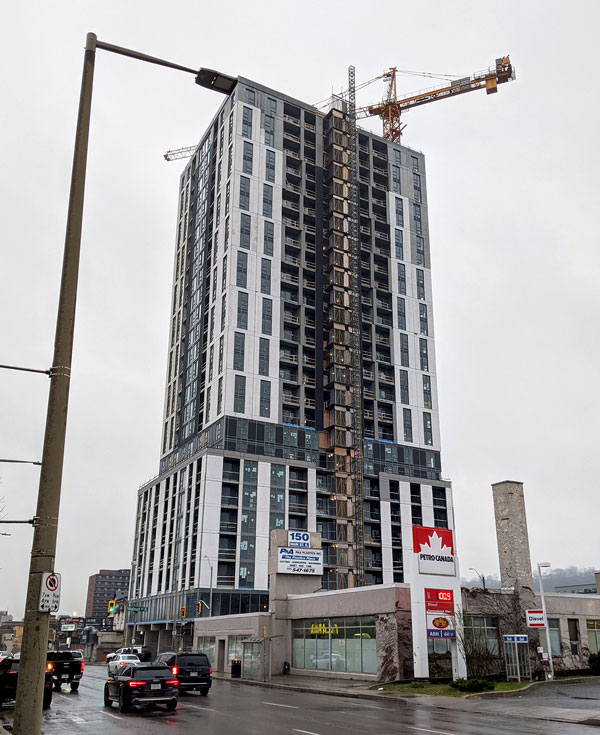 "Everyone has their opinion on density and heights, but it is encouraging to see, especially in the downtown core which has been an underutilized area for quite some time. It is fantastic to see the growth," commented Alex Manojlovich, an associate involved in strategy and acquisition with the firm.
Forge and Foster is not involved in the residential new-build market, Manojlovich explained, rather it specializes in value-added projects — identifying neglected low-rise buildings and securing the financing needed for rebuilds. It is one of the few commercial real estate investment firms based in Hamilton, so it keeps informed on trends in all sectors, he said.
"We have really noticed a boom in the past five years," he said of residences in the downtown, noting that Hamilton has benefited from Toronto's status as one of the fastest-growing cities in North America.
"The underlying theme is that Hamilton is a mid-sized city, you still get that city vibe and the lifestyle that you get by living in downtown," he said, comparing Toronto to Hamilton. "People are recognizing now you can achieve somewhat of that lifestyle in Hamilton for virtually double the space and half the rent. That is why you are seeing the allure of Hamilton."
Of course, the pandemic has changed a lot.
Manojlovich noted that with uncertainty over the future of the office and retail sectors, and immigration to the GTA down, and other factors, the demand for high-density residences in downtown Toronto is trending to cool down. But he is not seeing that in Hamilton, he said, and he has not heard that any developers of the upcoming crop of downtown highrise projects are backing away.
"You are seeing the opposite happening here," he said of the Toronto trend. "You are seeing the migration from Toronto looking at the 905 region, and you are actually seeing in Hamilton slight bumps in rental values. So that shows where people are coming in from. That shows how stable our market is in Hamilton."
Below are residential projects 20 storeys and up either underway or in the planning stages for downtown Hamilton as reported by Forge and Foster early in November:
UNDER CONSTRUCTION
Platinum Condominiums, 15 Queen St. S., 282 units, 24 storeys, Coletara Development, completion expected 2021, under construction
354 King St. W., 25 storeys and 12 storeys, Vrancor Group, completion expected 2023, under construction
154 Main St E, 267 units, 25 storeys, Vrancor Group, completion expected 2021, under construction
Cobalt, King St. E., King William Street and Hughson Street, two 30-storey towers, 525 units, LIUNA, under construction
McMaster Graduate Residence, 191 King St. W., 644 beds, 30 storeys, Knightstone Capital, completion expected 2023, under construction
Marquee Residence, 20 George St., 203 units, 32 storeys, Vrancor Group, near completion
PRE CONSTRUCTION/PERMITTING STAGE
Beasley Park Lofts, 134 Mary St., 366 units, 20 storeys, Stinson Developments, completion expected 2023, pre-construction
Television City, 163 Jackson St. W., 642 units, two 32-storey towers, Lamb Development, approved
Hamilton City Centre, 77 James St. N., 2,068 units, three 30-storey towers and one 24-storey tower, IN8 Developments, under review
71 Rebecca, 437 units, 30 storeys, Sonoma Development Group, under review
235 Main St. W., 331 units, 23 storeys, Belmont Equity, under review
41-61 Wilson St. E., 962 units, three 29-storey towers, Parcel Developments, under review
The Connolly, 98 James St. S., 315 units, 30 storeys, Hue Developments and LCH Developments, under review
Corktown Plaza Tower, 225 John St. S., 769 units, two towers of 27 and 14 storeys, Slate Asset Management, under review
Metro Condominiums, 307 John St. S., 773 units, three towers of 22, 24 and 25 storeys, Spallacci and Sons, under review
Royal Connaught Phase 3, 112 King St. E., 36 storeys, Spallacci Homes, under review
Follow the author on Twitter @DonWall_DCN.