ConstructConnect announced today that the latest month's volume of construction starts, excluding residential work, was $25.9 billion, nearly a match (-0.4%) for prior-month September's $26.0 billion (originally reported as $24.3 billion). October's year-to-date figure, however, remained down significantly compared with the first ten months of last year, -27.8%.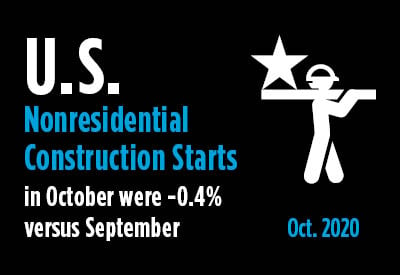 Click here to read the complete October 2019 Industry Snapshot article, October Nonresidential Construction Starts -28% Ytd But Level M/M – below is a short excerpt.
Given that October starts usually feature a mild seasonal decline, due to the arrival of cooler weather, it's good news that the latest month stayed almost level (-0.4%) with September. But it's important to record that October 2020 was way down compared with October 2019, -41.5%.
Often, in 2020, the individual monthly figures when compared with the same month of 2019 have fallen short with respect to mega projects of a billion dollars of more each. 2019 was an exceptional year for ultra-large project initiations. (There were 35 of them, adding to $79 billion and 15% of total nonresidential starts.) May and August 2019 were the peak months for 'megas'.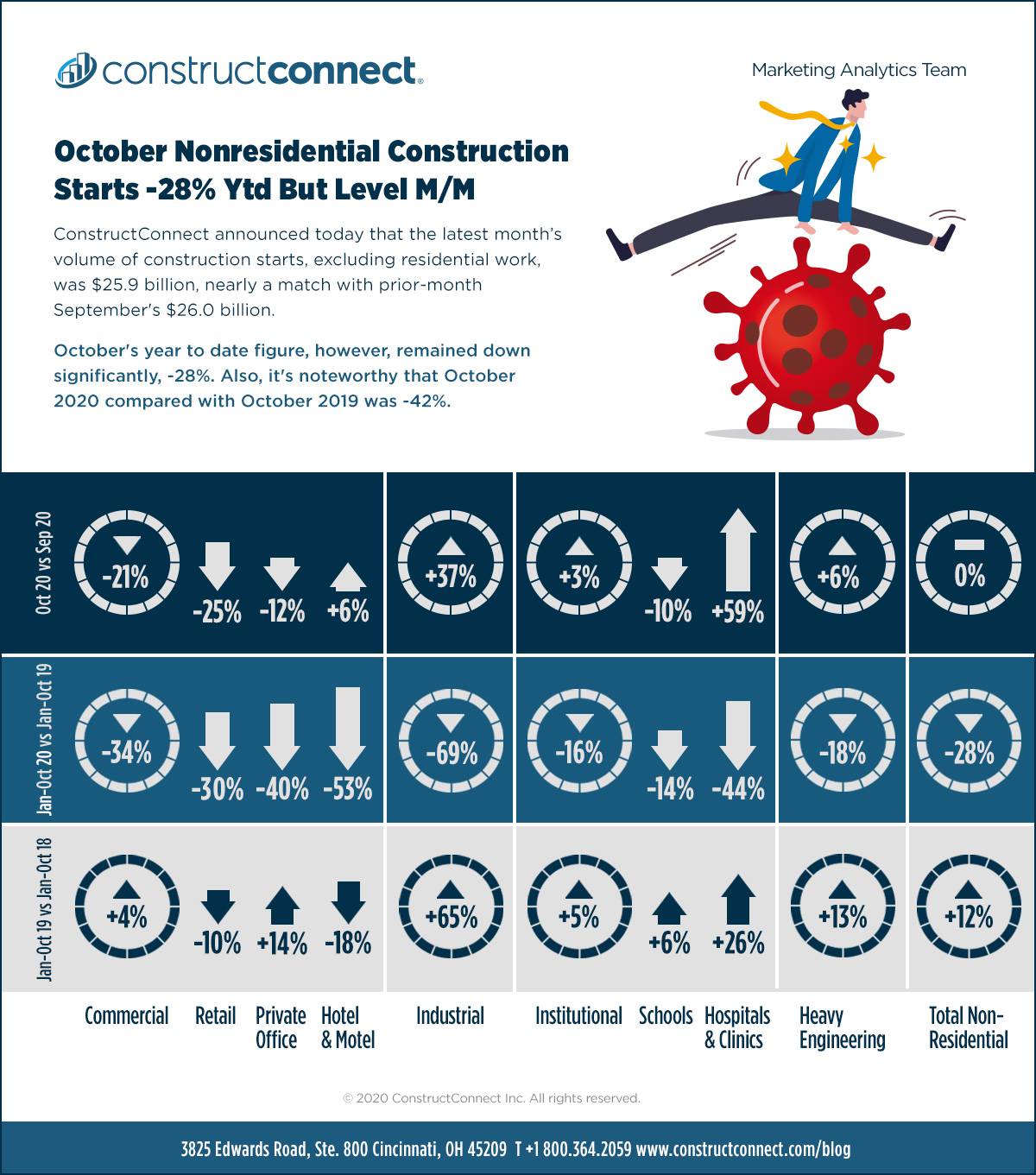 View this information as an infographic.
October 2019, though, was run-of-the-mill for mega project start-ups. It included three such undertakings totaling $6.1 billion. (Two of the three were rapid transit projects.) In October 2020 starts, there is only the one mega project, a steel mill in Kentucky for $1.7 billion.
Click here to download the Construction Industry Snapshot Package – October 2020 PDF.
Click here for the Top 10 Project Starts in the U.S. – October 2020.
Click here for the Nonresidential Construction Starts Trend Graphs – October 2020.
---
Alex Carrick is Chief Economist for ConstructConnect. He has delivered presentations throughout North America on the U.S., Canadian and world construction outlooks. Mr. Carrick has been with the company since 1985. Links to his numerous articles are featured on Twitter @ConstructConnx, which has 50,000 followers.
---
Interactive Visual
---
View this video to see how to use the filters in the Interactive Visual.