OTTAWA — Construction requirements across Canada are expected to rebound in 2021 in the wake of the COVID-19 pandemic and rise through the coming decade, albeit at more muted levels than in the past 10 years, states the latest market forecast released March 26 by BuildForce Canada.  
The strength and pace of recovery will vary among provinces, and will depend significantly on the rollout of COVID-19 vaccines, the recovery in consumer and business confidence, the global demand for Canadian exports, and the lifting of restrictions on international travel, the report explained.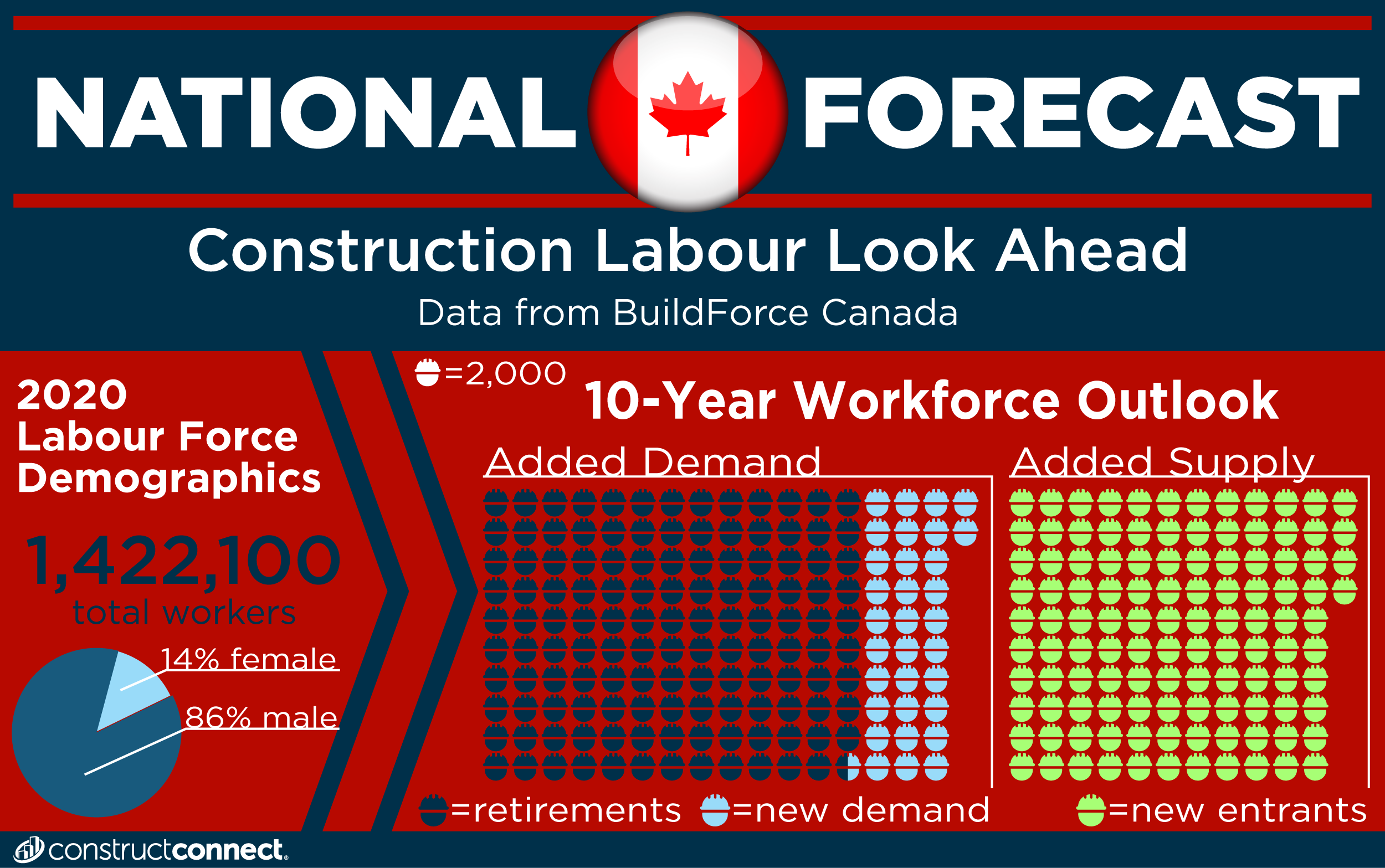 BuildForce Canada's 2021–2030 Construction and Maintenance Looking Forward national report forecasts construction employment to rise by 64,900 workers over the next decade. This represents an increase of six per cent over 2020 workforce levels.  
While the outlook anticipates that much of that growth will take place through 2025, by the end of the decade, the respective provincial industries will have to cope with the need to replace nearly 259,100 workers, or about 22 per cent of the current labour force, due to retirement. 
"Canada's construction outlook is strong for 2021 and well into the middle portion of the decade thanks to gains in the residential and non-residential sectors," said BuildForce Canada executive director Bill Ferreira. "And while we forecast growth to slow over the later years of our forecast period, we nonetheless expect that the industry will be challenged to recruit more than 309,000 new workers to replace retirees and keep pace with demand." 
BuildForce Canada anticipates that the non-residential sector will lead industry growth between 2021 and 2023 and be driven by a large list of public transit, health care, education, roadwork and other civil infrastructure projects. Overall, non-residential employment is projected to increase by more than 39,800 workers between 2021 and 2025, and another 5,000 to 2030.  
The sector is expected to end the decade up 44,800 workers (up eight per cent) compared to 2020. 
Watch for DCN analysis of the new BuildForce report coming soon.