While BuildForce Canada's projections for ICI construction this year suggest an increase in construction over 2019 and a peak in construction in five years, the Ontario Construction Secretariat's (OCS) director of research is more cautious about when there will be a start to good times.
"I think 2021 is a question mark," Katherine Jacobs said recently during the OCS's 2021 State of the Industry and Outlook Conference held virtually.
"I think there is potential for growth…but it is really hard to predict how strong it will be," she stated, adding the vaccine rollout is key to construction returning to normal.
Jacobs revealed some of the findings of the OCS's 2021 Contractor Survey which polls 500 contractors in the ICI sector once a year.
The top concern of contractors this year is supply chain disruption because of the lack of material availability and rising prices, Jacobs said.
Other major concerns include project delays, the health and safety of workers and the timing of the vaccination rollout.
More than half of contractors on the survey reported a drop in annual revenues by the end of December 2020. On average the revenue dip was 16 per cent from 2019.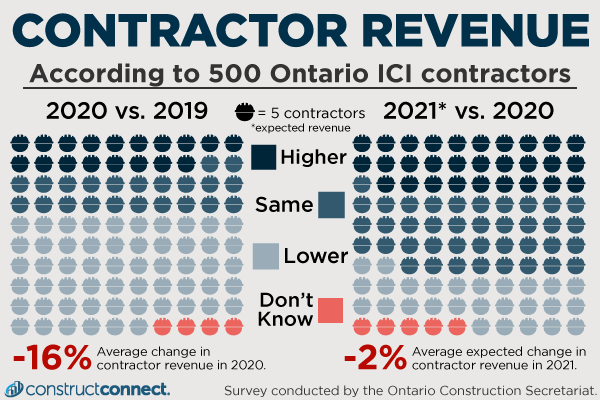 Nonetheless, bankruptcies were down in 2020, possibly in part because 64 per cent of contractors polled used government financial support to help them through rough times during the pandemic, Jacobs said.
She pointed out the survey showed an almost even split of contractors expecting revenues to rise and to drop in 2021.
While 2019 saw only one per cent of contractors seeing a decline in business, last year saw that number soar to about 33 per cent.
Good news to come from the pandemic, however, is that 70 per cent of the contractors polled expect their increased sanitation standards on construction sites to remain after normal times return. Approximately 95 per cent of those surveyed indicated they have been meeting the pandemic's enhanced sanitation standards, Jacobs said.
Unlike past years, the contractors most optimistic about the year ahead are in regions other than the Greater Toronto Area (GTA) and Central Ontario, both of which expect to see less work than last year.
Jacobs speculates the reason is that concerns surround the status of some large commercial projects.
"I certainly hope that we don't go back to the late '80s," she said, which was a period where the office construction market was dormant for more than a decade in the GTA.
Contractors expecting more work in 2021 include eastern Ontario, 43 per cent; southwest Ontario, 35 per cent; and about a third of those surveyed in northern Ontario.
Once the economy starts to normalize, there are some promising signs for builders, including the more than $120 billion in infrastructure projects planned to start within the next two years, according to BuildForce Canada.
Jacobs said the industry has come a long way from the first two months of the pandemic when 93,000 jobs were lost (March and April 2020). By May those jobs were recovered and by year's end employment was only slightly down from 2019.