ConstructConnect announced today that the latest month's volume of construction starts, excluding residential work, was $18.5 billion, a decrease of -34.6% versus January 2021's $28.3 billion and a similarly large contraction of -38.5% compared with February 2020's $30.1 billion.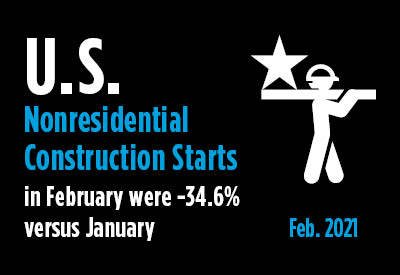 Click here to read the complete February 2021 Industry Snapshot article, February 2021 Nonresidential Construction Starts -30% YTD Versus 'Normal' – below is a short excerpt.
Year-to-date February 2021 nonresidential starts were -29.5%. Among structure types, the ytd weakness was entirely in nonresidential buildings (NRBs), -43.3%, as engineering stayed flat, -0.6%. Trailing 12-month (TTM) nonresidential starts (i.e., Mar 20-Feb 21/Mar 19-Feb 20) in the latest period were -30.4%. TTM 'Grand Total' starts, which include residential, were -20.0%.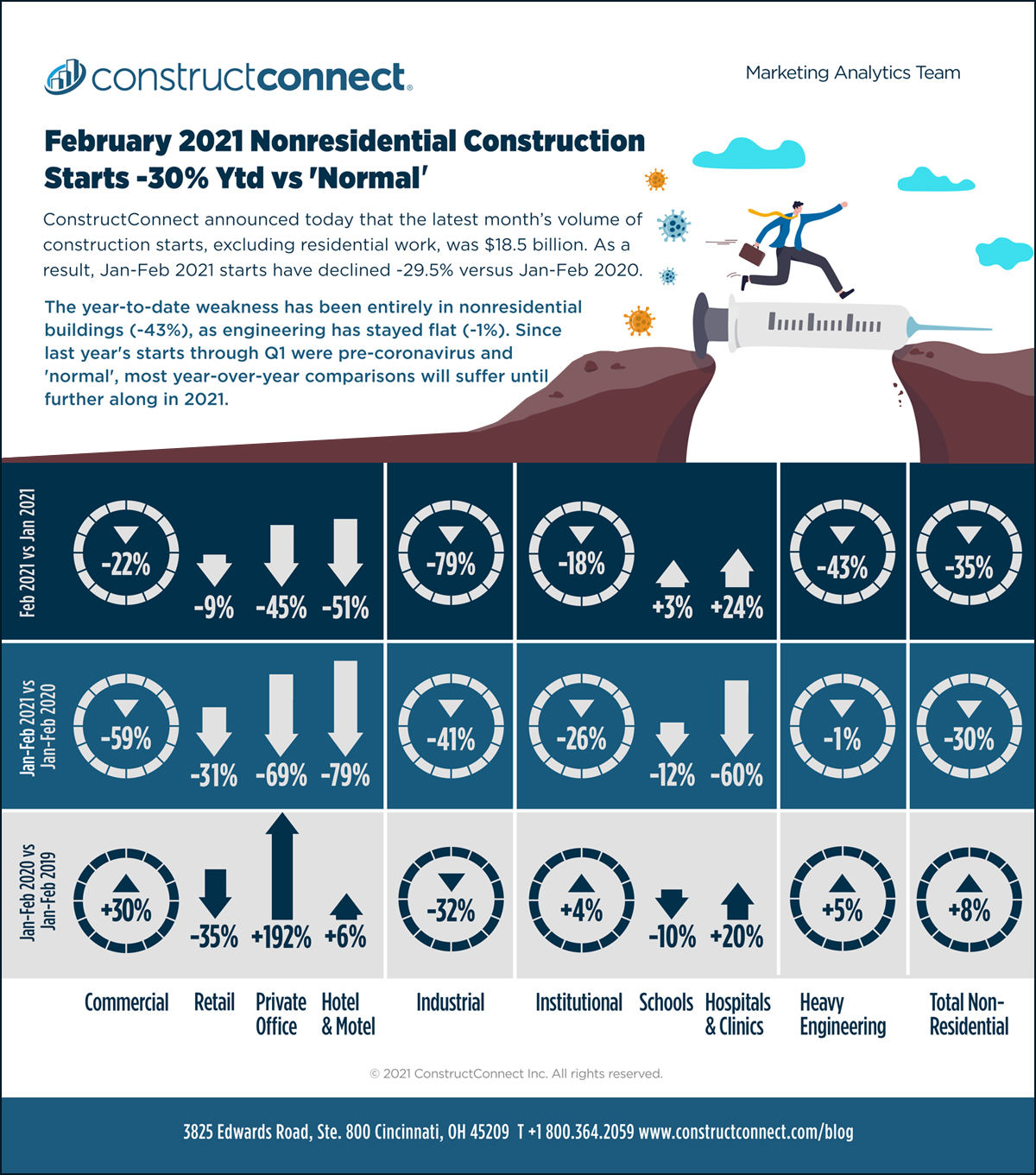 View this information as an infographic.
Since last year's starts through Q1 were pre-coronavirus and, therefore, 'normal,' comparisons of this year with last year will suffer until further along in 2021. But that doesn't explain the shortfall relative to January (i.e., month to month). Apparently, while January's nonresidential starts increase over December of +26.7% was nice for basking in at the time, it was a false signal.
Click here to download the Construction Industry Snapshot Package – February 2021 PDF.
Click here for the Top 10 Project Starts in the U.S. – February 2021.
Click here for the Nonresidential Construction Starts Trend Graphs – February 2021.
---
Alex Carrick is Chief Economist for ConstructConnect. He has delivered presentations throughout North America on the U.S., Canadian and world construction outlooks. Mr. Carrick has been with the company since 1985. Links to his numerous articles are featured on Twitter @ConstructConnx, which has 50,000 followers.
---
Interactive Visual
---
View this video to see how to use the filters in the Interactive Visual.