Ontario is now home to what's claimed to be the most fully automated mass-timber plant in the world, with Element5's new St. Thomas factory now industry-certified and running at full strength.
The firm offered tours of the facility Aug. 17 with visitors able to observe crews manufacturing and stocking custom-built cross-laminated timber (CLT) panels destined for two separate timber projects – an 80,000-square-foot Toronto Regional Conservation Authority headquarters due for completion next year, and a 40-unit affordable-housing project under development by the YWCA in Kitchener.
"We are in the wonderful position to be able to take a leadership role in this whole mass-timber industry," said Patrick Chouinard, Element5's vice-president for market strategy, who accompanied the tour.
"This form of construction is revolutionizing the way buildings will be designed, engineered and actually constructed."
Element5 began erection of its new 137,000-square-foot manufacturing facility on Dennis Road in St. Thomas in the second half of 2019. Despite the pandemic it was certified and commissioned according to the firm's original timeline. The first test panel came off the line last December.
Combined with an existing factory in Ripon, Que., Element5 now has the capacity to produce over 50,000 cubic metres of CLT and glulam per year. The St. Thomas plant can develop CLT panels up to nine boards thick and 16 metres in length.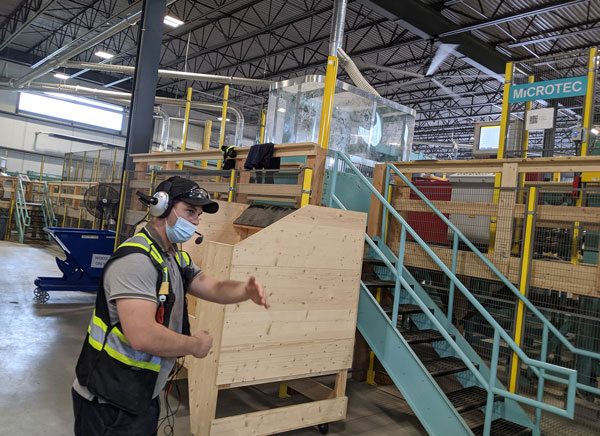 In April it was announced that the new plant had received certification for the production of CLT under the ANSI/APA PRG 320-2019 Standard for Performance-Rated Cross-Laminated Timber. That standard covers the manufacturing, qualification, and quality assurance requirements for CLT in Canada and the United States.
The timber is supplied from northern Ontario, mainly from White River Forest Products, with Element5 earning FSC (Forest Stewardship Council) chain-of-custody certification.
Chouinard said aside from the market-leading degree of automation, the facility's production line is fairly standard for the industry, with Slovenia's Ledinek contracted for production design.
"They've done about eight or nine lines around the world and they've perfected it over the years," he said. "We're just leveraging all of their equipment and their know-how to set up a new facility here."
Still, said Chouinard, the search for design and engineering expertise to run the plant required recruitment from far and wide, with skilled support imported from France, Scotland, Ireland and across Canada.
Product development is where competition is extra tough, said Chouinard, with competitors such as steel manufacturers developing products and replicating solutions so innovatively that "you can buy a steel building almost off the internet.
"The mass timber industry will go the same path. We're now producing commodities like CLT and glulam, and ultimately we produce our own industry solutions which we call building profiles, and then we will replicate those building profiles over and over again."
Most of the major manufacturers in mass timber focus on the structural components of buildings, Chouinard said, but Element5 has gone beyond that to create a full envelope system, and ultimately the firm will be able to pre-install a package with the cladding, doors and windows in a complete weathertight system.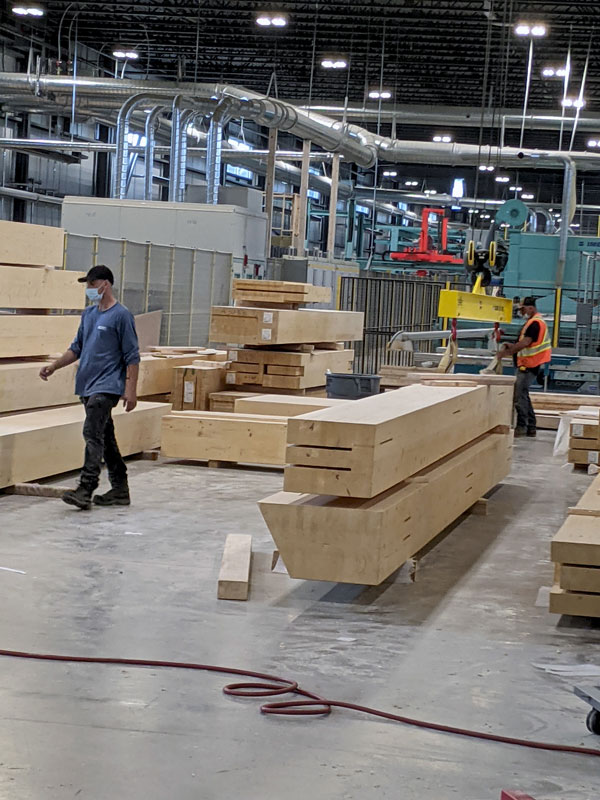 Another Element5 product, the box panel, enables the production of longer panels with a hollow core and an engineered joist.
"It allows us to span greater distances much more economically against concrete or steel," he said.
Working with Edge Architects, Element5 was able to develop its own sustainable affordable housing system in short order when the federal government began soliciting rapid affordable housing providers, winning the Kitchener YWCA job, Chouinard said.
"We were pleasantly surprised that we underpriced all of the other major affordable housing solution providers in Ontario."
Similar to the way other producers such as EllisDon manufacture modules off-site for assembly on site, Element5 will be able to ship panels from St. Thomas throughout Ontario and the eastern United States that can be assembled IKEA-style, Chouinard said. There is a rail spur next to the Element5 site in St. Thomas so products can be shipped by rail or truck.
"We're putting them on a flatbed truck and then they get assembled like IKEA furniture," he explained. "There's advantages and disadvantages to either form but this is just an alternative form of construction for modular housing. It's low cost, it's very quick to assemble.
"For example, the YWCA project, we will have that building completely weathertight in 20 to 25 days, and that's a 40-unit apartment building."
Follow the author on Twitter @DonWall_DCN.