It has been a momentous past year for Ontario's Steelcon Group of Companies with the acquisition of a new steel installation firm, the addition of a third fabrication facility and successful completion of a stressful structural steel deck job that was part of a pilot project being scrutinized closely by the province's top politicians and bureaucrats.
Steelcon, based in Brampton, operates with a staff of 200 engineers, project managers, site co-ordinators, manufacturers and in-house drafters.
They are all being kept on the run these days in what president Danny Bianco said is a "crazy" busy period.
To support the workload, earlier this month Steelcon announced the acquisition of D.C. Welding Service of London, Ont., a structural steel erector.
Steelcon is in the business of designing, fabricating and building commercial and industrial projects and the new addition gives Steelcon extra workforce certainty when projects reach the installation stage.
"This acquisition basically adds in-house capabilities to do it ourselves," explained Bianco. "It's a crazy market right now."
"It's busy, schedules are changing. So we're at a point where we feel that's going to be an issue in the future with the installation. There's not enough erectors basically. We need some control to service our customers."
Steelcon has a growing portfolio of Ontario projects in the commercial, industrial, health care, transit, public and other sectors with the Woodbine Casino expansion, Kipling GO Bus, Tom Patterson Theatre and Hamilton GO Bus facility among recent and current projects. But none has been under the microscope like the Trillium Health Partners long-term care (LTC) facility project for Mississauga was last year. Premier Doug Ford has discussed the project, for two modular LTC buildings, as part of the Accelerated Build Pilot Program initiated by Infrastructure Ontario in 2020. Under the program, LTC home projects that normally take 36 months were to be completed in less than two years.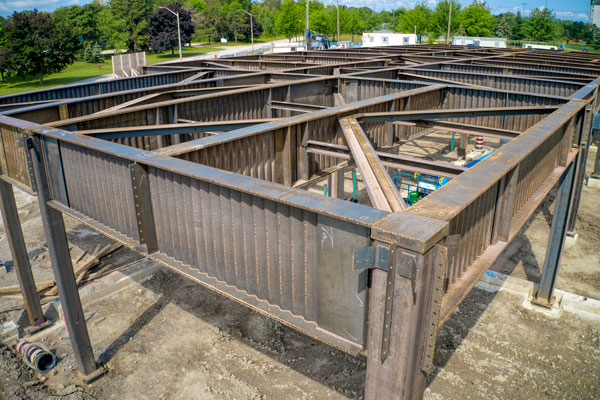 For the Trillium job, EllisDon is the contractor, Montgomery Sisam the architect, EXP and Entuitive the engineers and in January 2021 Steelcon was awarded the $25 million contract for supply and erection of the structural steel and deck, requiring 2,700 tons of steel. Speed was of the essence – Steelcon was required to complete the support deck by that May.
"It was a very fast-paced project, a different type of construction with an innovative system," Bianco said.
As outlined in a Steelcon case study, the initial design called for heavy/deep conventional welded wide flange members. But within a month, Bianco explained, due to the odd sizing of the members, many of which were hard to procure, Steelcon became concerned it could not meet the deadline.
But the firm had a strong alternative. It is the only North American supplier of the SIN beam, a structural steel line Steelcon fabricates as an alternative to conventional, with custom corrugated web beams built from steel coils and hot-rolled steel flanges. In some applications, the SIN beams are 30-per-cent lighter.
Steelcon's recommendation would require a redesign of the grillage steel, but it meant the May deadline could be reached as the SIN beams could be manufactured in-house. So the contractor acquiesced.
Throughout the redesign, Steelcon engineers had to ensure that the SIN beam met the design requirements as well as height restrictions. Vibration requirements, stiffness and design load requirements were all assessed.
Another challenge was that the project required sprinklers and ducts to pass through beams. Steelcon was able to shop-fabricate holes with the required reinforcement.
"It was a very collaborative team, very solution-oriented," said Bianco.
At one point in the design, many of the design loads increased, requiring upsizing of the beams within the grillage frame. If it had been a conventional project, all the conventional beams would have been scrapped, said Steelcon. But with the SIN beam and its flexibility in design and use of coils and plates, the changes were accommodated without any change to the schedule.
Steelcon successfully achieved the May 2021 delivery schedule as planned, with the SIN beam option resulting in a savings of $300,000.
"A lot of our work…is fast paced and projects with tight deadlines and complexities," said Bianco, summing up. "But this was a bit of a different animal."
Follow the author on Twitter @DonWall_DCN.