The lead economist of Export Development Canada (EDC) says now is the time to build production and shipping capacity to bolster supply chains, urging construction stakeholders attending a recent Toronto conference to start spending immediately while interest rates are still low.
EDC interim chief economist Stuart Bergman made the case for capital spending to ease manufacturing and delivery bottlenecks given that North Americans have ample cash on hand, with exorbitant amounts being spent in the retail sector right now, especially in the U.S.
"It's important to get it out there and get the message out that we need to start investing, you need to start investing in capacity," Bergman stated during his presentation at the Ontario Construction Secretariat's State of the Industry and Outlook Conference.
"The driver here is what if you don't, then your competitors are going to eat your lunch. It's as simple as that."
The timing is perfect because the window is still open on cheap money, Bergman said.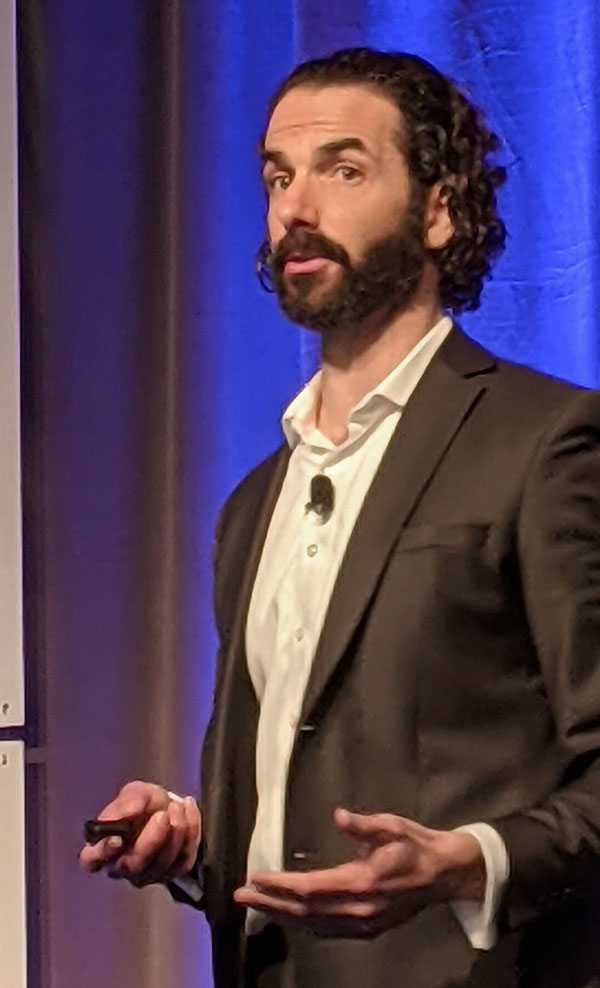 "We know we need to invest pretty soon because that window is starting to close."
Even with increased spending, U.S. and Canadian households are sitting on record cash reserves, Bergman said.
The figure for average quarterly cash-on-hand pre-pandemic in the U.S. was $1.8 trillion; during the pandemic, it is $3.2 trillion. The same figure in Canada pre-pandemic was minus $19.5 billion, and during the pandemic it is $120.5 billion.
There were also unprecedented government outlays during the pandemic, Bergman said.
As of September 2021, the discretionary fiscal response of the Canadian government was 20 per cent of GDP, which was less than the U.S. government at 28 per cent of GDP and much less than that of Japan, at 45 per cent of GDP.
In Canada retail sales are up 11 per cent from January of 2020, but that is a fraction of U.S. spending.
"The real star performer here, the real leader, is the U.S. consumer," said Bergman. "Consumer retail sales in the United States is up a phenomenal 23 per cent on pre-pandemic levels."
With one-fifth of global GDP injected back into the system in a very short period of time, consumers did not spend right away, Bergman said, because there were fewer ways to spent during and post lockdowns.
Now, the "incredible surge in consumer demand" is so robust that world supply chains are barely managing, he said.
"We basically went from zero to 100 in a very short period of time, but suppliers couldn't handle it. But the reality is that today supply chains are so intricate, they're so interconnected.
"We started to suddenly see people start buying stuff that they never bought before. The world stocks of raw materials were stretched beyond capacity."
The result was higher prices almost everywhere. Forestry was the most volatile, but metals, agriculture and energy all cost more than two years ago.
Global shipping is struggling to keep pace with consumer demand, Bergman said, but there has been constant growth in the number of U.S. warehouses each year, with plans for another 500 million square feet of storage space.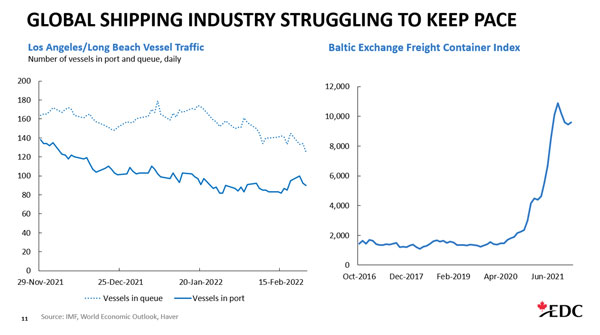 On the wage front, so far Canada has been spared major wage hikes, Bergman said, but the drive for higher wages to keep up with inflation and potential interest rate spikes has reached unlikely places.
"Germany's biggest labour union is asking for a 5.3-per-cent increase in wages. That's a 5.3-per-cent wage increase in a country that is absolutely obsessed with price stability."
In the U.S., average hourly earnings are up almost six per cent.
Besides potential wage hikes, general inflation and rising interest rates, the latest potential threat to economic growth is the Russian invasion of Ukraine, Bergman said.
"This war in Ukraine has thrown everything," he said, mentioning the amount of raw materials that pass through that part of the world and Europe's reliance on Russian natural gas.
"Last night I was talking to my group, asking if they had started working on those models," he said, referring to inflation projections.
"We're keeping an eye on it. For now, we expect inflation to moderate around mid-year. There's a big risk there."
Follow the author on Twitter @DonWall_DCN.