A new report outlines how Aecon is building sustainable practices throughout its operations while embracing net-zero construction methods.
The group recently released the third annual Building Innovation 2021 Sustainability Report, which illustrates the progress made in 2021 toward achieving a Greenhouse Gas (GHG) reduction target in the construction industry: to reduce its direct CO2 emissions by 30 per cent by 2030 and reach net-zero by 2050.
"We did see an emission reduction of 15 per cent on an intensity basis…but we're also mindful that those external variables will shift around year to year, so we don't necessarily expect to see that to be a straight line down. We are really much more focused on our own internal metrics of those proactive changes that we're driving," said Yonni Fushman, EVP, chief legal officer and chief sustainability officer with Aecon.
Highlights of the report include three key areas of focus: operationalizing sustainability; people and communities; and governance and ethics.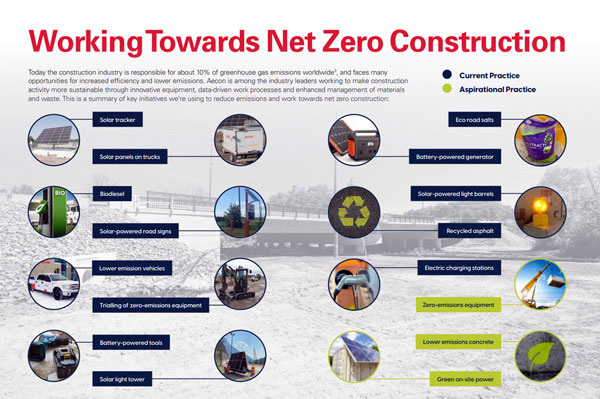 Prabh Banga, director of sustainability, said 2021 was a year of firsts, with the company reaching multiple sustainability achievements.
In terms of operationalizing sustainability, Banga said Aecon is laying the groundwork and working toward net-zero construction.
"One of the examples of this is we piloted several new technologies to integrate sustainability into our operations. One of them was the ECR25 Volvo Electric excavator," she explained. "We were the first construction company in Canada to operate a zero-emission excavator on one of our project sites."
Aecon also became the first construction company in Canada to complete a scan of indirect (Scope 3) emissions.
"In 2020 we became the first company to do an emissions inventory across our operations and in 2021 we expanded on that by including a scan of our indirect emissions," explained Banga.
In the area of people and communities, Aecon fielded its second diversity census and continues to enhance strategies to procure goods and services from different suppliers.
"We augmented our safety-first culture with a program focused on eight activities that workers perform that present the most elevated risks," said Banga. "We also continue to establish collaborative and mutually beneficial relationships with Indigenous communities, including a growing number of Indigenous-led joint ventures."
In the third strategic area, governance, in 2021 Aecon added ESG screening to improve its evaluation of preferred suppliers and became the first construction company in Canada to commit to having its GHG emissions reduction targets validated by the globally recognized Science Based Targets initiative.
The report also includes recommendations for working towards net-zero.
"Future practices include the electrification of heavy-duty construction equipment, green building materials and an electric fleet," Banga said.
The report discusses other innovative practices Aecon implemented.
"Last year the focus was really on integrating solar powered equipment into our operations that included solar powered light towers, solar powered road signs, as well as solar powered generators," Banga said. "Last year we trialled an electric excavator and this year we're trialling an electric wheel loader. We also trialled the use of alternative fuels such as bio diesel and bio fuel. We also started to incorporate lower emission fleet vehicles such as hybrid vehicles."
While achieving a 15 per cent year-over-year CO2 emissions reduction is significant, Fushman said Aecon is focused on learning about where the emissions come from and what levers they can pull to control them.
"One of the points that has become increasingly clear now that we have two years of comparable data is that for a construction company emissions are really a combination of two factors," he explained.
"There is first our own efforts, so gradually replacing diesel with clean power sources. The second factor is variables like the mix of work we perform in a given year, the amount that we self-perform versus subcontract. When you look at even just a single project it might be a different emissions profile in each year. You might have high emissions in the excavation phase of say a transit station when you are moving material, loading it into trucks, you're driving those trucks to fill sites, and on the same project later on you might have lower emissions when you're in the finishing stage."
It also depends on the type of work, he added.
"There are more Scope 1 emissions which are direct emissions associated with civil and certain industrial projects that we tend to perform with our own forces versus other projects that rely more on subcontracts," Fushman said. "The more you subcontract you are shifting emissions away from your own scope from direct to indirect."
For more on the report visit www.aecon.com/sustainability.
Follow the author on Twitter @DCN_Angela.