While the drag on growth due to higher interest rates has prompted us to turn down the volume somewhat, we are not changing our tune regarding the near-term outlook for the Alberta economy. In our last update on the province, published in March of last year, we expected oil to fuel growth through 2022 and into 2023 as well. Since Alberta's total exports were up by +53% late into 2022, largely due to a rebound in exports of crude petroleum (+61%), it is clear that oil exports behaved as anticipated.
Trans Mountain Expansion will boost Asian Oil Exports  
Although world wheat prices, at $382 USD per metric tonne in December, have retreated after spiking sharply higher in March 2022, the effect of lingering supply constraints resulting from Russia's Invasion of Ukraine will keep them elevated and help boost the value of Alberta's agricultural exports into 2024.
Over the past year, Alberta's exports of crude petroleum to the U.S., the market for approximately 90 % of foreign sales, have risen by +62%. But the recent flattening of energy prices will have a dampening impact. That will be partially offset, however, by stronger growth in China, the province's second-largest trading partner. Looking ahead, the start-up of commercial operations on the Trans Mountain Pipeline Expansion late this year will give Canadian petroleum producers access to more customer options, thereby helping to reduce the discount they currently face from limited access to global markets.
High Immigration will Drive Population Growth
 Fuelled by the post-pandemic resurgence of energy prices and a rebound in manufacturing activity, employment in Alberta increased by +6.9% y/y in 2022, faster than in all other provinces except Ontario and British Columbia. Reflecting a strong rebound in the demand for labour, the job vacancy rate in the province hit a five-year high in the second quarter of 2022. Attracted by the relatively strong job market and house prices in Calgary and Alberta that are among the most affordable in the country, the province has seen a record inflow of international and interprovincial migrants. In 2022, the province's population was boosted by an unprecedented +135,000 individuals.
Attracted by the above-noted incentives (more jobs and relatively low-cost housing), Canadians have flocked to the 'wild rose' province from across the country in numbers not seen since 2016. Given the strong population growth and the accompanying job gains, it is not surprising that the Conference Board in Canada reported that its Index of Consumer Confidence posted a solid six point advance in December.  
Inflow of Migrants to Sustain Rental Demand
Alberta's rental market appears more affected by the outsized migration from both inside and outside the country than the ownership market. In 2022 apartment vacancy rates dropped to a seven-year low of 3.7% while median rents accelerated from +0.4% y/y in 2021 to +4.3% y/y in 2022, a seven-year high.
While strong net migration has given a boost to rental demand, higher interest rates, as has been the case across the country, have cooled demand for ownership accommodation. During the second half of 2022, sales of existing dwellings fell by -18% compared to the same period in 2021. Consistent with the strengthening demand for rental accommodation, starts of apartments and row dwelling units were up by +31% y/y. Reflecting the mortgage-rate-depressed demand for ownership dwellings, single-family starts were down by -1% while semi-detached starts were up by +4.6%.
Given the prospect of sustained good positive inward net migration, the outlook for multiple-unit housing starts appears quite positive. However, the near-term outlook for single-family construction will be depressed by past, and probably further future, increases in mortgage rates.
Three Drivers of Non-Res Investment 
We expect the positive impacts of rising energy prices on oil and gas exploration, infrastructure investment driven by record gains in population, and surging spending on "green" energy projects to cause non-residential investment in Alberta to accelerate over the next two years, after posting a modest gain of +4.8% in 2022. Driven by higher oil prices, the total number of wells drilled in the province totalled 7,736 in November, up by +54% vs the same period in 2021. Major energy projects under construction include the Cascade Power Project, the conversion from coal to natural gas of the Genesee generating station, and the Forty Mile Wind Project.
Province's Strong Energy Base will help it Lead the Country
While it will be impossible for the Alberta economy to avoid becoming sideswiped, first by slower growth in the U.S., its major trading partner, and second by the impact of the rapid rise in interest rates over the past 9 months, the province's near-term outlook is brighter than for any other province. Following an estimated gain of +5% in 2022, we expect growth in 2023 and 2024 to be in the range of +1.8% to +2.3%.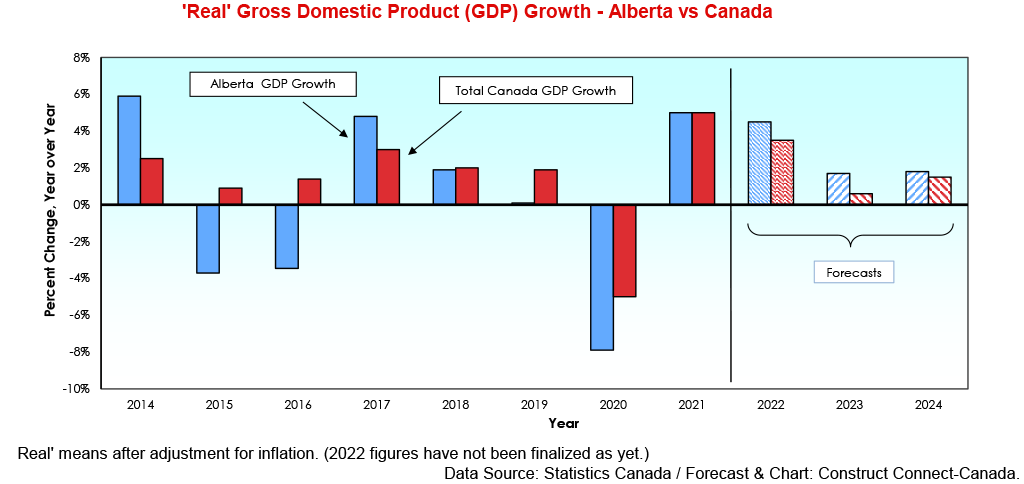 ---
John Clinkard has over 35 years' experience as an economist in international, national and regional research and analysis with leading financial institutions and media outlets in Canada.