The accompanying table records the 10 largest construction project starts in Canada in December 2022. Also included is the latest trend graph on starts. This looks at 12-month moving totals of the civil and non-residential building categories in Canada.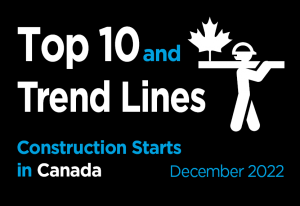 There are several reasons for highlighting upcoming large projects. Such jobs have often received a fair amount of media coverage. Therefore, people in the industry are on the lookout for when job-site work actually gets underway. And, as showcase projects, they highlight geographically where major construction projects are proceeding.
Also, total construction activity is comprised of many small and medium-sized projects and a limited number of large developments. But the largest projects, simply by their nature, can dramatically affect total dollar and square footage volumes. In other words, the timing and size of these projects have an exaggerated influence on market forecasts.
Top 10 construction projects of the month – December 2022
REGION
(East to
West)
TYPE OF
CONSTRUCTION
DESCRIPTION

Sq. Ft.
000s

Dollars
000,000s

New Brunswick
 
 
 
 
Saint John
Civil/Engineering
Irving Pulp & Paper Environmental Treatment Facility
*
$150
 
 
(1 structure) Mill Rd
 
 
 
 
JD Irving Ltd
 
 
 
 
 
 
 
Ontario
 
 
 
 
Ottawa
Commercial
Parliament Welcome Centre (PWC) – Phase 2
*
$3,000
 
 
(2 structures; 1 storey) 111 Wellington St
 
 
 
 
Public Service and Procurement Canada
 
 
 
 
 
 
 
Toronto
Commercial
Rogers Centre Renovation – Phase 1+
* 
$300
 
 
(3 structures) 1 Blue Jays Way
 
 
 
 
Toronto Blue Jays Baseball Club
 
 
 
 
 
 
 
Mississauga
Residential
Canopy Towers – Phase 1
 564
$112
 
 
(2 structures; 34 storeys; 497 units) 5081 Hurontario St
 
 
 
 
Liberty Development Corp
 
 
 
 
 
 
 
Alberta
 
 
 
 
Calgary
Civil/Engineering
ENMAX's No. 01 Substation Replacement
35 
$200
 
 
(3 structures; 2 storeys) 890 9 Ave SW
 
 
 
 
ENMAX Corporation
 
 
 
 
 
 
 
Leduc
Civil/Engineering
Queen Elizabeth II and 65th Avenue – Leduc Interchange
*
$100
 
 
(1 structure) Queen Elizabeth II and 65th Ave
 
 
 
 
City of Leduc
 
 
 
 
 
 
 
Calgary
Industrial
Panattoni – 68th Street Logistics Park, Building 1 & 2
757 
$93
 
 
(1 structure; 2 storeys) 9620 68 St SE
 
 
 
 
Panattoni – Western Canada Office
 
 
 
 
 
 
 
Calgary
Residential
Truman North Condos
384 
$73
 
 
(1 structure; 6 storeys; 362) 60 Skyview Ranch Dr SE
 
 
 
 
Truman Homes
 
 
 
 
 
 
 
Calgary
Residential
Crown Park Multi-residential Development
300 
$60
 
 
(1 structure; 6 stories; 330 units) 2565 Sovereign Cres SW
 
 
 
 
Brookfield Residential Properties Inc
 
 
 
 
 
 
 
British Columbia
 
 
 
 
North Vancouver
Commercial
Harry Jerome Community Recreation Centre
790
$182
 
 
(1 structure; 2 storeys) 123 23rd St E
 
 
 
 
City of North Vancouver
 
 
 
 
 
 
 
TOTALS:
 
 
2,890
$4,270
*A square footage measure does not apply for alteration and engineering work.
Data source and table: ConstructConnect – CanaData.
Trend lines of construction starts in Canada – December 2022
Moving totals of the latest 12 months*
(ConstructConnect Insight Forecast Figures)

*For example, the December 2022 figure is the sum of the monthly numbers for November 2021 through December 2022.
Data source and chart: ConstructConnect Insight – CanaData.
---
Interactive Visual
---
View this video to see how to use the filters in the Interactive Visual.
---
Please click on the following links to download the PDF versions of this month's Top 10 and Trend Lines:
Top 10 largest construction project starts in Canada – December 2022 – PDF
Construction Project Starts Trend Graph – Canada – December 2022 – PDF