The chances of Ontario descending into recession are receding, BMO Canada economist Robert Kavcic suggested to construction stakeholders attending a recent Toronto conference.
In fact, Kavcic stated at the Ontario Construction Secretariat's State of the Industry and Outlook Conference held March 2, it's now the same odds as a coin flip.
Here are six takeaways from Kavcic's 2023 economic forecast:
Will Canada enter recession in 2023?
Kavcic says the odds of a recession have diminished in the past three months in the eyes of economists.
The chances of a mild recession this year now stand at 50:50, he said. That would see inflation cooling gradually, a shallow recession, unemployment and credit losses rise and markets drift.
Meanwhile, the possibility of a soft landing is seen to have increased to 35 per cent from 25 per cent three months ago.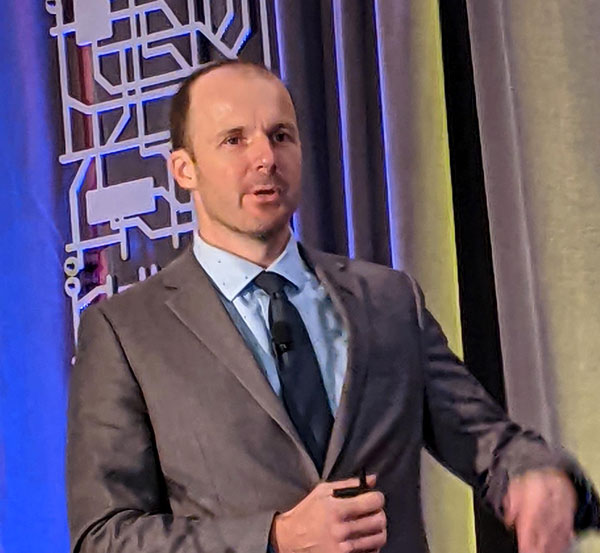 A soft landing, in this scenario, would be a recession avoided. And the chances of a hard landing, with a deep recession and persistent inflation, has dropped to a 15-per-cent possibility from 25 per cent three months ago.
"The most likely scenario here is that yes, the economy is going to slow down and probably technically fall into recession. But that recession can be pretty short-lived and relatively shallow and that's kind of our base-case forecast."
"The odds of that kind of soft-landing scenario start to creep up and the odds of that really hard, tough economic scenario start to back off a little bit."
But shortages in the construction sector are going to be an issue that plagues the economy going forward, Kavcic said, and limits how fast Ontario's economy can grow.
It's a great time to be a skilled labourer
Kavcic was asked to address the prospects of a large group from the Hammer Heads training program in attendance at the conference.
"I would say you're in a very good spot for a couple of reasons. The labour market is really one of the exceptional stories of this cycle and we are just starved for labour, especially skilled labour right now.
"I think from your perspective, this recession, if we do get one, is going to be very manageable and look a lot different than some of the ones in the past. Look at the U.S. recession in 2008-2009, where the skilled trades, especially construction trades, were hammered. This is going to look nothing like that."
Can Ontario boost home construction?
"How do I put this politely," asked Kavcic. "There's absolutely no chance we're going to double the rate of (residential) construction over the next decade.
"It's not because we don't need it or we don't want it — there's just physically no way we can possibly do it…we're already building as much as we possibly can at the moment."
Data shows per capita Ontario is building as much as it was at the height of the 1970s building boom, Kavcic said.
"You have record job vacancies in construction, you have record low unemployment rates in construction. We're already building at max capacity, so how we can double this rate of construction?
"I have no idea unless there's some kind of magical productivity pill that we can find. It's just not going to happen."
Stagnant residential investment stalls Ontario economy
BMO sees Ontario GDP growth this year at the bottom of the pack of all provinces, with only 0.3-per-cent growth forecasted.
"This, for the most part, I would say, is a residential investment story here," said Kavcic.
"Residential housing in this province just got completely out of whack and more out of whack than anywhere else in the country. So the payback for that is now. As these markets are in correction mode, Ontario is seeing activity in that sector fall at a much more significant rate than the rest of Canada.
"The share of the economy that's tied to residential investment is also increased more than the rest of Canada. So Ontario, just from that perspective, is looking at some more negative growth numbers."
Inflation helps government ledger sheets
"One of the biggest surprises coming out of this pandemic was, what was looking like a really bad fiscal situation got cleaned up very quickly with the help of inflation and the help of a surge in the economy," said Kavcic, noting nominal GDP inflation drives tax receipts.
"Remember, we were looking at like $350 billion on the federal budget deficit in the pandemic, we're back down to the $30- or $40-billion range, depending on how they scrub the numbers at the end of the year."
And that, says Kavcic, means governments can and will continue to spend on large capital projects.
Pent-up demand a saving grace
"One of a few factors that is helping to make this hopefully a relatively soft landing is that there's a lot of pent-up demand out there," said Kavcic.
"There's just a ton of liquidity that is built up in the economy, not only at the business level and in financial markets, but on household balance sheets as well.
"You have a lot of demand on the non-residential side and you have governments across this country trying to double the rate of residential construction…But the reality is, we're running out of capacity in the labour market."
Follow the author on Twitter @DonWall_DCN.