For Murray Kruger, owner of Kruger Construction, growing the company's social media presence comes down to one word: consistency.
"It's a little overwhelming because I have to do two to three posts every day on each platform and try to keep it fresh and relevant and make sure that I'm not doing anything wrong," said Kruger, who runs the family-owned business with his wife Natalie. "We are one of the most followed construction companies in the world on social media. We've got 1.2 million followers on Instagram, almost two million on Facebook and a couple hundred thousand subscribers on YouTube and over 700,000 followers on TikTok."
It's hard work and he never gets a break from it.
"I wake up at 7 a.m. and work until about 10 p.m. every day," he said. "We're at Disneyland with our kids standing in line to go on a ride and my wife's like 'did you get a post up.' And I'm like, 'oh no, I got to get a post up' and it's a non-stop thing. There have only been a few days where I haven't posted."
Kruger started the company in 2012. It serves the greater Saskatoon area, specializing in insurance restoration work as well as residential and commercial renovations.
It all started when Murray's friend suggested he try social media.
"I said 'I need to get my name out there more' and he said 'well have you ever tried Instagram? Your before and after pictures would be amazing on there of the work you do,'" recalled Murray. "I got on Instagram in 2014 and started putting up before and after pictures…I posted a picture of a tool and started to get some questions and realized there are other people that are into tools as much as I am."
Over the years, the posts have evolved.
"I started doing tool reviews and then construction tips and tricks and showing daily life," he added. "Now I'm an influencer and promote mental health, construction site stuff and show our daily life, just family life and kids and the struggles we run into."
People who watch the videos are between the ages of 12 to 60 years old but most of the audience is between 25 and 40. And it's not just people in the construction industry.
"There are tons of people like that that just follow along because some of the videos are satisfying," said Murray. "Construction work…stuff that we do every day, we don't realize how cool it is.
"You get to see how stuff is built, how things are made, what people do for a living."
One of the benefits is building connections both locally and globally.
"It's such a great network," Murray said. "I've made so many friends off of it and got our name out there so much, but even finding workers, new methods, different methods of doing things and tools to do the job."
If you feel like you're not getting traction you just got to keep pushing, he added.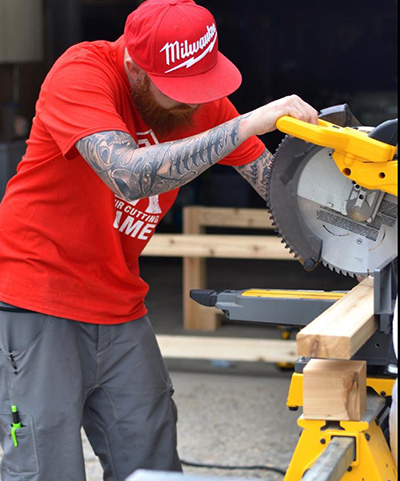 "I know lots of guys they were struggling then they got onto social media and were just posting their work and what they're up to and you just never really know who is watching," Murray explained. "Some guys I know landed massive deals that have taken their companies from three or four workers and now they're just a huge corporation with 50 to 100 workers and it's all just because they connected with the right person on social media that hooked them up with a certain contract."
The social media posts have led to multiple business opportunities and Kruger now runs campaigns with some of the biggest tool and technology companies in the business.
"I used to do tool reviews and give my opinions on the tools but now that a lot of it is paid, I want to keep it real and honest so I just more showcase the new tools and the features and what could help them and what it could do and then let them make the decision," Murray noted.
One of the most popular videos is a tool to remove the popcorn texture on ceilings.
"We have a sander that is hooked up to a dust extractor that removes it super clean, just perfect and I'll put up one of those videos and the last one I put up got like 50 million views on Facebook," said Murray, adding he has received emails and calls from people around the globe from places like Africa, Europe and Australia.
He has never taken a course on social media and taught himself everything.
"When we work with some of these big companies, they're just really surprised that it's just us running this whole thing because there are giant marketing companies out there with a whole floor in a highrise that aren't getting near the reach that we are," he said.
Follow the author on Twitter @DCN_Angela