The Donald Trump administration's bold move to impose tariffs on steel and aluminum imports from Canada, Mexico and the European Union (EU) has Canadian steel stakeholders gravely concerned, not only about how those tariffs will affect their business, but also the potential impact of the dollar-for-dollar counter measures put in place by Prime Minister Justin Trudeau.
"For our company…some materials are U.S. exclusive, so they cannot be bought anywhere but the U.S. The price of material, which is arguably a third of our overall cost, would go up by 25 per cent. That's very significant. I think that wipes out the bottom line for most fabricators," said Walter Koppelaar, chairman and CEO of Walters Inc., a Hamilton, Ont.-based steel construction company that designs, fabricates and constructs commercial and industrial projects throughout North America.
"Worst case scenario, I think you would see some fabricators falling by the wayside. You would see projects delayed while people try to figure out how to deal with this money. The owner won't be terribly interested in paying the upcharge and fabricators do not have 25 per cent room in their bid to expend that money on material. I'm not sure how you resolve that."
A major issue for the company currently is tariffs on heavy plate steel, Koppelaar explained.
"That will have a significant impact on some large projects for us and every other fabricator in Canada using heavy plate," Koppelaar said. "There is not sufficient domestic availability to service our needs and some sizes are simply not produced here. We will need to engage robustly with the powers in Ottawa to illuminate the nuance of plate supply."
While it has not been confirmed, it seems as though wide flange beams, which are widely used by steel construction companies and only produced in the U.S., will be excluded from the tariffs, he stated.
"That's good news," said Koppelaar. "There will still be uncertainty around short-term supply as the landscape changes for U.S. suppliers and they may not have the capacity to service us as well as before but over time that will level itself."
He added a delayed implementation of the tariffs would be beneficial for companies.
The U.S. tariffs, 25 per cent on steel and 10 per cent on aluminum imports, were imposed under section 232 of the Trade Act of 1962 and took effect midnight May 31. Trump had imposed tariffs in March stating reliance on imported metals threatened national security. The U.S. gave Canada, Mexico and the EU a reprieve from the duties in March to allow time for trade negotiations but the exemptions were set to expire June 1.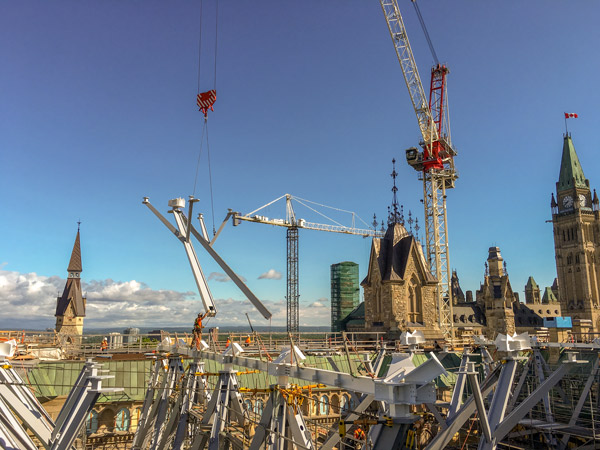 According to media reports, U.S. commerce secretary Wilbur Ross said part of the reason the exemptions ended is because NAFTA talks are taking longer than anticipated.
The Trudeau government responded to the decision by imposing tariffs on dozens of products imported from the U.S., not only steel and aluminum. The Canadian tariffs would amount to $16.6 billion, the value of Canadian steel and aluminum exports affected by the U.S. tariffs, and will take effect July 1.
"It just doesn't make any economic sense to target Canada and Mexico and the European Union with a punitive tariff. It's just nonsensical protectionism," said John Mollenhauer, president and CEO of the Toronto Construction Association, adding we live in an age of globalization. "I've had dozens of calls from our members. They are deeply concerned about how we will be affected by the U.S. tariff. They're wondering what can be done about it and for the moment nobody is certain. The irony is that the U.S. will be as affected if not more than Canadians so the real casualties are the consumers on both sides of the border."
Mollenhauer said he was not surprised by the counter measures of the Trudeau government.
"This may only just be the beginning," said Mollenhauer. "I think the Trudeau government is reacting only for the moment to the steel and aluminum tariff and not to anything else just yet, but it could get worse before it gets better. Retaliation is necessary and appropriate but what needs to happen, hopefully, is that commonsense ultimately prevails."
The Canadian Construction Association (CCA) issued a statement June 1, indicating it was surprised by the decision and urged both countries back to the table to come to a trade agreement.
"The imposition of such tariffs will hurt the construction industry, its workers and fundamentally all Canadians by raising prices for consumers and damaging competitiveness for business," said CCA president Mary Van Buren. "A trade war will have a negative effect on citizens on both sides of the border, but CCA is pleased that the Canadian government has taken prompt and decisive action to defend our industry and its workers."
According to a release issued by the Montreal-based Aluminum Association of Canada (AAC), a 10 per cent tariff applied to the US$5.6 billion of primary aluminum exports to the U.S. would increase the costs of the American downstream industry by more than US$500 million.
"This decision by the U.S. administration will have negative impacts on the North American integrated aluminum value chain," said Jean Simard, president and CEO of the AAC. "The overall price of aluminum will increase, affecting small and medium size businesses both in Canada and the U.S. The consumers and companies that supply these consumers will suffer when prices go up as a result of these tariffs, ultimately undermining the competitiveness of the entire North American aluminum industry. Instead, the U.S. should focus on the real issue at hand, mainly China's overcapacity."
As for the G7 Summit in Quebec, Mollenhauer noted tensions will likely be running high.
"I can't imagine that the G7 leaders can have a constructive conversation about things like the environment and security and other vitally important issues that affect us all when they're all thinking about this recent move by the U.S. administration," he said. "It will certainly change the dynamic of those meetings."
The government has set up a 15 day consultation period and will be accepting comments.