Infrastructure Ontario (IO) is making changes to its procurement processes in an effort to increase global competition and innovation on major infrastructure projects across the province.
David Ho, executive vice-president of procurement and program management at IO and IO's president and CEO Ehren Cory discussed the changes at a talk billed Innovating the Infrastructure Ontario P3 Model. The event was hosted by the Canadian Council for Public-Private Partnerships (CCPPP) in Toronto on April 25.
The new measures include the rebalancing of the bid scoring system to better reward innovation; moving toward more outcome-based specifications versus output specifications; and adjusting qualifications assessments to give fair weight to international experience.
"We are really pleased that coming out of the Minister's Market Sounding Initiative, there is a real affirmation that our next steps in continuous improvement focus on both innovation and competitiveness," Ho told the Daily Commercial News following the announcement. "We are signaling small changes that we believe will start the ball rolling on what's to come in both of these areas."
In early April, Ontario's Minister of Infrastructure Monte McNaughton announced the government would be initiating new measures to attract international investment to Ontario's P3 market.
"Part of our fundamental core value at IO is building great relationships," said Ho.
"The changes that we signal here are changes that are coming out of dialogue that has happened with Infrastructure Ontario and, in particular, with the Minister of Infrastructure. The changes are reflective of commentary that has been received so, we think, this is demonstrative of us at IO listening to what the market has told us collectively as an agency, as well as the ministry and implementing that in the spirit of partnership. We think what we are moving forward with is very beneficial to the industry in general."
Cory added, "We are open to listening, we are open for constantly hearing from you on what is and isn't working and our job is to take that and translate it into meaningful change in the way we deliver our projects. We are committed to a dialogue on this."
Moving toward outcome-based specifications will capitalize on private sector innovation, said Ho.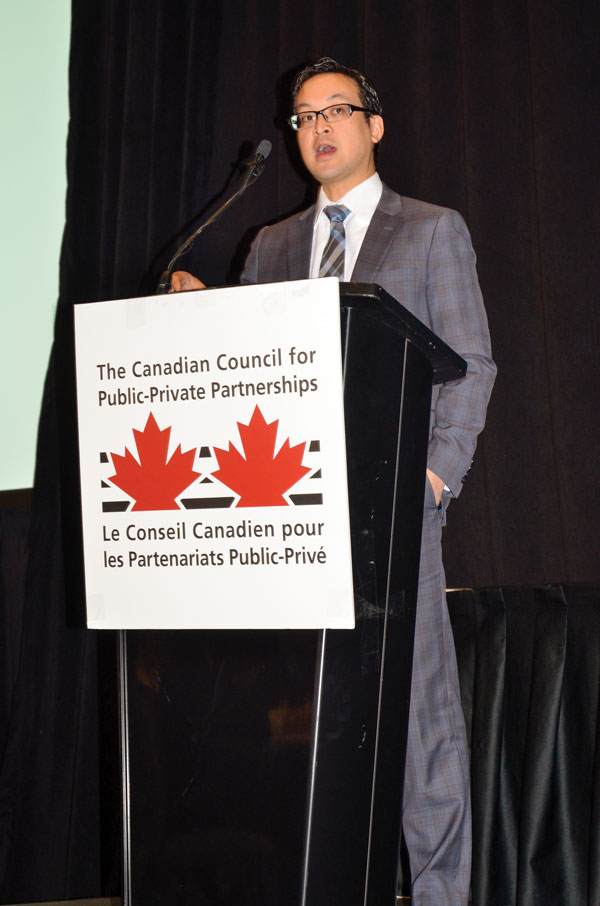 "What it means for us is less prescriptive output specifications and associated with that is ensuring that the dialogue that we have with bidders during our RFP open period, particularly during design presentation meetings, is more meaningful and has even less prescriptiveness in the agenda to those meetings," Ho explained.
"In the evaluation methodology of our projects we should be rethinking the point distribution balance, particularly in the non-financial evaluated components, so that we can really give greater emphasis on the value of a technical point or a design point and allow for a better driving of better behaviour that brings together more innovative solutions on how to balance technical performance, great architecture/design excellence and great functional design. Those things are just a start but taken together we think are meaningful."
Giving fair weight to international experience in the qualifications assessments is expected to encourage international investment and participation in the Ontario market, Ho noted.
"We want to reassess the weighting of individual resumes and individuals in our RFQ so that we are not overly weighting individual resumes in a manner that doesn't make sense, given the probability of certain individuals to actually be present for the remainder of a project through construction and particularly through operations," he said.
He also spoke about rebalancing the bid scoring system.
"We want to recalibrate our point distribution and our approach to local knowledge such that we preserve all of the good principled elements of local knowledge such as health and safety, such as a great knowledge of local permitting and approval conditions and that we recognize these within the construction element of the RFQ but that we open ourselves to a better dialogue on how to generally redistribute points to where they matter the most," Ho said.
"That will allow for a better configuration, we believe, of teaming that recognizes that an RFQ, in its essence, is about qualifying what you do or what you have done, who do you bring to the table and how you work together as a partnership or a consortia."