A milestone in construction law history occurred this past June when Toronto lawyer Sandra Astolfo was named the 2019 recipient of the Ontario Bar Association's (OBA) Construction and Infrastructure Law Award of Excellence.
A partner with WeirFoulds LLP, Astolfo is the youngest person and the first female to receive the award which is based on wide criteria including candidates' excellence in construction law matters and their volunteer commitment to the profession.
The award was presented at the OBA's Construction and Infrastructure Law Section's year-end dinner.
"I was humbled and shocked (to be named)," says Astolfo, who only received notice of the selection a few weeks before the June event.
Only OBA members can make nominations and, as Astolfo understands it, a group of female construction lawyers put her name forward after clarifying with the association the award is not a "lifetime achievement award" for someone at or near the end of their career.
Asked why she believes she was nominated, Astolfo cites several factors such as her past record serving on the OBA executive, her willingness to speak and/or chair legal continuing education programs, and her legal demeanor.
"I always try to treat other lawyers with respect and deal with disputes in a courteous manner. You can be tough/firm, but there is no need to be rude or be a bully."
Nominating a female lawyer may also inspire other women to remain practising in the construction law field, says Astolfo who recently established an informal mentor group to connect younger female construction lawyers with women who have specialized in that discipline for some time.
"For whatever reason there is a large turnover of female lawyers in construction law," she says in explaining the rationale for the group's creation.
If the award was a major milestone for someone still very much in the prime of their profession, the beginning of that career, or at least her introduction to construction, can be traced back to her father. After immigrating to Canada from Italy, he became a mason and later started his own home building business.
"I had been on construction sites since I was a young girl and as I got older I helped my dad issue cheques to pay invoices."
Other people have influenced her career choices such as a family friend who was a lawyer and who Astolfo describes as a 'mentor'.
In her fourth year of university she was considering whether to apply to teachers' college or law school, but ultimately choose the second option in large part because of the impression the lawyer friend made.
"I always enjoyed speaking with him and respected the way in which he spoke of his profession. I admired the way in which he thought about problems and communicated his opinion."
After graduating from law school, Astolfo articled with the firm of Fraser & Beatty and during that period a third person helped shaped the direction of her career.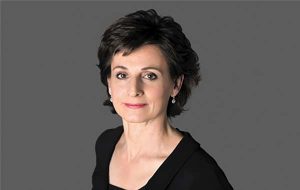 Towards the end of her articling, David Bristow, the head of the firm's construction group, asked if she had any interest in practising construction law.
"My close family friend told me he also practised construction law in his early years and said that I would get plenty of courtroom experience and develop expertise in contract law and bankruptcy if I accepted David's invitation."
That was in the mid-1990s when there were very few female construction lawyers, says Astolfo, who realized she could distinguish herself "quite quickly" if she went that route.
"After my first year of practice, I knew this was an area of law that was exciting, ever changing, and would keep me engaged for a long time."
After articling and working as an associate with Fraser & Beatty (now Dentons), she moved on to a number of other firms and then joined WeirFoulds in 2016.
Along the way there have been a number of honours.
In 2006 Astolfo was certified by the Law Society of Upper Canada as a specialist in construction law, a ranking with strict eligibility benchmarks including a minimum of seven years' experience, five of which must include a 30 per cent component of construction law. Four references from lawyers outside of a candidate's firm are also required.
And, then last year, she was invited to become a member of the Canadian College of Construction Lawyers, a process requiring being vetted by all the college's members or 'fellows.'
Touching on her volunteer speaking engagements, which range from five to seven yearly, she says the motive is to help other lawyers in the way she was helped.
"I have had excellent mentors throughout my years of practice so I always make myself available to help other lawyers and try to mentor in the same way that I was mentored," says Astolfo.
"Whenever I speak at a continuing education event, I am willing to share my 'tips' and 'knowledge' with members of the bar. If we keep something a secret it doesn't help the profession."
At the OBA's dinner in June where she received the award, Astolfo spoke about the need for 'balance' in lawyers' professional and personal lives and that's an objective she strives for in her own life. Every evening she leaves the office 'promptly' at 5.15 in order to pick up her daughter from school.
"That has never been a problem with clients or at any of the firms that I have worked at."