A new rail line being planned from Alberta to Alaska is looking to rethink how infrastructure corridors are built.
Officials from the government and the project team explained at the 28th annual Canadian Council for Public-Private Partnerships virtual conference how they are working to gain the trust of stakeholders before shovels hit the ground.
Shane Getson, MLA for Lac Ste. Anne-Parkland in Alberta, explained when he spoke with the project team about their plans, he was immediately impressed.
"As a new government official, when you hear about projects there are a lot of snake oil salesmen with pipe dreams that they want the taxpayers to pay for," he said. "Those days are gone for us as we are in the midst of COVID and an economic crisis. Anything we look at has to have strategic importance."
Getson said the Alaska to Alberta Railway (A2A) team was straightforward with their plans and was able to answer questions honestly.
"Their dialogue on Indigenous participation – to see a company that was doing that without having to preach it to them, that's a big deal."
Getson called it a nation-building project for the northwest that everyone in government is watching carefully.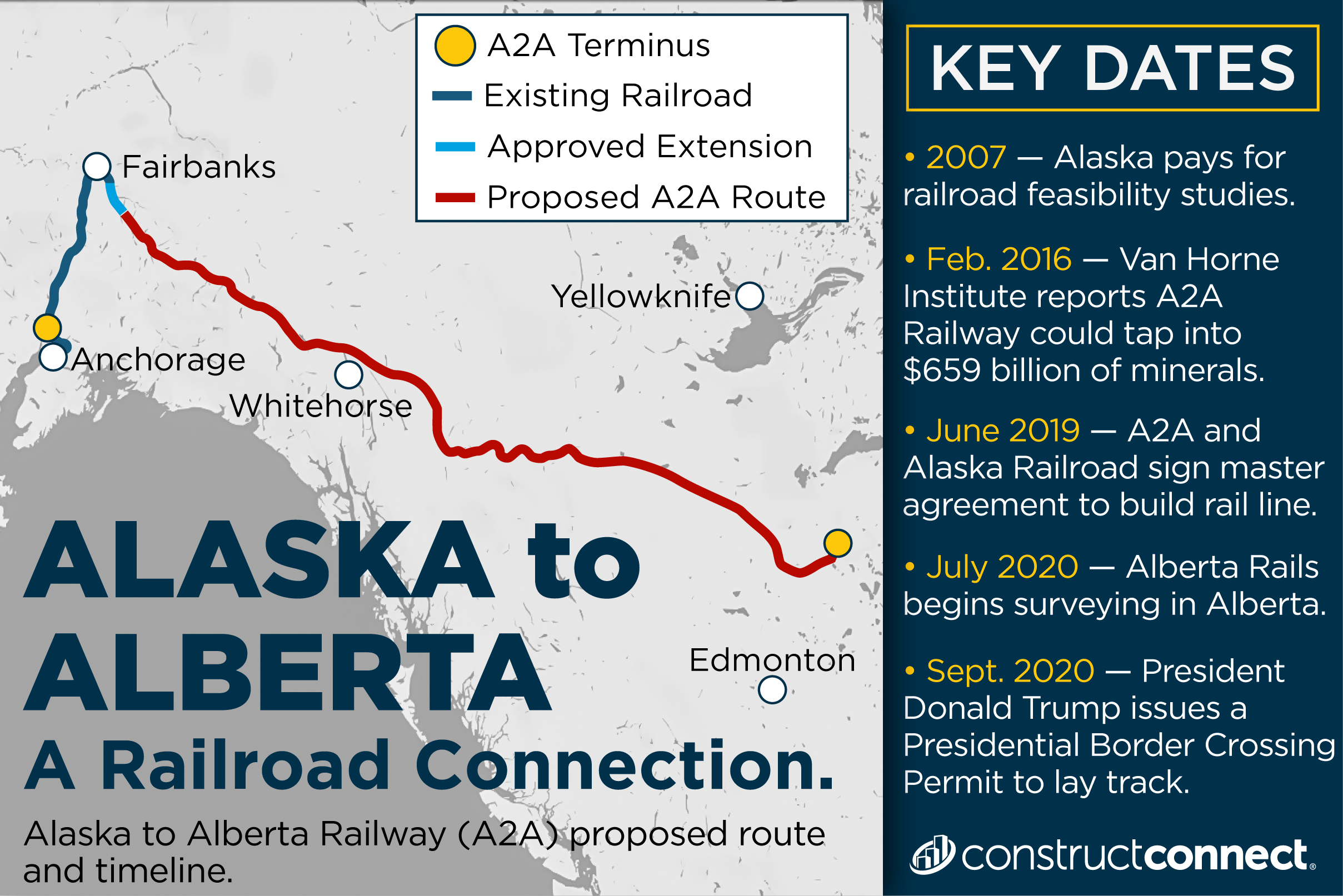 "We can become the logistical powerhouse. We can take our global position advantage and finally capitalize on it," he said.
Jean Paul Gladu, president of A2A Canada, explained the railway is going to be built like the world has never seen, in strong partnership with Indigenous people.
"We want to make sure Indigenous communities are supportive. In Canada there is uncertainty in projects around regulatory issues and Indigenous issues," he said. "We won't be skipping any steps along the way. We are going to do it right."
Gladu explained the team is already connecting communities along the route to give input on the soil, caribou movement, weather patterns and more. The project also is looking to be 49 per cent Indigenous owned.
The complex project includes communities of Metis, First Nations, overlapping territories, unsettled areas, settled areas and tribal councils. But Gladu believes many are eager for the economic benefits and to have a seat at the table in planning the route. He also noted while President Donald Trump signed off on the project in September, he believes President-Elect Joe Biden will also support it when he takes office in January.
Mead Treadwell, vice-chair of A2A and the former lieutenant governor of Alaska, agreed that Indigenous ownership – not just Indigenous involvement – is crucial for success.
"Because you are crossing traditional land, you want to make sure those people are part of this change that would be happening for generations," said Treadwell.
He noted it would be the first time a rail corridor would be partially owned by the Indigenous people whose land it crosses.
Treadwell stated the team is getting some inspiration from the Alberta Indigenous Opportunities Corporation Act, which led to the creation of a crown-corporation focused on increasing Indigenous communities' access to capital and technical support to invest in natural resource projects and related infrastructure.
Treadwell added the railway could raise the GDP of Alberta by 12 per cent and in the Northwest Territories by 50 per cent.
"This is a game changer for the economy," said Treadwell. "It will help make both our countries more competitive. For Alaska, I look at our poorest zip codes and they are included in this corridor so it would be quite significant for them."
Follow the author on Twitter @RussellReports.