NDP Leader Jagmeet Singh kept up a punishing pace in Ontario this week as the federal campaign dwindled to its final days, bashing the Liberal record on housing and promising to increase supply if elected Sept. 20.
"For six years, Justin Trudeau has let home-flippers and big developers drive up prices for everyone else," Singh said. "And now, it's getting even worse. Justin Trudeau's housing crisis is costing people. They can't afford his empty promises anymore."
Conservative Leader Erin O'Toole and Liberal Leader Justin Trudeau, now almost tied atop various national polls, also sprinkled talk of affordable housing into speeches at every occasion in the final days.
The NDP, third in polls, pledged to create at least 500,000 new affordable housing units in 10 years, support more construction by waiving GST/HST on construction of new units, institute a 20-per-cent foreign buyers' tax on the sale of homes to non-Canadian residents, relax mortgage rules and double the first-time home buyers' tax credit.
Singh was in Toronto the morning of Sept. 16 after travelling to six Ontario cities the day before.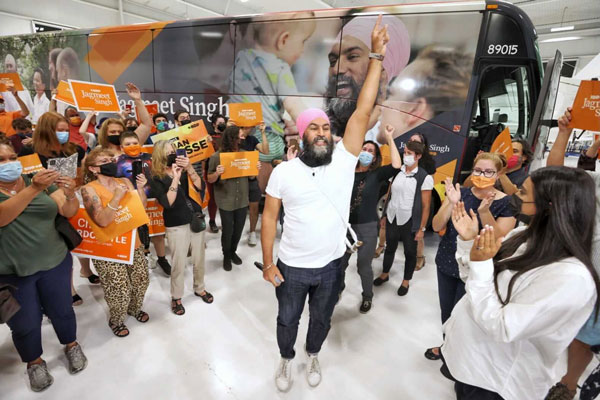 On Sept. 15 the NDP released a statement saying Trudeau's housing strategy offers loans to developers to build rental housing at rents as high as $2,000 per month while claiming it's affordable.
"Justin Trudeau's housing plan is always meant for big developers, not people who want to find a place they can actually afford. When he promises affordable housing and then lets prices climb like this, it costs people," said Singh.
O'Toole was in Truro, N.S. Sept. 16, noting in a speech he had met his wife in Nova Scotia and served in the east while in the armed forces.
"Too much focus in our country is often spent on our big cities, but out here in the Maritimes, we're in the heart of Canada," he said.
"I know that despite the region's greatness, families here faced the same worries – skyrocketing housing prices, the cost-of-living crisis and underfunded health care, from the federal partner. It's about time we had a prime minister who personally knows and understands the challenges facing families and facing our communities."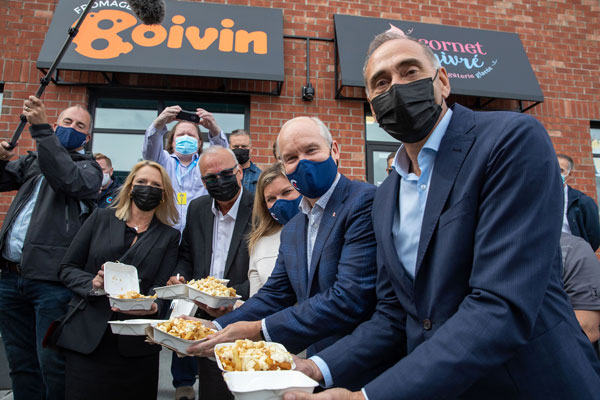 The Conservatives pledge to build one million homes in three years by tying federal transit funding to housing development, offering tax incentives to spur construction and selling off federal real estate among other policies. The Tories will also ban foreign investors from buying homes.
The Liberals promise to see 1.4 million homes built or upgraded by 2025-26, they'd invest $4 billion to accelerate new home construction, stop home flips through the tax system and also double the first-time home buyers' credit. Their National Housing Strategy has supported affordable housing builds across the country.
Trudeau contrasted what he called his party's forward-looking approach on housing and other issues with that of the Conservatives during a Sept. 16 stop in Montreal.
"We are confident that Canadians want to move forward, Canadians want more gun control, Canadians want better child care and better support for housing," said the prime minister. "Canadians want to step up in the fight against climate change and Canadians want to end this pandemic for good."
One poll from Nanos Research published Sept. 16 showed the three leading parties separated by just four percentage points in B.C. but the Liberals 10 points ahead of the Conservatives in Ontario. In that province, the Liberals were said to be polling at 40 per cent, the Conservatives at 30 and the NDP 20.
In the final week both the Liberals and the Conservatives revisited mental health and addictions pledges.
A Liberal release from Sept. 15 noted the opioid overdose epidemic has worsened during the pandemic.
If re-elected, the Liberals say they will allot $25 million for public education to reduce the stigma associated with substance misuse; spend $500 million to support the provinces and territories in providing access to evidence-based treatment; and assist provinces and territories in creating standards for substance-use treatment programs.
Trudeau has said in campaign interviews the problem was a health issue, not a legal one.
A day later, the Conservatives highlighted their Canada Mental Health Action Plan. O'Toole noted earlier in the campaign that after a year of lockdowns, one in five Canadians has screened positive for symptoms of depression, anxiety or post-traumatic stress disorder. He said his party will encourage employers to add mental health coverage to employee benefit plans or boost their coverage by offering a tax credit for 25 per cent of the cost of additional mental health coverage for the first three years.
O'Toole has said, "We have tremendous work to do to end the stigma and build more integrated mental health care systems across the country."
On Sept. 13, Singh was in Sioux Lookout before a flight to Neskantaga First Nation, one of 30 Indigenous communities with a boil-water advisory. The NDP would put an end to the advisories, he said.
"It's certainly not the capacity, it's certainly not the lack of technology," said Singh. "It's certainly not the money, because we have the resources, we can do this. Then what is it? I don't buy for a second that it is anything other than the political will."
Follow the author on Twitter @DonWall_DCN.