Big-city highway congestion and small-town public transit were in the spotlight in the past week as Ontario's four major parties fine-tuned messages ahead of next week's provincial election.
It was a week in which Premier Doug Ford of the Progressive Conservative Party was on the hot seat for comments he gave on climate change and highway congestion.
After Ford referred to the major storm that cost lives and damaged homes and infrastructure across the province May 21 as a "once in a lifetime" event, Liberal Leader Steven Del Duca charged that Ford does not understand how climate change works.
"Doug Ford doesn't get it. He doesn't understand that these 'freak storms' are now more frequent, and that climate change is to blame," said Del Duca.
Green Party Leader Mike Schreiner similarly jumped on Ford's assertion May 24 that building new highways represented a strategy to tackle climate change.
"One of the worst examples of pollution, go stand on the 401 and watch bumper to bumper traffic. That's why we're building roads and bridges and highways to get people home quicker, they don't have to sit in gridlock and smell someone else's fumes," Ford said.
Schreiner responded later in the day, "The fact that Doug Ford thinks that building highways is a climate solution tells you everything you need to know about his anti-climate, pro-sprawl agenda.
"Highways like Highway 413 and the Holland Marsh Highway will supercharge sprawl and climate pollution, harm our health, pollute the air and pave over the Greenbelt. Highway 413 alone will pump 17.4 million tonnes of climate pollution into the air by 2050."
Schreiner basked in new endorsements in the past week as for the first time the Service Employees International Union officially endorsed Green candidates, giving a stamp of approval to Schreiner and Parry Sound–Muskoka candidate Matt Richter.
Richter has also been endorsed by David Suzuki.
Schreiner further made sure Richter stayed in the spotlight, joining him in Huntsville May 25 to announce a Green Plan for Parry Sound–Muskoka. The plan includes measures to expand and improve inter-community Northland bus service and immediately cut all Northland transit fares in half for at least three months to address the rising cost of transportation.
The plan would also restore and expand wetlands and green infrastructure to clean stormwater and reduce flooding.
Ford's statement on highways came in Brampton during a campaign stop highlighting his party's broader transportation program. Ford announced that a re-elected PC government would spend $86.6 billion over the next 10 years to build and expand roads, highways and public transit infrastructure across Ontario including the controversial 413 and Bradford Bypass projects.
Without more transportation infrastructure, the PCs said, Ministry of Transportation modelling shows that by 2051, travel times on the main stretch of Highway 401 will double with travel time taking 90 minutes longer on the 401 through the Greater Toronto and Hamilton Area. The modelling shows all of the province's 400-series highways in the region, including Highway 407, will be at or exceed capacity within the next decade.
"For 15 years, the Del Duca-Wynne Liberals neglected Ontario's infrastructure as it crumbled and gridlock grew. Andrea Horwath and the NDP are happier protesting highways and infrastructure than building it," said Ford.
A few days earlier Horwath was also in Brampton discussing highways including the 407.  The NDP leader announced that an NDP government would immediately eliminate tolls on Highway 407 for all trucks and transport vehicles.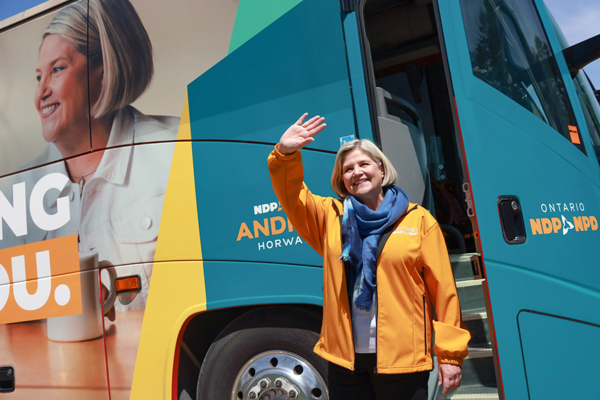 The plan was an immediate solution to gridlock, Howarth said, in contrast to the PC's 413 plan which would take 10 years to realize.
Removing tolls on the 407 would divert between 12,000 and 21,000 trucks every weekday to the toll highway, which was privatized by a previous PC government, Horwath pointed out. A trip from Highway 427 to the QEW on the 407 costs over $60 for a heavy single-use truck and over $90 for a heavy multi-unit truck.
Earlier in the campaign, the advocacy group Transport Action Ontario offered its analysis of the April 28 PC government budget, noting although more funding has been allotted to public transit, it is clear that "highways, highways, highways" are the government's top priority.
Peter Miasek, the president of Transport Action Ontario, also contributed to the May 25 Transport Futures election debate.
Miasek, who stressed his group is non-partisan, cast doubt on the government's costing of its highways projects.
"No cost breakdown is given," he said. "But considering that 413 itself is likely to cost $10 billion or more, it seems that $21 billion would not be sufficient to construct all of these highways."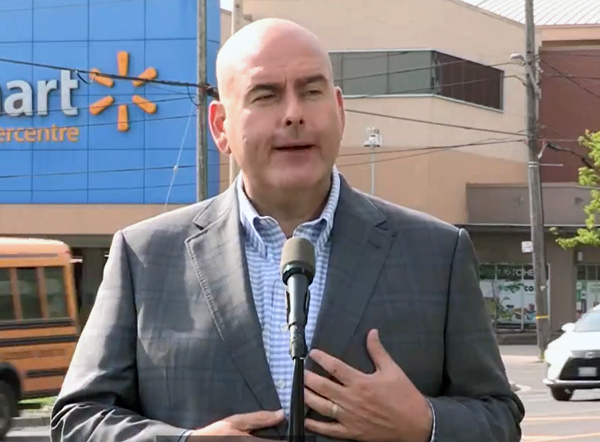 On May 24 Del Duca discussed details of his party's proposed "use it or lose it" levy to force real estate speculators sitting on land to get on with building new homes. The plan would launch a new Ontario Home Building Corporation to develop underused government properties into new, affordable homes.
Ontario goes to the polls June 2.
Follow the author on Twitter @DonWall_DCN.