A half-dozen Ontario construction unions have now endorsed the Progressive Conservative Party for re-election including two of the largest in the province, LIUNA and the International Brotherhood of Electrical Workers (IBEW).
Others include sheet metal workers; UA with its plumbers, pipefitters and sprinkler fitters; boiler makers; and painters, members of the International Union of Painters and Allied Trades.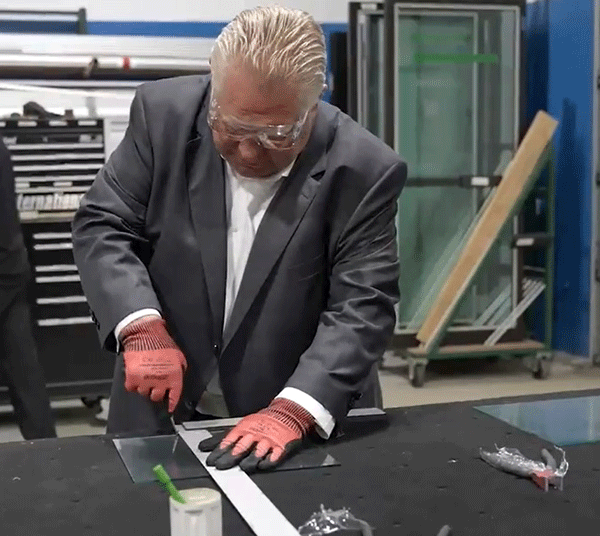 In the case of the Labourers', international vice-president Joseph Mancinelli said their support for the PCs is in part personal, dating to 2018. Right before the election that year, current Liberal Leader Steven Del Duca, then a Liberal cabinet minister and formerly an employee of the Carpenters' union, is said to have pulled strings to end longstanding formwork regulations that benefited LIUNA, expanding the Carpenters' jurisdiction.
"We wouldn't support Del Duca just based on what he did back in 2018," said Mancinelli.
"LIUNA, in particular, our organization can't trust they'll do good because of what he did by hiding a piece of regressive legislation inside the budget that was presented at the end of their term, which purported to take away jurisdiction from LIUNA and give it to the Carpenters', his previous employer."
Mancinelli offered a list of reasons why the PCs aligned well with LIUNA. The government has invested heavily in infrastructure projects that he said are "desperately needed in Ontario"; Minister of Labour, Training and Skills Development Monte McNaughton has listened closely to the industry and scrapped the Ontario College of Trades, significantly boosted skills training and funded training centres; Ford supported new transit projects and worked to reverse a decision to kill the Hamilton LRT project; and long-term, Ford pledged to spend $130 billion on capital projects including Highway 413 and other highway jobs.
"If you put all of this together, clearly, this is our work, right?" said Mancinelli. "This is what we do. We build roads, we build bridges, we build highways, we build infrastructure in our communities, in municipalities right across the province.
"They're completely aligned with LIUNA when it comes to doing these things."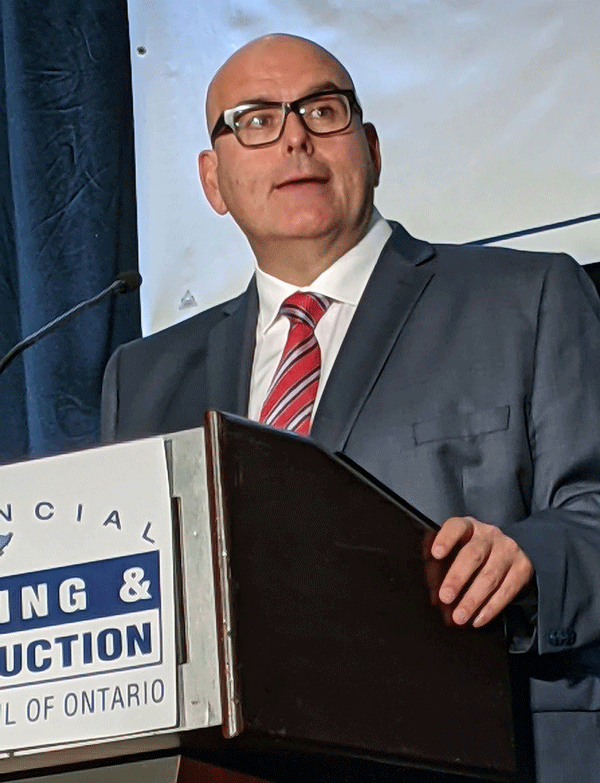 In contrast, Mancinelli said, the former Liberal government cancelled the proposed mid-peninsula highway project and Del Duca promises to kill the 413.
"We've discounted him completely," Mancinelli said of Del Duca. "We like what the present government has done under the Doug Ford administration."
Addressing the NDP, Mancinelli said, "They're not going to win, so there's no point in even talking about the third party right now because they're so far behind."
Mancinelli said LIUNA did not support every Ford government policy, mentioning its opposition to Bill 124, which curtailed wage increases for public sector workers.
Asked to respond, the Liberal Party sent a statement saying Del Duca has been a "long-time champion for labour rights and worker dignity, including his five-years advocating for improved rights and benefits at the Carpenters' union."
Instead of building Highway 413, labourers would benefit by Del Duca's pledge to spend $10 billion on building and repairing schools across the province. During Ford's first year in office, the Liberals said, he cancelled a minimum wage increase, costing frontline workers $6,200, and cut paid sick days, reinstating them 412 days into the pandemic.
Bill 124 violates the right of government employees to free and fair collective bargaining, the Liberals said.
The Ontario Pipe Trades Council (OPTC) announced its "full endorsement" of the PCs on May 18.
"Premier Ford and Minister McNaughton have given historic support for Ontario's compulsory construction trades through strong legislative trades protection, backstopped with a once-in-a-generation lift for all UA locals in Ontario," stated Ontario Pipe Trades Council business manager James Hogarth.
Mike Yorke, president of the Carpenters' District Council of Ontario, declined comment, saying his union's focus is currently on contract bargaining. Ontario Building Trades business manager Marc Arsenault also declined to comment.
The NDP has received endorsement from the Ontario Federation of Labour (OFL) and the Ontario Public Service Employees Union. The OFL said in a statement that since Doug Ford was elected in 2018, its Ford Tracker has identified 700 cuts and rollbacks of workers' rights.
On May 17, Andrea Horwath responded to a question about the growing number of construction unions supporting the PCs.
"I can say unreservedly that I've always been a supporter of working people," she said. "We've seen Mr. Ford attack unions, we've seen him attack working people many, many times. Conservatives always do that."
The same day, responding to a question about former premier Mike Harris's record with unions, Ford said, "I'm not going to judge any other party. I'll tell you, our families, be it my dad or my brother Rob or Michael, we've supported the hard-working women and men in this province, the union members. We always have. I love 'em."
Follow the author on Twitter @DonWall_DCN.