The rumblings about the potential for project postponements in Ontario due to construction labour shortages continue to get louder, with LIUNA executive Joseph Mancinelli the latest to issue a warning.
Hot on the heels of the recent Rider Levett Bucknall report stating labour scarcity and rising construction materials costs will likely result in postponed project launches in Toronto, Mancinelli told a small audience gathered at a LIUNA highrise rental project in Hamilton July 12 that the union needed at least 30,000 new workers.
"In the past several months it's definitely a huge concern in the industry, about whether or not some projects can actually be started and whether or not they can be finished on time, and whether they can be finished on budget," said Mancinelli, international vice-president and regional manager with LIUNA.
Supply chain issues and materials costs are major concerns, he said, but "the shortage of labourers is probably the biggest problem we have in Ontario. Thirty-thousand jobs…might even be a conservative number, it might be higher than that."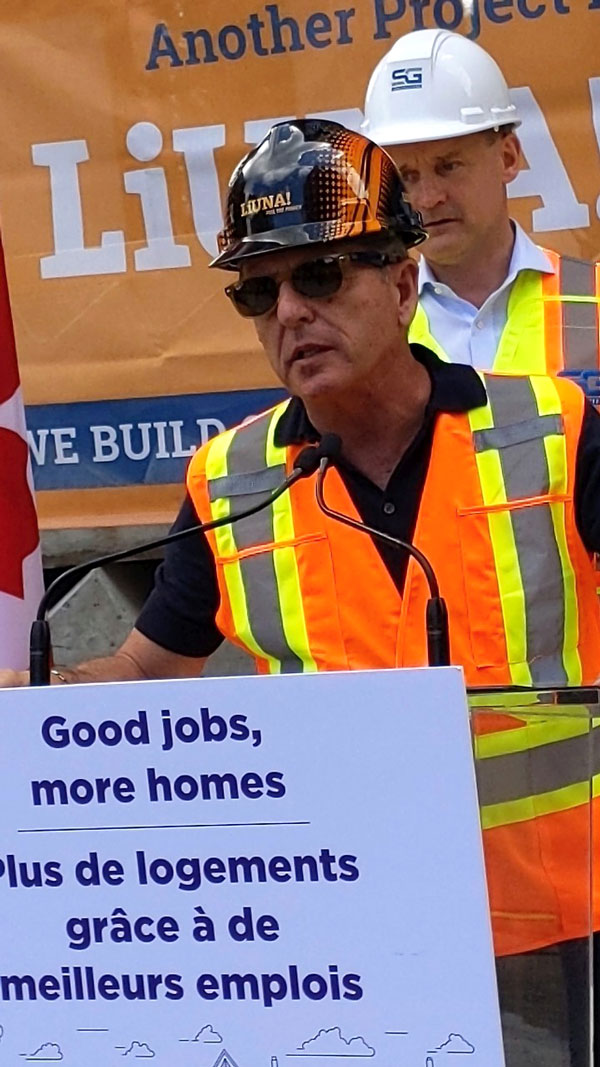 Mancinelli was hosting federal Minister of Labour Seamus O'Regan, Minister of Public Services and Procurement Filomena Tassi and two local MPs on a tour intended to highlight federal efforts to tackle the skilled trades shortage.
After praising increases to the federal Union Training and Innovation Program (UTIP) program, which supports training centres, Mancinelli said, "We're doing that already. It's not enough. We need to get a lot of people into the industry fairly quickly. The only way we can do that is to have increased immigration."
O'Regan said the government understands the seriousness of the issue.
"It's a big issue, full-court press, we are all fixated," said O'Regan.
Canada added 23,000 jobs in construction last month, an increase of 1.5 per cent, with the biggest increase in Ontario, with 19,000 new jobs.
There have been three Hamilton area training programs funded through UTIP recently. Fifty per cent of the cost of new equipment supplied to the LIUNA Local 837 E.H. Mancinelli Training Centre in Grimsby were from UTIP; IBEW Local 105 received $95,000 in UTIP funding to support training centre needs; and on the day of the LIUNA tour, O'Regan announced further funding of $95,000 for the LIUNA Local 625 Utility Training Connect Our Community project.
O'Regan noted the skilled trades shortage comes as the Canadian economy is performing better than many anticipated coming out of the pandemic.
"We're doing really well," he said. "The economy is doing a lot better than anybody thought. And in fact, we're leading the OECD, we're leading the G7…but we could be doing more."
Doubling UTIP funding will help apprentices from underrepresented groups begin careers in the trades, he said.
In March Mancinelli issued a plea to federal Minister of Immigration Sean Fraser addressing immigration issues in the construction sector. First he suggested the points system be altered to allot points for construction skills. In addition, he argued that organizations like LIUNA should be given the opportunity to sponsor immigrants coming into Canada, to be trained at training centres across the country.
"The key, though, is to make sure that that immigration is ready to come and work in the trades," said Mancinelli at the LIUNA jobsite. "So that's the tricky part, is to make sure that there's some vetting done."
Another source of new workers is undocumented construction workers who are already in Canada, Mancinelli said. Some are "overstayers" who have not filled in the proper paperwork, he said.
Mancinelli also addressed potential reforms to the Temporary Foreign Workers program during a meeting with Fraser.
Ontario Minister of Labour, Immigration, Training and Skills Development Monte McNaughton recently said he had asked the federal government to double the number of immigrants under the Ontario Immigrant Nominee Program from 9,000, but McNaughton said he has received notice that the top-up would amount only to 9,700.
"To be blunt, this increase isn't going to move the meter," McNaughton told the Canadian Press. "We have single companies in Ontario who are short 700 workers."
Asked about the situation, O'Regan said he had a good working relationship with McNaughton and would address the issue with him soon.
Follow the author on Twitter @DonWall_DCN.