Ontario construction stakeholders are widely praising the government's pledge to ensure construction jobsite washroom facilities are the best on the continent.
Minister of Labour, Immigration, Training and Skills Development Monte McNaughton announced on March 15 new standards to be enshrined in legislation that would require construction washrooms to be private and completely enclosed and have hand sanitizer where running water is not possible.
The government is doubling the number of washrooms required on jobsites and requiring sites to have at least one women's-only washroom.
The new standards would be the toughest in North America, the minister said.
In addition, McNaughton said during a presentation held in London, Ont., legislation will ensure women in construction have properly fitting gear, including uniforms, boots and safety harnesses.
Proposed amendments to the Construction Projects Regulation would require PPE and clothing be properly fitted to women and workers with diverse body types.
"This is a much-needed, real change to boost accessibility for women in the workplace," said Adam Melnick, director of Canadian affairs for the Insulators union. "Ensuring washrooms that are clean, private and safe is a basic human need and enforcing this is critical as the construction industry strives to embrace a more diverse workforce rooted in equity."
LIUNA director of marketing Victoria Mancinelli said the unacceptable conditions found at many construction sites are a frequent complaint of union members and directly lead to employee retention problems. Some contractors adhere to strict health and safety guidelines but others do not and "the ball is being dropped."
"It's unacceptable not just for women but for all workers," said Mancinelli. "This is about ensuring that all workers are treated respectfully and equitably and have dignity."
McNaughton noted in February the ministry launched Ontario's first inspection blitz targeting dirty washrooms. Inspectors have visited 1,800 jobsites and identified over 240 violations.
The most common issues the inspectors found were no toilets provided, lack of privacy and lack of cleaning. The worst cases included jobsites where portable washrooms had missing doors and walls and no handwashing facilities.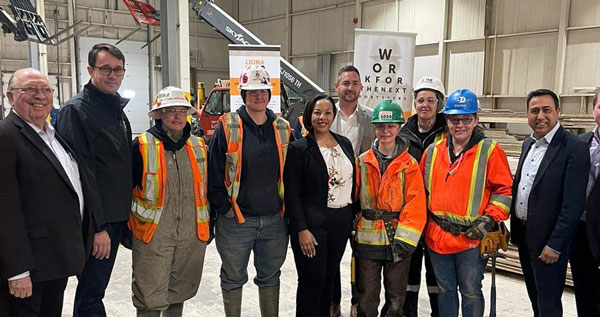 "For far too long, dirty washrooms have been considered acceptable. This ends now," said McNaughton.
Efforts on multiple fronts have boosted recruitment of women to the skilled trades, McNaughton said, reporting a year-over-year increase of 28 per cent in female apprenticeship registrations in Ontario.
Mancinelli said the lack of PPE that fits women is not only a recruitment issue but it's also a health and safety concern. Loose-fitting clothing or coveralls that don't accommodate harnesses put lives at risk.
"People are working at heights," she said. "They're working in extreme weather conditions in all seasons. They're doing tasks day in and day out for the betterment of our economy, our communities, our province and country. There should be no reason, whether it's a woman or a man on the job, why they're limited based on a factor such as not having access to adequate-fitting PPE."
Ontario's Associate Minister of Women's Social and Economic Opportunity Charmaine Williams said increasing women's participation in the workforce is critical to helping more women achieve financial independence and prosperity and contribute to the economy of the province.
"But for this to happen, we need to ensure that workplaces are safer and more equitable," she said. "This is especially true in fields that have been traditionally male dominated, such as the skilled trades.
"Proper-fitting personal protective equipment and clothing are crucial to ensuring that women are safe in their workplaces."
Other stakeholders issuing statements supporting the announcements were Andrew Regnerus, Ontario construction co-ordinator for CLAC; Amina Dibe, manager of government and stakeholder relations with RESCON; Natasha Ferguson, CEO of A Women's Work and Ethelfox Construct; Mike Gallagher, business manager with Operating Engineers Local 793; Melissa Young, CEO of Skilled Trades Ontario; and Carmine Tiano, director of occupational services with the Provincial Building Trades Council of Ontario.
Tiano said for years the Building Trades have been advocating for better access to water, clean-up facilities and washrooms.
"Requiring all construction jobsites to have adequate and well-kept washrooms and clean-up facilities, including dedicated washrooms for women as well as proper-fitting PPE, brings us a step closer towards ensuring equity on construction worksites," he said.