Delegates attending a recent construction tech conference heard the heavy civil sector is venturing into uncertain territory as stakeholders grapple with evolving procurement priorities.
Drones, robotics, new tool technologies and additive construction are leading to tremendous efficiencies on jobsites, panellists discussing the future of heavy civil and large public projects agreed during a session at the Building Transformations conference held in Toronto last month.
Less certain, however, is how procurement entities such as Infrastructure Ontario (IO) and its Quebec counterpart the Societe quebecoise des infrastructures (SQI) will mandate the use of technologies such as BIM and digital twins as part of bids and project documents.
Panellists Emily Deeth of IO and Steve Tremblay of SQI compared notes on procurement priorities within their respective agencies and found they not only differed but they were at different stages of development.
With Deeth as manager of commercial advisory and strategy, IO is currently focused on developing a digital twin strategy while the SQI with Tremblay as the director in charge of BIM integration is well into a five-year BIM roadmap.
Panel moderator Thomas Strong, CEO of Building Transformations, observed that SQI is "doing a lot of maturity work, helping the industry to evolve. You're seeing trends in the market, you've obviously identified the use of BIM as a major value-creation initiative for the industry."
The Quebec government and other agencies such as Hydro-Quebec have invested a lot of money and energy to help the industry "go through that adoption curve and get better," Strong said.
SQI is ushering in sophisticated collaborative approaches, relying on advanced BIM and IPD.
"That's a huge trend, that's a huge push to the industry. We are leading that," said Tremblay. "This is what I see, the maturity is increasing. Now we can build on this foundation."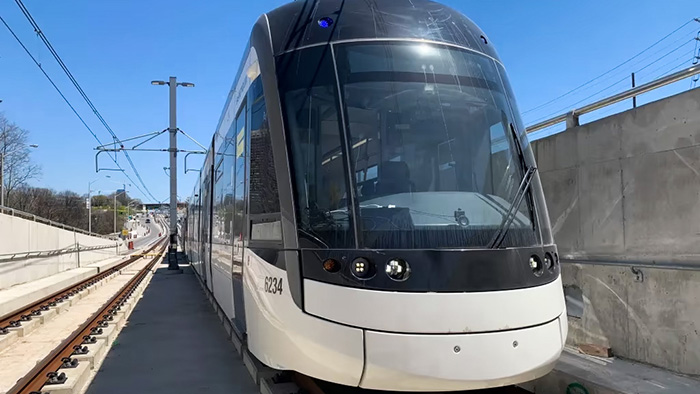 Successes in creating collaborative atmospheres enable the Quebec heavy civil sector to achieve trust among partners, Tremblay said.
"Once you have collaboration and trust across the project teams, then you can focus on technology," he explained. "This is what I think is the most important and most present in Quebec right now."
Deeth admitted IO is not where SQI is in introducing standards and helping with market absorption of procurement innovations.
"I think we're a little behind," she said. "But we're really trying, with the work we're doing now, to move us along and mature more fully. I think we've adopted as a procurement agency a collaborative approach to procurement, working more with industry to figure out how to better plan things."
Discussing IO's difficulties with LRTs, specifically the much-delayed Eglinton Crosstown project in Toronto, Strong suggested the heavy civil sector has been dealing with a lot of large projects at the same time, creating "lumpiness," he said, as the massive projects came online with owners having little foresight on how much the industry could absorb in the way of skilled labour, engineering or design capability or project management.
"The fiasco of the Eglinton line, it's a little embarrassing to be talking about that," said Deeth. "But I think we can take those lessons learned from that."
Deeth said IO is working with underground utility companies to use digital twin technology to address that major hurdle that heavy civil projects often have.
Another panellist, Jeff Walter, is the director of digital transformation for AECOM, responsible for rolling out the company's new digital consulting practice in Canada. He said he too sees the development of digital procurement strategies in human terms.
"I'd love to see in 10 years where technology has become an enabler of trust and relationships," said Walter. "So in 10 years, there's different-level collaborations, standardization, contributions to continual process improvement, but as an industry, not in our individual silos."
BIM may be the starting point for organizing information on a project but it's not the only consideration, Walter said. AECOM's deliverables must address the evolving ISO 19650 landscape as the firm seeks project information compliance, he said.
"We're seeing the need to connect with other information to produce other outcomes that are just outside the realm of BIM," remarked Walter.
With new alternative delivery models of projects, there are also new contract frameworks to figure out, said Walter.
"The approach that you're taking is also influencing techniques," he said.
Follow the author on Twitter @DonWall_DCN