What will $350 million buy?
In the case of the "early works" for the new Gordie Howe International Bridge it means the clearing and infill of the footprint leading to the new Canadian customs plaza as well as major utility line relocates, a perimeter road and a host of other installations that will lay the groundwork — literally — for major construction of the bridge itself.
And that's just the Canadian side.
Over in Detroit, Mich. money is being spent on the relocation of a rail link, utility relocates, building demolition and clearing of land, and freeway infrastructure updates to ready the Detroit customs plaza and its links to Interstate 75.
The news media was given a tour of both locations, known as Ports of Entry (POE), in late November by the Windsor Detroit Bridge Authority (WDBA), the Crown corporation overseeing the bridge project.
On the Canadian side, the POE, at 53 hectares, will in fact be Canada's largest such customs inspection plaza. On the U.S. side, the POE's 60 hectares will be one of the biggest U.S. land ports.
Early works were done to ready both sides for formal bridge construction once a tender is awarded next September to one of three international consortiums vying for the contract.
Officials during the tour confirmed that construction, which includes freeway access roads, customs installations, bridge piers and spans, would begin late next year.
Earlier estimates put bridge completion in 2020 but officials won't give a bridge opening date.
The bridge will be 2.5 kilometres long.
So far, the early works, which started in summer 2015, have seen clearing of the Canadian footprint of foliage and debris followed by the spreading of one million tonnes of granular fill (30 shiploads) to underlie the eight-lane approach road from grade at the new customs inspection plaza to nine metres where it will meet the already constructed Herb Gray Parkway (Hwy. 401).
This has been a relatively long process due to the soil conditions, said project manager Matt Oldewening.
"We know that the soils underlying the plaza site on the Canadian side in part are quite soft," he said.
First, 42,000 wick drains were installed and after the fill, there was .9 metres of settling at the highest point and as much as 50 millimetres at the lowest.
Major utility relocates are almost complete.
Eleven transmission towers had to be taken down and 7.5 kilometres of insulated electrical cable buried underground, with duct construction ongoing. This included Hydro One and local Windsor utilities as well as Union Gas, telecoms and storm and sewer. The vast electrical work is being carried out by Valard Construction.
"Each one of the larger pipes is a carrier pipe that was installed by horizontal directional drilling and each one of those is going to carry three transmission cables associated with a particular Hydro One transmission circuit," said Oldewening, as he stood surveying the still active open cavity. "Altogether there are seven circuits that are being relocated."
Other works were a couple of storm retention ponds to siphon out debris before water heads to an expanded Broadway Drain, "formerly not much bigger than a ditch," Oldewening said, adding it is 20 metres wide. The drain runs to the Detroit River.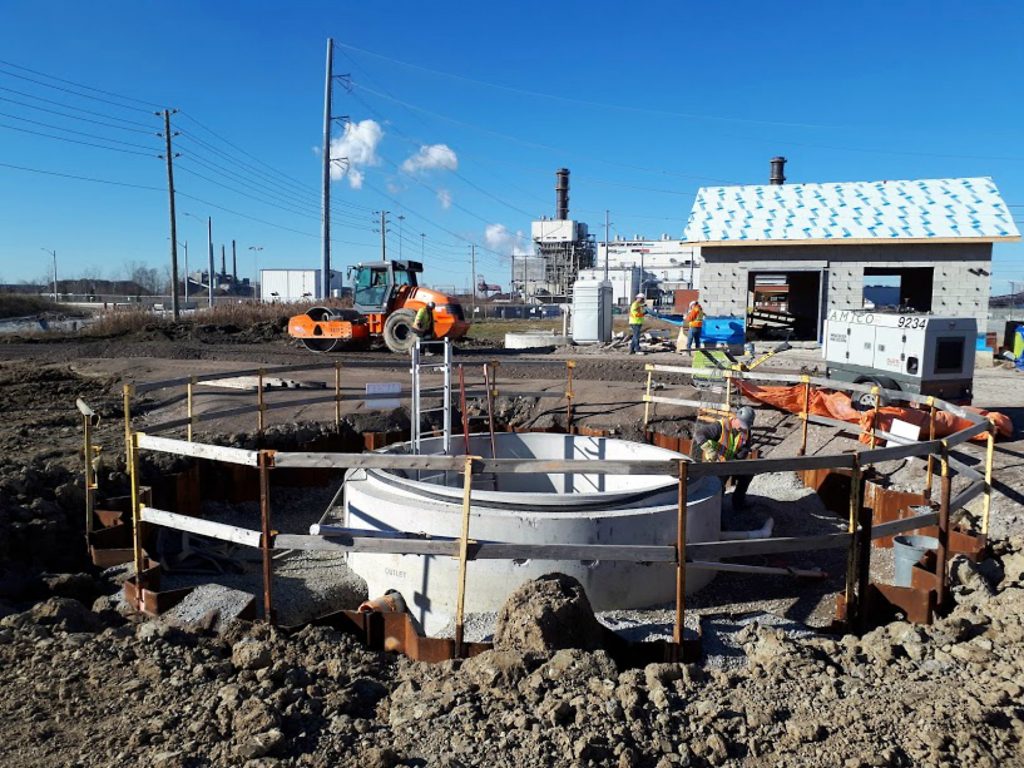 A city-owned pumping station was in the POE footprint so it had to be removed and a new one built. At 10 metres it has the site's deepest excavation for the pump chamber, with an adjacent mechanical building.
"This is the deepest excavation on the site to date," said WDBA communications director Mark Butler. "Obviously the (bridge) piers structure will have a deeper excavation."
Windsor's Amico Construction got the pump station job.
Other early works have been the perimeter access road and a 4.6-kilometre exclusion fence to prevent endangered snake species from entering the footprint. There has also been extensive environmental work to remove a large variety of rare Carolinian plant species.
Work has been considerably less on the U.S. side because much of the effort so far has been the acquisition of properties — 636 of them. There is also litigation over a small minority of lands. But 200 demolitions have taken place, land clearing has largely been completed, some utility relocates have started and preliminary work on the nearby Interstate 75 has begun.
On the tour, a noticeably active crew was in the midst of removing a railway spur line leading to a Lafarge concrete plant, which will remain immediately adjacent to the 91-metre bridge span.
Soil conditions are much different on the U.S. side and there won't be the vast sinking of wick drains or granular required.
"It's not like virgin soil, it's a soil we're very familiar with," which has long supported industrial sites, explained Michigan Department of Transportation senior project manager Mohammed Alghurabi.
Coming up will be construction and relocation of sewers under I-75, the rebuild of five street vehicular overpasses and four new pedestrian bridges.