With Halton Region west of Toronto poised for significant population growth over the next 15 years, the regional government has approved numerous road upgrades for 2018 with two projects alone accounting for almost $60 million in capital spending.
A third, the $20-million widening of Trafalgar Road between Leighland Avenue and south of Dundas Street, was originally scheduled to go to tender in the third quarter of 2018 but that has been pushed to next year pending completion of property and easement acquisitions.
The big two projects being tendered in 2018 are construction of a brand-new four-lane road, the William Halton Parkway, set to run 1.3 kilometres between Sixth Line and Trafalgar Road in Oakville south of the 407, and the widening of Dundas Street in Oakville east of Neyagawa Boulevard over 2.8 kilometres.
"We're a fast-changing landscape. If you look ahead to 2041, the population of Halton could reach one million," Halton Region manager of capital engineering and construction Marek Braczek told Hamilton-Halton Construction Association members earlier this year. "It is important to look at where the growth is."
The region's commissioner of public works Jim Harnum recently highlighted the logistics of the three largest upcoming road builds.
The biggest challenge for the new William Halton Parkway, he said, is the need to construct a large bridge over Sixteen Mile Creek with its gaping creek valley. Otherwise, it is a typical build in a greenfield, with straightforward design and sandy soil, he said.
The parkway will be built in stages, with the current schedule for tendering the first phase targeting early summer 2018.
Separate tenders for two other phases are currently scheduled for late 2018 and 2019, respectively, said Harnum. The total budget is $32.55 million.
Both the Trafalgar Road and Dundas Street widenings, however, are through busy urban corridors.
The Dundas Street job, with a budget of $26.4 million, is expected to go to tender in the second quarter of this year. Dundas is being widened from four to six lanes, and there will be bus bays and trails constructed.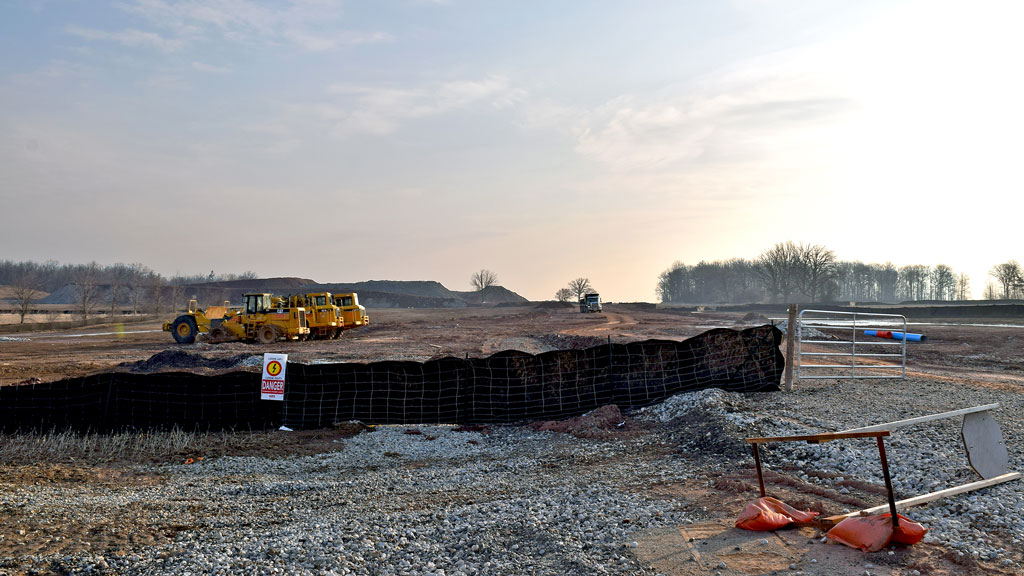 Harnum said complications include addressing stormwater management for the additional lanes, the pilot installation of Low Impact Development Silva Cells technology for soil management, and the need to mitigate impacts through phasing and minimizing dust and sound disruption.
Silva Cells, Harnum explained, are a proprietary stormwater management practice manufactured by Deeproot. They form a modular suspended pavement system that protects soils from compaction and supports large tree growth.
On Dundas Street, the storm sewer design will divert runoff from the road directly into the Silva Cells, reducing urban runoff volumes and benefitting trees, he noted.
The construction of underground flood storage tanks ensure peak runoff rates from the road are maintained at or below existing rates in order to mitigate potential flooding and erosion impacts on downstream systems during significant rainfalls, he explained.
"During a storm, flow restrictors on the outlet of the tanks cause runoff volume to attenuate in the tanks," said Harnum.
"After the storm, the tanks release the stormwater at a lower rate."
Wood Group is the lead design consultant. The Class Environmental Assessment was completed by MRC, now WSP.
The $20-million Trafalgar Road job requires the relocation of numerous utilities, new watermain works, accommodation of Sheridan College, consultation with Conservation Halton regarding flows to the Morrison Wedgewood Diversion Channel and the construction of new transit laybys at major nodes.
"There are many utilities that will need to be relocated to accommodate the widening," Harnum noted, adding the timing is being co-ordinated well in advance to mitigate impacts.
Similarly, all watermains in the area will have to be replaced, he said.
A fourth upcoming road project, the four-laning of Upper Middle Road near Winston Churchill Boulevard, has a project budget of $8.6 million.
The region will reach a population of 820,000 in 2031, up 87 per cent from 2006, according to projections. Oakville could reach 267,000 in population by 2031. The town surpassed 200,000 in 2016.
Formerly sleepy Milton in the north is expected to see a spike in population growth of 360 per cent — from 54,000 in 2006 to a projected 248,500 by 2031.
The region's total capital transportation program from 2018 to 2027 is $1.6 billion, with the state of good repair upgrades budget for that period set at an additional $332.6 million.