Components of the Mackenzie Vaughan Hospital in Vaughan, Ont. are being taken off-site and fabricated in PCL's Agile modular construction facility, allowing the team to run work activities in parallel with onsite construction.
The project was discussed as part of the Chartered Institute of Building's site visit to the PCL Agile office and manufacturing plant in Etobicoke, Ont.
"On this project we have taken on quite a bit of modular elements," said senior project manager Andre Bohren, adding modular was incorporated into the project after the contract was awarded.
Discussions were required during the early phases to get a handle on what elements could be modular and what was going to be efficient, timely and work for Agile.
"We don't traditionally do that and we didn't have that in mind when we took on this project, so it's been kind of an arranged marriage and we figured it out," he said.
PCL Constructors Canada Inc. is part of the consortium that was awarded the contract for the hospital. Construction began in spring 2017, with substantial completion scheduled for July 2020.
The 1.2-million-square-foot design, build, finance and maintain project is located on a 50-acre greenfield site in the city of Vaughan. It will include an 11-storey building with a five-storey podium and a lower level loading/service area.
The main hospital building, consisting of 32 clinical departments and 350 beds, will be connected by underground tunnels to a separate central utility plant and an above-grade parking structure. The building envelope will consist of brick, curtainwall, punch windows and metal panels.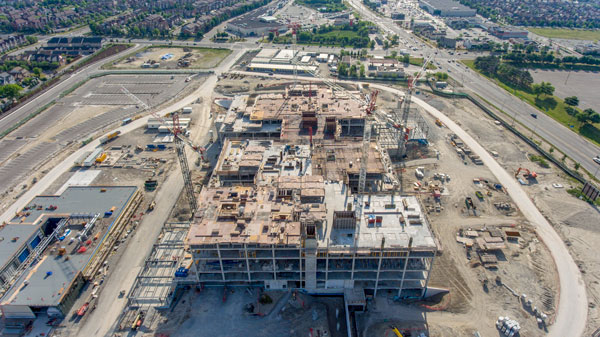 The public-private partnership project is being delivered under Infrastructure Ontario's Alternative Financing and Procurement model. It is aiming to achieve LEED Silver certification.
PCL's scope of work includes design, engineering, construction and commissioning of the facility; self-performed 1.8 kilometres of duct bank excavation and backfill; excavation and backfill for "surface conduit" and parking light standards; the basement under-slab mechanical and electrical services; modular construction and installation of washroom pods and plenums.
Agile's off-site construction group is manufacturing approximately 1,000 linear feet of intake and 1,000 linear feet of exhaust plenums and 300 fully finished washroom pods as well as other miscellaneous decoupled modular elements.
The washroom pods will come with flooring, wall protection, accessories, mechanical and electrical rough-ins and millwork. Once complete they are shrink-wrapped and shipped to an off-site storage facility which is indoors but in an unconditioned space. Moisture and temperature monitors are placed on the pods to ensure quality, explained PCL.
Agile will also provide four individual plenum subdivisions, each with varying complexities and technical components, located along the Level 3 exterior perimeter of the hospital which is also part of the building envelope. Agile's own forces team will be installing the washrooms and plenums onsite.
The overall work plan for the project consisted of an upfill site with pond and hospital footprint excavation; all site services installed with upfill; building parking lots and a trailer complex; building tunnels and semi-permanent roads around the project; the installation of a Central Utility Plant; the hospital structure and finishes; the precast parking structure (late 2018); and landscaping (2019).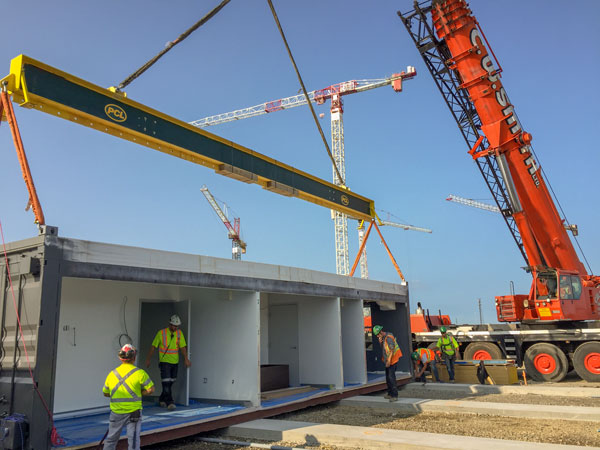 Some of the unique challenges were the installation of tunnels early on in the process, complete with prefabricated/modular mechanical, and pushing up the slab on grade by three months to avoid winter weather.
"Slab on grade in the Canadian winter can be very difficult," explained Randy Steffan, general superintendent for the project. "Pouring slab is not too bad but prepping all your underground and subgrade can be challenging, so we pushed the schedule forward a few months and got all the slab on grading done before December. It was a bit of a challenge pushing that forward."
To get a sense of what to plan, the team rented a facility and did full scale mock-ups of some of the modular elements in the building.
"We designed and built those and our client went in with the clinicians to review it," said project manager Jeff Smalley. "We did some iterations. It's a good thing to do, you get architects on board, you get to see what they are designing realized and our owner gets to see what we've designed and we get everybody to sign off."
Instead of renting a trailer for the project team, PCL Agile was awarded a contract to design and construct a modular office complex for the site using recycled sea containers. The building consists of 28 modules for a total area of 8,960 square feet and has four meeting rooms, 27 private offices, four washrooms, a kitchen, five collaborative working spaces and houses the project team of 60 people. Fabrication took place in the shop from May to August 2017 with site team occupancy in September. The facility took three days to erect.
"The intention of it all is reusability," said Steffan. "Typically we would just pick up the phone and rent a trailer but we can own this and reuse it on the next job. It has a life expectancy of (about) 15 years."